A compelling documentary by Shimon Dotan, "The Settlers" is a historical and current look at a population of thousands that includes mainly Israeli Jews (along with a few Christians) who live on Israel-occupied Arab territories.
Hoping to do for local union labor what the popular Shop Local campaign has done for small business, a Rock Island union is rolling out its own campaign: "Quad-City Built. Quad-City Strong."
 Marion Meginnis and Carlton Wills share the same sentiment — that their experience has prepared them to serve as Davenport's 3rd Ward alderman.
On Iowa Politics breaks down President Donald Trump's visit to Cedar Rapids and Cedar Rapids Mayor Ron Corbett's formal announcement that he will run for the GOP nomination for governor.
After their son was charged with second-degree murder in the 2008 death of Jerome "Patrick'' McEwen, Jim and Cathy Fry sometimes felt under siege.
Rabbi Jeff Portman uses words like "eccentric'' and "scared'' to describe Jerome "Patrick'' McEwen.
Here's the afternoon forecast from the National Weather Service. It will cloudy gradually becoming mostly sunny with a high near 79 degrees. Winds will gust as high as 25 mph.
The NBA draft had barely concluded Thursday night when the top undrafted college players began signing contracts to play for various teams in the NBA Summer League.
With 40 flights behind it, Honor Flight of the Quad-Cities again is spreading its wings to offer an flight-less option for area veterans.
A large fire erupted on Davenport's east side on the banks of the Mississippi River and  East Fourth Street on July 25, 1901. Before the fire eventually burnt itself out late in the day, eight city blocks of buildings were destroyed. Almost 50 families were left homeless. The fire caused a $…
PETALUMA, Calif. — The World's Ugliest Dog Contest is celebrating man's best friend's perfect imperfections in California on Friday.
Two Dubuque men have been charged in a bank robbery earlier this year in Maquoketa.
1. Rain gives way to cooler temps
A look at some of animals, activities and people over the years at the Niabi Zoo in Coal Valley.
It was uncharted territory for this Davenport Assumption softball team.
Clinton 6, Beloit 2: Luis Rengifo opened a four-run fourth inning with a leadoff home run, allowing Clinton to rally for a 6-2 Midwest League win over Beloit in manager David Macias' debut with the LumberKings.
Midwest League baseball teams returned to work Thursday following the league's annual all-star break.
Andrew Hegland battled until the very end Thursday.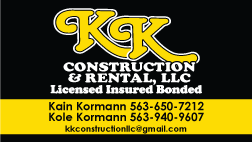 KK Construction & Rental, LLC
Hilltop Mini Buildings and Lawn Decor