Call Breathe Easy to take advantage of our $49 Air Duct Cleaning Package! For more information, call today - 563-362-0918
Details for Call Breathe Easy to take advantage of our $49 Air Duct Cleaning Package! For more information, call today - 563-362-0918
Breathe Easy Air Duct Cleaning specializes in improving the air quality of your home. A trained professional will clean your entire ventilation system, HVAC unit, air ducts, and main line. We use state-of-the-art equipment with HEPA filtration to reduce the dust and allergens in your home. Video inspection of your air ducts ensures that you are receiving the highest level of cleaning. If you notice excess dust in your home or dirty vents/return covers, it's time to call Breathe Easy!
Call today to take advantage of Breathe Easy Air Duct Cleaning's $99 Air Duct Cleaning Package:
Includes 12 openings
1 main trunk
A video inspection + 20% off Electrostatic Filters!
For more information on this exclusive deal, call Breathe Easy Air Duct Cleaning today!
563-340-5908
563-362-0918
Breath Easy Air Duct Cleaning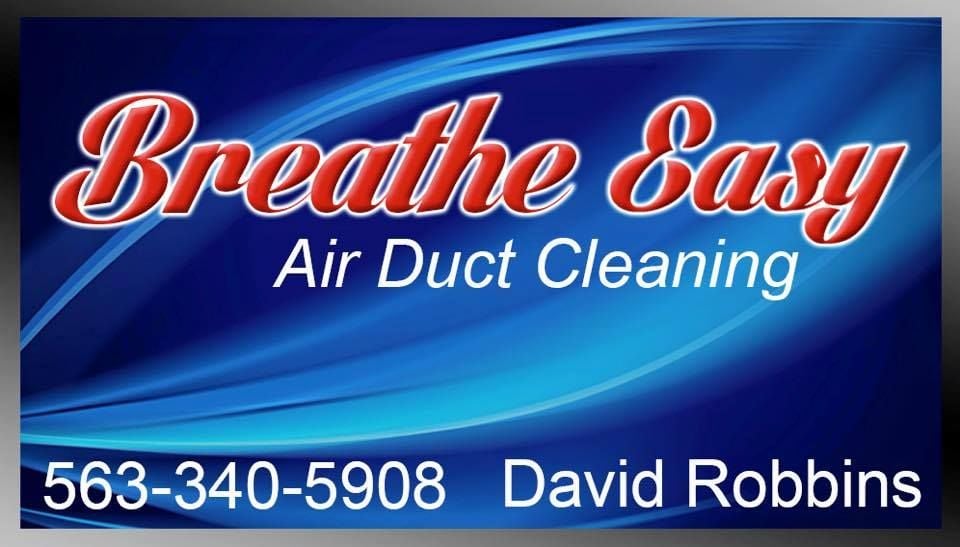 1509 State Ave
Hampton, IL 61254