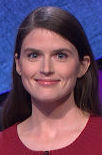 As featured on
For nearly four months, Amy Nienaber sat on at least a $21,000 secret.
Amy Nienaber tried for about six years to earn a spot as a contestant on the classic TV game…
Purchase your raffle tickets for a wicked eclipse weekend in Carbondale, Ill. Package includes two tickets to the Moonstock Music Festival on Aug. 21, PLUS a two-night hotel stay. Hurry! Raffle ends Thurs., Aug. 17 at 3:00 p.m.