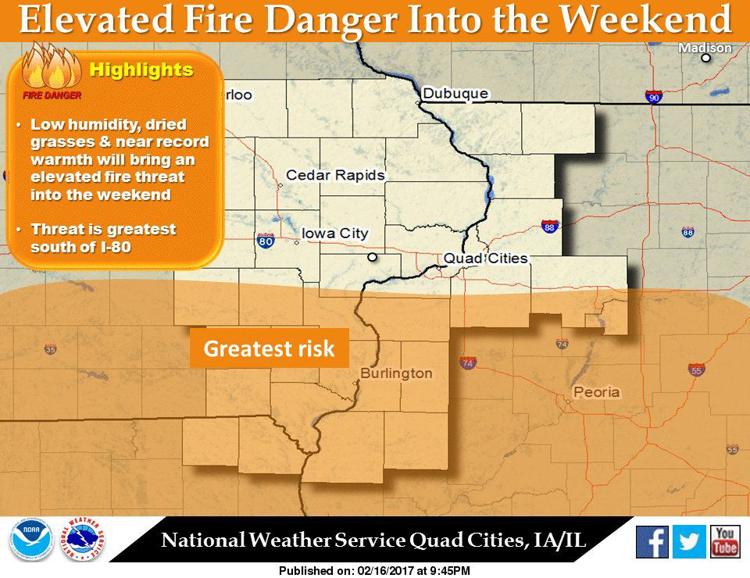 • The National Weather Service has issued a hazardous weather outlook for the Quad-City area because of an elevated risk for grass fires. The risk will be greatest in areas south of the immediate Q-C region.
It reads, "Unseasonably mild temperatures, low relative humidities, and plentiful dried vegetation will combine to result in a very high threat of grass fires by this afternoon. Areas most at risk are generally along and south of a line from Sigourney Iowa, to just north of Burlington, and to south of Monmouth in west central Illinois."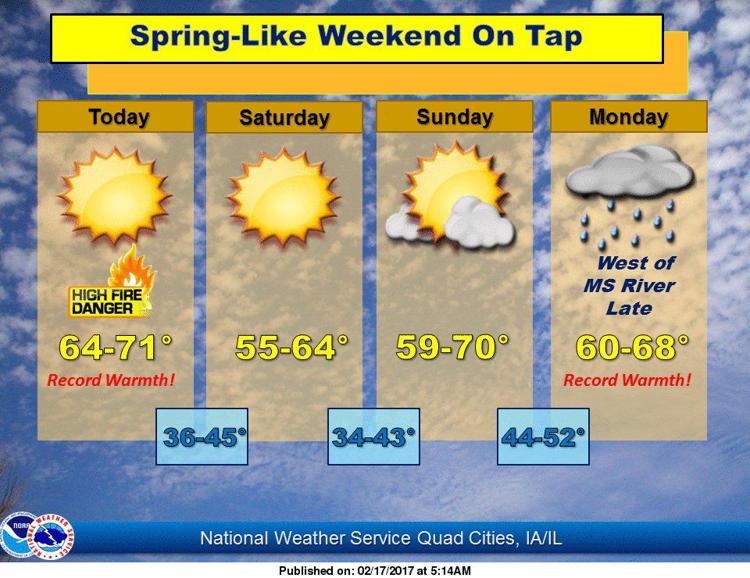 • This afternoon the National Weather Service is calling for sunny skies with a record-setting high near 68 degrees. Southwest winds between 5 to 15 mph will gust as high as 20 mph.
Tonight will be mostly clear with a low around 38 degrees.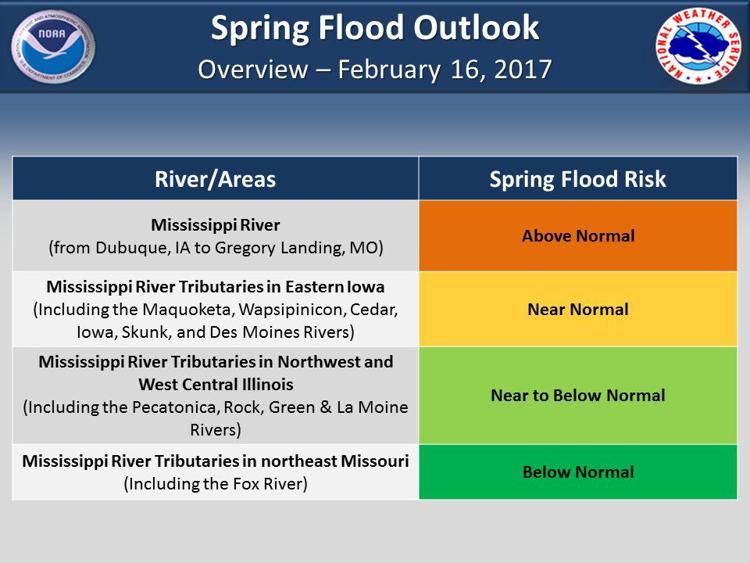 • The National Weather Service has released its latest flood outlook summary.
According to the report, the risk for flooding this spring is elevated for the Mississippi River — with near to below normal risk for the tributary river systems — with any flooding dependent on significant spring rains, rather than snowmelt.
The weather service states that despite the lack of snow cover across the Upper Mississippi River Basin, above normal precipitation this past fall has kept soils wet across portions of the area. Meanwhile winter rains and melting snow have kept river levels above normal for this time of year.
On the tributaries, the main contributor for any flooding will come from spring rains rather than snowmelt. Along the Mississippi River, there will be some runoff from snowmelt from the upper parts of the basin, but snowpack in those areas is below normal.
While this snowmelt runoff will contribute to rises in the river, significant flooding is not expected from snowmelt alone.
Although dry conditions persist across the southeast part of Iowa, many of the rivers in these areas originate in northern Iowa where frost depths are slightly deeper and soils remain nearly saturated from last fall. Any significant rainfall over these areas early this spring could cause heavy runoff into these river systems.
• Primary factors prompting the elevated risk are the above normal streamflows and high soil moisture.
• Snowmelt will not be a main contributor to spring flooding as snowfall has been below normal and most areas are currently snow free.
• Spring rains will be needed for flooding to occur in area rivers.
Charges filed against Muscatine mayor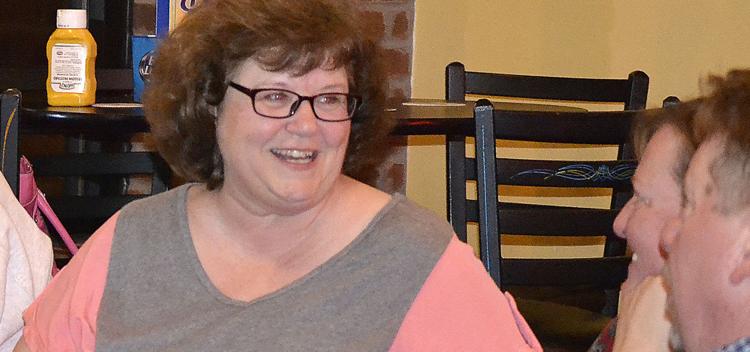 Charges have been filed by City Attorney Matthew Brick for the removal of Muscatine Mayor Diana Broderson.
The charges claim Broderson violated the city's code of ethics, by "making baseless complaints," including asking for an investigation into whether she had been discriminated against on the basis of her gender and requesting investigation into actions of the city that were later determined to be unfounded, according to the charges. Read more.
• Join Times sports reporter Matt Coss who is providing live updates from the Iowa state high school wrestling tournament in Des Moines.
• CRIME OF THE WEEK: On Jan 6 between 4:50-5:15 a.m., a subject wearing a hooded sweatshirt and gloves pried open the front door of the Racer's Edge, 936 15th Ave., East Moline. The suspect forced open five gaming machines and pulled out the money boxes. An undisclosed amount of money was taken. If you have information about this crime, call the Crimestoppers of the Quad-Cities tip line at 309-762-9500, or go to its Facebook page and click on "Submit a Tip." All tipsters remain anonymous and you could earn a cash reward of up to $1,000.