Walk into Stephanie Sellers small kitchen, and she'll apologize for the big mess.
Her counters are sprinkled white with flour, and her bright-red mixer is never clean for long. She spill bits of sesame seeds and splatters oil on her apron. A piece of paper with recipes shows splotches of each ingredient.
But all of that blends into the background as soon as the oven door opens. The loaves of bread, some flavored with olives or bacon or honey oats, steal the show.
"It's cool to see it beginning to end," Sellers said. "It goes from everything sprawled on my shelves and counters to this beautiful thing to enjoy."
To others, the kneading and pouring and measuring, is a messy and forgotten trade. To Sellers, it's something to bring back.
"It's this lost and ancient art," Sellers, who is 28, said. "It's not a super ordinary thing anymore, but that's what I like about it."
And the best part? She can say she made it.
Sellers has always — ever since she can remember — enjoyed saying that sentence out loud.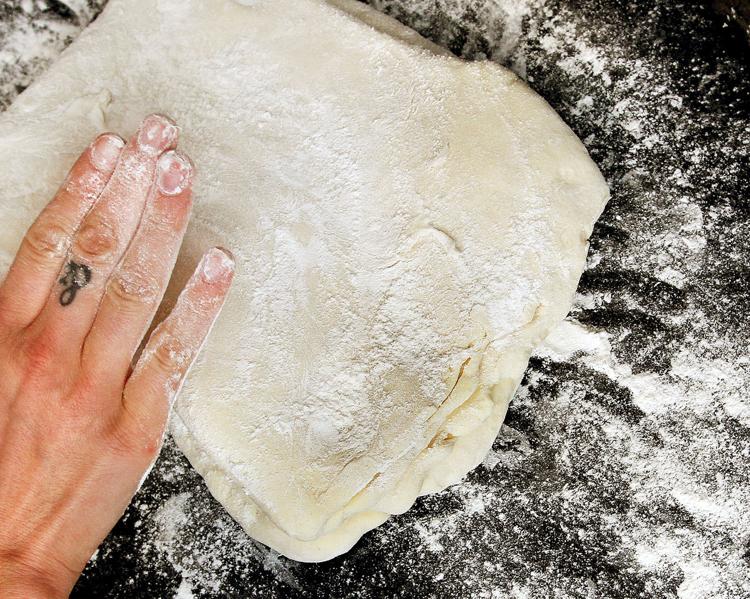 Growing up, she'd enter her baked goods into area contests. She'd spend summer afternoons in the kitchen thinking up new recipes or in the middle of a cookbook.
"My favorite thing has always been making people happy with something you made for them," she said. ""You're taking something that didn't exist before and you're putting it on the table. It sounds simple, but it's a satisfying thing to say that you made it."
After years of baking off-and-on, Sellers, is following that feeling again. Sellers and her fiance Bill Sheeder (they own Brew in Davenport's East Village), are opening Baked Beer & Bread Co. The restaurant and bakery, featuring baked goods, beer and beer-related items, is expected to open in July.
For the past few weeks, she's been offering samples at the Freight House Farmers Market in Davenport.
"It's been lots of testing and eating carbs," she said. "Which isn't a bad deal."
And it's been a return to her roots.
A few weeks after graduating college, the Quad-City native started working at Wells Fargo Bank. Three weeks later, she and dozens of other employees were let go. At 22, she went after plan B — starting a bakery. The result was a bakery in LeClaire called The Sweet Life.
"It was my dream, but it took over my life," she said. "It became too much."
After four years making intricate wedding cakes and filling orders, Sellers closed the shop in 2014. Baking had lost its spark.
A  few months later, she bought a cafe with her then-boyfriend and spent some time away from the kitchen.
"I kind of stopped baking, because it was hard to do it in way that I loved and without becoming this hugely overwhelming thing," she said. "I was worn out."
That is, until, she got a red Kitchen Aid mixer as a Christmas present.
"It was too pretty and shiny not to use it," she said.
Slowly, she started baking again — new types of cupcakes, croissants, cookies and muffins. Plus, she started playing around with a line of artisan breads.
"I really had to teach myself how to make bread and figure out what process I liked best," she said. "It can be this daunting thing at first, but you stick with it and create your own methods." 
There are a lot of things Sellers could do with the time she spends baking. It's a 24-hour process to complete one loaf of bread from scratch.
"Yeah, going to the store and picking up something takes five minutes, but the bread has an ingredient list that's a mile long," she said. "When you do it on your own, you know exactly what's going into it."
In between steps, she'll go for a run or work on her computer, but the next step is never far from mind. She's learned the dos and don'ts from making her own mistakes. She knows to weigh the dough instead of going by how it looks. She checks the temperature of the water (it should be 95 degrees) before pouring it, she adds just enough gluten strands for structure and she always has extra bags of bread flour in stock.
"It's what makes me happy," she said. "A lot of people think baking is too sciency for them, but it's so much more than that, and it can be a really creative thing."
She's ready to bring her creations to the East Village, and to have a bigger kitchen to work in. And, this time, she knows to add balance to the menu.
"I think people are eager to try something different and outside their comfort zone," she said. "And for me, I'm excited to do what I love in this new way."