Finding out about the Crepe Guy has an elusive quality about it. He makes last-minute announcements about where he'll be on a weekend morning via a Facebook post. If you don't see it, you probably don't even know he exists. If you do see it, you better be early — or he might run out of ingredients. You also won't find the same crepes from week to week. And you only have two options — sweet or savory — because that's just how the Crepe Guy does it. 
The Crepe Guy is really Chad Cushman, a 44-year-old former restaurant manager and longtime chef. For five years, he's fronted the pop-up restaurant revolving around crepe concoctions.
"A lot of people know exactly where to find me, but some still are surprised when they walk in and see me," Cushman said. "It's become this thing, where you want to share it with your friends."
Cushman's crepes come with unique flair: made-from-scratch batter, syrups made from fresh fruit, meat that's been carefully prepared, and combinations that initially concern plenty of customers (like rosemary and chocolate.)
"My slogan is that I've been converting picky eaters since 2010," Cushman said. "A lot of people never would try these things together, but I'm trying to introduce something a little out there."
Each week, Cushman offers a sweet crepe, like blueberry coffee cake, pineapple upside down cake, french twist or peanut butter and jelly. The savory crepes could include chicken, bacon, scallions or a version of pad Thai.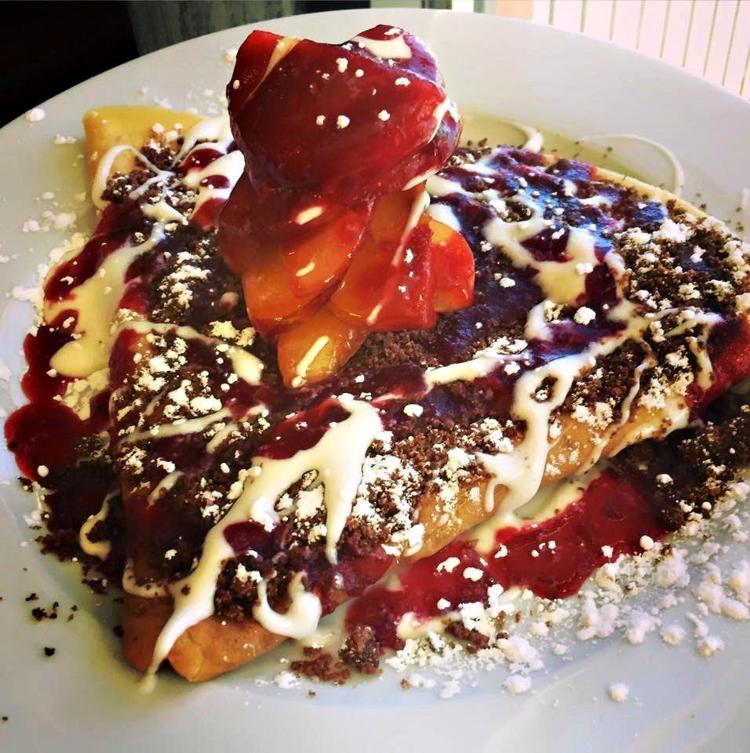 Last week, "sweet" was a mix of blueberries, cinnamon chantilly plus pecan brown sugar comb and syrup made with cold brew coffee. And "savory" featured smoked braised pork plus apple butter, greens and maple-laced Boetje's mustard with a cornmeal crumb.
He encourages customers to try the recipe as is, and doesn't like to stray too far from his set menu. He won't be reaching for the Nutella and strawberry combo anytime soon, either. 
"I don't want to do that thing you've heard of already," he said. "The crepe is basically a vessel for all these different flavors you can try."
Cushman knows a thing or two about recipe building. He's had a job in the restaurant business since he was 13, worked as a chef at a variety of fine dining spots and managed a steak house and Panera Bread Company in the Quad-Cities.
"I always tried to learn the ins and outs of the industry, from being a waiter to the accounting to the back office stuff," he said. "When I decided to do this full time, I knew how I wanted to do it."
Without the overhead or strict daily schedule, Cushman can do something he hasn't been able to for most of his life: slow down.
Well, except on a busy Saturday morning at a farmers market when he averages making one crepe per minute with his mobile skillet. The process is the opposite of slow.
"There are a few times of my week that are very busy, but it's for a few hours at a time," he said. "And those hours are really fun."
The rest of the time, Cushman can hang out at Starbucks, take day trips and iron out catering gigs. He doesn't have to make crepes at all one weekend if he doesn't want to, but he usually can't wait to get started.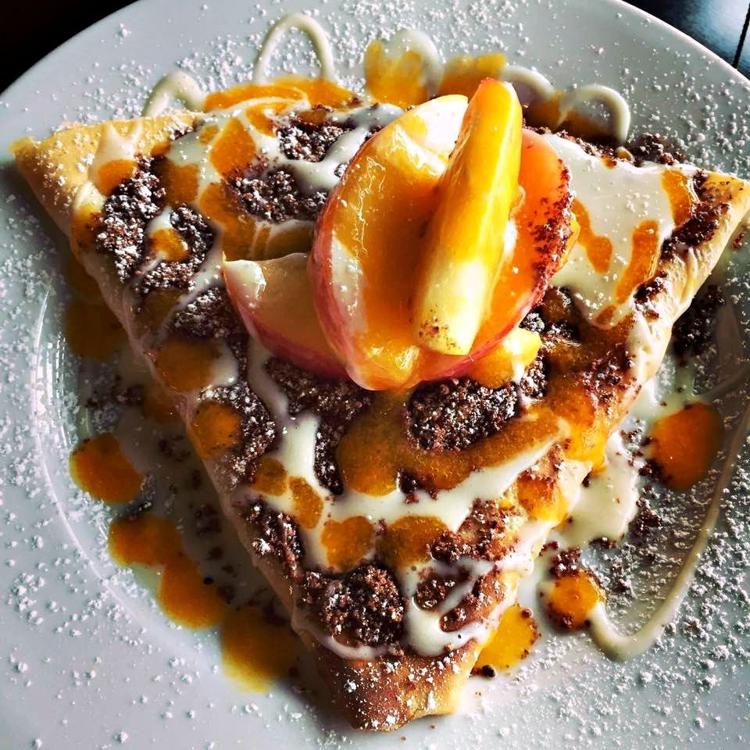 "The best thing about this business model is I get to engage with people," he said. "I'm not in the back hoping people like my food. It's a one-on-one thing, getting a crepe and enjoying a conversation."
Most Sundays, Cushman sets up shop at Dunn Bros Coffee in Bettendorf and sells crepes to a steady stream of customers. Some, maybe one of the 3,000 people who like his Facebook page, arrived just for him and don't care what the recipe might be. Others stumbled upon the Crepe Guy. Either way, they'll probably be back.
"I think people will seek out something that's different and really good like this," he said. "My biggest testimony is that if I wasn't the crepe guy, I'd want to go see the crepe guy."