General Information
Starting February 2, 2015, a nonrefundable $4 account setup fee will be charged to all qualifying new starts. If at any time you decide to cancel your subscription, you may contact customer service. Partial refunds will be given for early terminated subscriptions based on total value of papers delivered. Rates may change after incremental increases after introductory offer period. Higher rates apply for mail and motor routes. Full digital access is included with all print subscriptions. Other restrictions may apply. One subscription per household. All offers must be paid in advance. Free subscriptions are limited to 1 per household unless the offer is extended by the Quad-City Times. Please contact customer service at 1-888-406-6450 for further information on all questions.
Activating Your Account
An email address is required to set up your account. By providing an e-mail address the Quad-City Times will automatically be activating your full access digital subscription, if applicable. If you need help activating your subscription please log onto qctimes.com/helpmeactivate and fill out the online form and a customer service representative will help you setup your digital account and send you your login credentials via the email address provided.
New Starts
Promotional offers valid for new subscribers only that have not subscribed in the last 30 days. I understand that delivery and billing will continue beyond the initial order period unless I contact the Quad-City Times by calling 888.406.6450. Rates may change after incremental increases after introductory offer period. The Thanksgiving Day newspaper will also be included at a rate of up to $4.00 In addition to Thanksgiving Day, there will be up to five additional premium sections published throughout the year that will be subject to a rate of up to $4.00 each. These charges will be reflected in your account and may accelerate the expiration date of your subscription. All qualifying new starts will receive the previous Sunday's paper. Valid email address and phone number are required to process your order.
Premium Days and Bonus Days
Please note that the home delivery of our Premium papers, including Thanksgiving Day and up to seven additional premium sections, will be priced at a premium rate up to $4.00 each. Qualifying weekend subscribers will also receive these premium daily editions. Home delivery subscribers will see a reduction in their subscription length to offset these premium rates. Illinois residents will receive the Christmas Day edition on December 26.
Gift Cards
Offers that include gift card premiums must be paid in full to receive gift card within two weeks from start of subscription. Please allow 4-6 weeks for your gift card to mail. Penalty charges may apply if subscription is canceled before end of subscription period or if offer is not available in your area.
EZ Pay
If you choose EZ Pay, you authorize Quad-City Times to automatically charge the credit card or bank account you indicate every month, unless your debiting date falls on a weekend or holiday, and then the deduction is taken on the next business day. Any outstanding balances will be processed with the first EZ Pay charge. This agreement cannot be canceled and is not refundable for the duration of 6 months from start date.
Contests
By participating in the Promotion, entrants agree to comply with and to be bound by the official rules and by all interpretations of the official rules by the Sponsor. Decisions of Quad-City Times shall be final in all matters relating to the Promotion. The Quad-City Times reserves the right to modify, suspend, or cancel the Promotion if fraud, technical failures, or any other factor beyond the Quad-City Times reasonable control impairs the integrity of the Promotion and the integrity of the selection of the prize winners as determined by Quad-City Times in its sole discretion. The name of the Winner will be posted online at facebook.com/qctimes after the prize has been awarded. Prize winner agrees to provide and to grant Quad-City Times the absolute right and permission to use the prize winner's name, likeness, voice, opinions, biographical information, and address in any and all advertising and promotional materials, in any manner or media whatsoever, for purposes of advertising, trade or promotion. The prize winner acknowledges and agrees that he/she shall have no right of approval, no claim to any compensation, and no claim arising out of the use, of his or her name, address, personal information, photograph or likeness. No purchase necessary for any contest that accompanies a subscription offer.
Delivery Frequencies
Daily delivery available to qualifying addresses. Wed-thru-Sun, Saturday/Sunday, and Sunday-only home delivery is only available to Iowa residents. Friday/Saturday/Sunday home delivery is only available to Illinois residents. Delivery restrictions may apply based on route availability.
Customer Service Hours
Walk-in hours (500 E. 3rd Street, Davenport, IA 52801): 8:00 A.M. to 5:00 P.M. Monday through Friday Calling hours (1-888-406-6450): Monday through Friday: 5:30 A.M. to 5:00 P.M. Saturday: 6:30 A.M. to 10:30 A.M. Sunday: 6:30 A.M. to 11:30 A.M.
For more information please visit us at qctimes.com/terms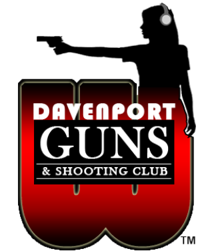 Davenport Guns & Shooting Club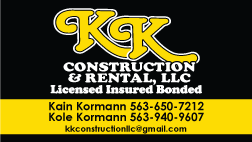 KK Construction & Rental, LLC
Hilltop Mini Buildings and Lawn Decor