Century Farms in Q-C area
Horsepower fuels Century Farm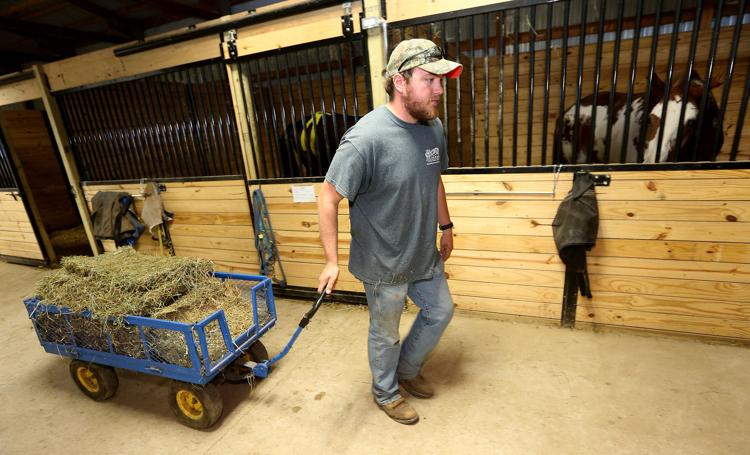 Cindi Mumm Bates flushed with pride this summer as she and other family members stepped across a stage at the Iowa State Fair in Des Moines to accept their "Century Farm" certificate.
Bates was proud for herself and everyone else who lives on the 80-acre farm in rural Long Grove that has been in her family for more than 100 years — her husband, Mel; their son, Barry, 23, and his wife, Elly; and Bates' mother, Jean Mumm, 84.
Bates also was proud for her dad, Eugene, who farmed the land and many other rented acres until a stroke in 2004 took his good health and ability to work. Among his dying wishes was that Cindi not sell the farm.
The Bates family is among five in Scott County who received "Century Farm" certificates this summer through a program operated by the Iowa Department of Agriculture and Land Stewardship in conjunction with the Iowa Farm Bureau. Started as a Bicentennial celebration in 1976, the program recognizes farms that have been in the same family for 100 years.
In the Bates' case, the connection goes back to Cindi's great-grandfather, Jocham Mumm, who bought the farm at a sheriff's auction in 1910. The farm has been eligible for Century Farm status since 2010. 
Bates is especially pleased that son Barry intends to live on the land for the rest of his life.
Nowadays a farmer would be hard-pressed to make a living on 80 acres. But Barry and Elly have hit on a way to make it work: They have established a horse-boarding operation for people who own horses, but live in town. They also offer riding lessons and training.
In 2015, they built a 104-foot by 232-foot horse barn with 34, 12-foot-square stalls, an indoor arena and rooms for storage of horse-related items (equipment and food) and office work. Outside, there is a 100-foot by 200-foot arena and numerous paddocks, or individual fenced areas, for boarded horses to use for exercise and fresh air.
Barry wouldn't have foreseen getting into the horse business 10 years ago when he was all about racing — go carts, late models and legend cars. But then he met Elly, of Blue Grass, who was all about horses.
"It was a dream of hers to train horses, and I got into it," Barry said.
As his dad, Mel, said, "We had a different idea of horsepower before she came along."
In addition to the land set aside for buildings, including two houses, a former chicken coop, a pole barn and machine shed, some of the farm is planted in corn to sell as a cash crop and some in alfalfa to make hay for the horses.
Only the chicken coop dates to 1910 or before; the others were taken down as they became obsolete. A stone house with the date 1855 etched into the  header above the front door was burned by a fire department in 2007, removing all the non-stone parts. Several people came by to salvage the stone, Bates said.
The limestone was quarried on the farm; there is an area surrounded by trees that has been deeply excavated, presumably by workers using hammers and chisels, Mel Bates said. Stone from the spot is believed to have gone into the building of five homes, including the Buffalo Bill Cody Homestead in rural McCausland, Mel Bates said.
As a nod to the quarry, Barry and Elly have named their business Old Stone Farms. "My goal is to go back (to the Iowa State Fair) in 50 years to be a Heritage Farm," Barry said.
Heritage designation is given to a farm that has been in a family for 150 years.
'The chance of me being the end of the line is very real'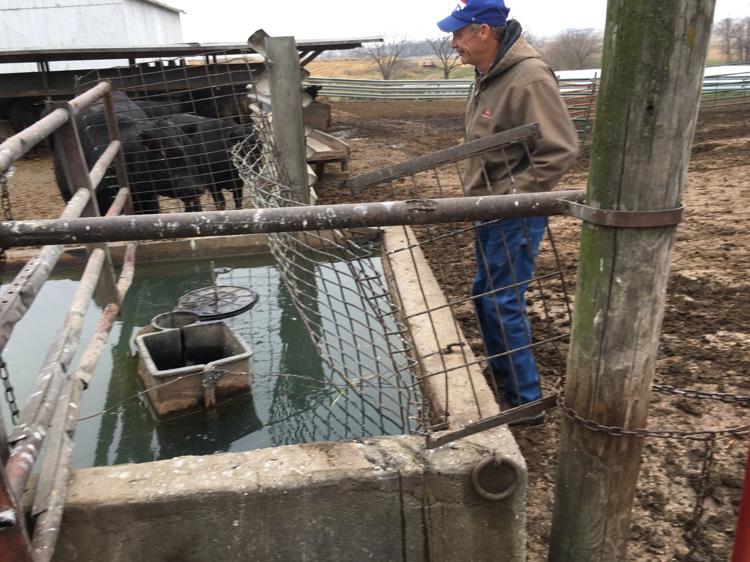 "This," Mark Rock said, "is what the farm is all about."
Rock, 56, of rural Dixon, gestures to a wall of rusted metal tools and photos that record the history of his 210-acre Century Farm. There is a picture from March 1, 1917, when Rock's grandfather moved to the place in a horse and buggy to the present when Rock makes his living raising corn, soybeans, hay and mixed breed cattle.
Rock built the wall out of weathered wood that he salvaged from a smokehouse that stood on the property. The wall is one side of a bathroom he installed in a corner of his big new machine shed, and he uses the wall as a canvas to showcase the farm's history.
"Everything old, I appreciate it," he said.
Affixed to the side with square peg nails are horseshoes, planter plates, a hog nose ringer and the bayonet from the end of the gun his grandfather was issued when he was drafted into World War I.
There also are photos: A portrait of his great-grandfather's family, the  family's first tractor that replaced a team of horses and Rock posing with a 785-pound pumpkin he raised for competition 10 years ago. On a ledge, there are four arrow heads found on the farm, vestiges of a people long gone.
The signature building on the place is a big, 32-foot by 96-foot barn built in 1936 that Rock still uses in his cattle operation. The horse stalls come in handy at calving time, he said. He also uses a smaller, 1920s barn.
An aging corn crib, though, is less useful. Corn cribs were used to store corn that was still on the cob, and they had slatted sides for ventilation. Nowadays, corn is harvested in a way that separates the ear from the kernels and the kernels are stored in bins.
"Grandpa and Dad would cringe if I ever tore it down," Rock said of the crib. "Back in the day, it was state of the art. A Cadillac."
Nowadays he uses it to store firewood that he uses to burn in a heater that keeps his cattle's water tank from freezing in winter.
As for the future of the farm, that's known. "I have three nieces," Rock said. "The chance of me being the end of the line is very real. That's a hard one to swallow."
Meier farm founded by immigrant ancestor
Henry Kardel emigrated to the United States with his parents in 1853 from Holstein, Germany. He grew up, married, bought a 240-acre farm in Scott County in 1870 and had two sons, one named Johannes.
When Henry died, half the land passed to Johannes, and the other half to Johannes' brother. Johannes farmed, too, and, in time, the farm passed to his son, Gilbert, an only child.
Gilbert and his wife raised three daughters. One of them, Bernice, married Harlan Meier in 1956, and together they continued the farming tradition and eventually bought the farm that Bernice's great-grandfather Kardel had purchased.
Harlan also established a farm-related business selling limestone, fertilizer, farm chemicals and grain bins — especially grain bins. He was a prominent farmer, winning awards for soil conservation practices, helping to found the Scott Count Corn Growers Association, serving on several national boards promoting agriculture and winning the Farm Bureau's Distinguished Service Award. He also served as a director of the German American Heritage Center and he and Bernice received the center's first Legacy of Leadership award in 2013.
Their son, David, continued farming the original Kardel farm, as well as other ground, and he might still be farming today except that in 1987, he married Delia Moon. His new bride was the daughter of Bill and Carolyn Moon, who founded the Iowa 80 Truckstop in rural Walcott.
As the truckstop business grew (and grew), David joined his wife, who now is the Iowa 80 Group's senior vice president.
The farm ground that first came into the Kardel family 147 years ago now is rented out.
But within the past year, David and Bernice decided it was long past time that they apply for Century Farm status, as they've been qualified since the program began in 1976. In three years, 2020, they will qualify as a Heritage Farm.
Claussen farm produces crops, breeding cattle
Ron Claussen's grandfather, John Ehlers, bought their rural Bettendorf family farm in December of 1912 on the steps of the Scott County Courthouse.
As near as Claussen can tell, the 100 acres that is now a Century Farm was auctioned for $150 per acre to settle a disagreement between two brothers.
The farm passed from Ehlers to his daughter and son-in-law, Elmer F. "Pat" and Dorothy Ehlers Claussen, and then to Ron. Although Ron still farms in addition to being a federal crop insurance adjustor, most of the day-to-day work is now done by his and wife Debbie's twin sons, Ross and Ryan, 32, who intend to make farming their life's work.
The Claussens raise corn, soybeans, alfalfa for hay and Simmental and red Angus cattle primarily for purebred seed stock, although some are sold as feeder cattle for market.
Among the old buildings remaining on the farm are a barn and a former smokehouse used for storage, Claussen said.
About the program
To receive designation as a Century Farm, the owner must fill out an application stating that they own at least 40 acres of their family's original farm and that they are related to the person who purchased it. The application must be notarized.
The form also asks for the original date of purchase, the legal description and any previous owners, if known.
Optional information includes the purchaser's country of origin, the cost per acre, whether the farm was a gift, purchased, homesteaded or received in a will, whether the original house or any other buildings are still standing and, if so, whether they are in use, and the crops and products produced there.
Since the Century Farm program began in 1976 as a Bicentennial Celebration project, more than 15,000 families have been recognized, according to the website iowaagriculture.gov.
There also is a Heritage Farm program that recognizes farms that have been in a family for 150 years.
Century Farms in Q-C area
Here is a list of the Century Farm honorees; some have additional titleholders.  
Scott County
Mel and Cindi Bates, Long Grove
Ronald and Debbie Claussen, Bettendorf
Bernice Meier, Walcott
Heinz Farming Corp., Stockton
Mark Rock, Dixon
Clinton County
Dave and Meg Butler, Grand Mound
Tina Lively, DeWitt
Grace E. McDonald, Goose Lake
Arlyn H. Meier, Wheatland
Harvey Rock, Grand Mound
Paul J. Seyfert, Delmar
SuAnn Van Daele, Wheatland
Janis K. and Ron Weier, Grand Mound
Cedar
Mark and Debra Anderson, West Branch
Jess and Debra Axline, Lowden
Randall Gehrls, New Liberty
Warren and Diane Koth, Lowden
Midwest Land and Cattle, Inc., Bennett
Chad Mostaert, Lowden
Barbara B. Owen, West Liberty
Pearson Farm, LLC, West Branch
Muscatine
John R. Bermel, Muscatine
Ronnie L. Gruenhagen, Walcott
Jackson
Charles and Nancy Jargo, Sabula
Kevin and Sue Knief, Bellevue
Charles Lambe, Zwingle
Judy and Gregg Matthiesen, Sabula
Tom and Kathy Meier, Bellevue
Stephen and Janet Noonan, Bernard
Clyde and Carol Sprank, Bellevue
Sterk Family Irrevocable Trust, Baldwin