Bettendorf climbers venture north to scale ice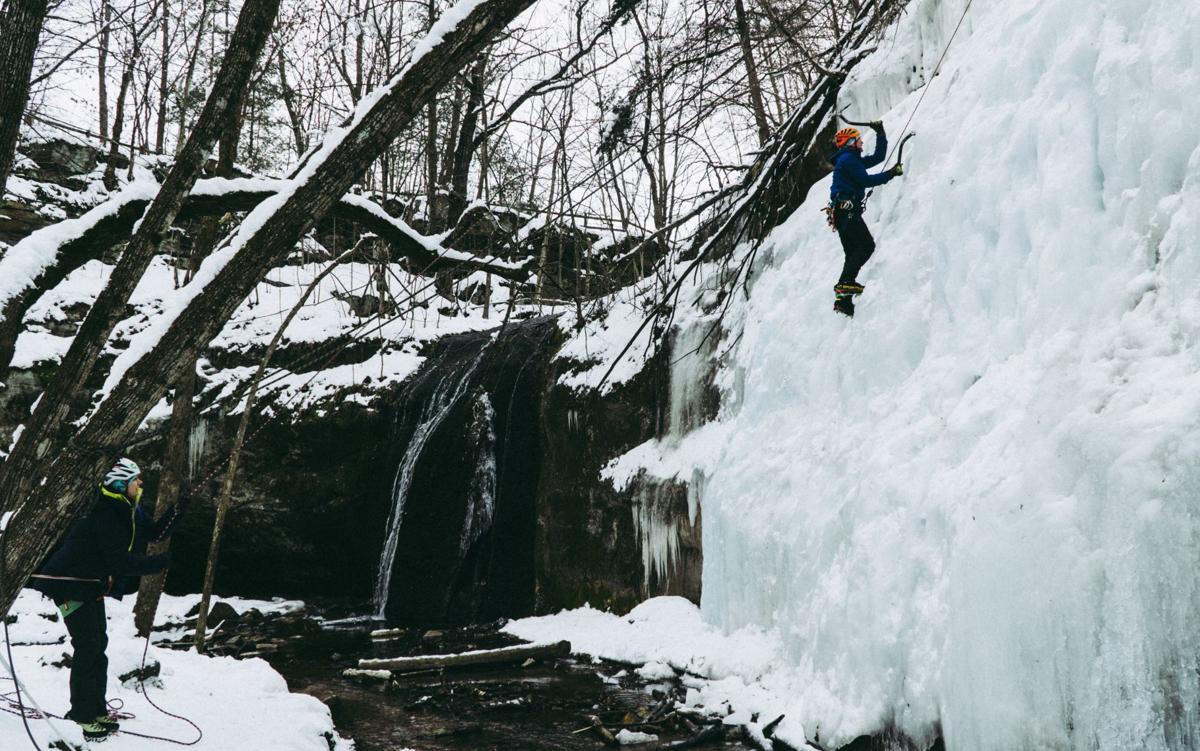 Bitter cold and snowy weather may drive many Quad-Citians south this time of year, but the same cannot be said for these winter warriors.
Quad-City adventurers Abbie Bruns and Gerry Voelliger hunt for ice to climb during the winter months, and this season, their search for frozen waterfalls has driven them north.
"I'm not opposed to Jamaica, but when there's ice to be climbed, that's priority number one," said Gerry Voelliger, who has served as Bettendorf Fire Chief since 1990.
This marks their third consecutive year at the event — heralded as one of the nation's oldest ice climbing festivals — on the shoreline of Lake Superior in Michigan's Upper Peninsula, about an eight-hour drive from the Quad-Cities. 
Prior to their departure, the duo had climbed about five times together this season. In recent years, they have struggled to find climbable ice in the region. Their go-to spots are Starved Rock State Park near Oglesby, Illinois, and Wyalusing State Park in southwest Wisconsin. Conditions must be perfect at both sites for safe climbing, so day trips require "a lot of risk assessment," Voelliger, 63, said. 
"You can't really mess around when you're out there," said Bruns, an employee at Active Endeavors in Davenport. "There's a lot on the line when it comes to ice climbing.
Although she rarely gets "psyched out" on her climbs, Bruns, 28, recalled the "scariest, craziest" climb of her life. At Michigan Ice Fest in 2017, she and Voelliger braved blizzard conditions to tackle "Dairyland," the mother of all technical climbs at Pictured Rocks, featured in The Michigan Ice Film. They hiked about four miles and rappelled close to 200 feet down a sandstone cliff toward the icy waters of Lake Superior before climbing back up the ice. They then trekked an additional four miles back to their starting point.
"It was the real deal out there," a humbled Bruns recalled. "Mother Nature is strong and powerful."
During that same week, she took an ice tool to the face, fracturing her left front tooth. But neither that injury, nor the frostbite she suffered in 2016 at the man-made Sandstone Ice Park in Sandstone, Minnesota, has deterred her from pursuing additional challenges.
"For as long as I can remember, I've always wanted to be a rock climber," said Bruns, a Pleasant Valley High School grad. "It makes my soul smile."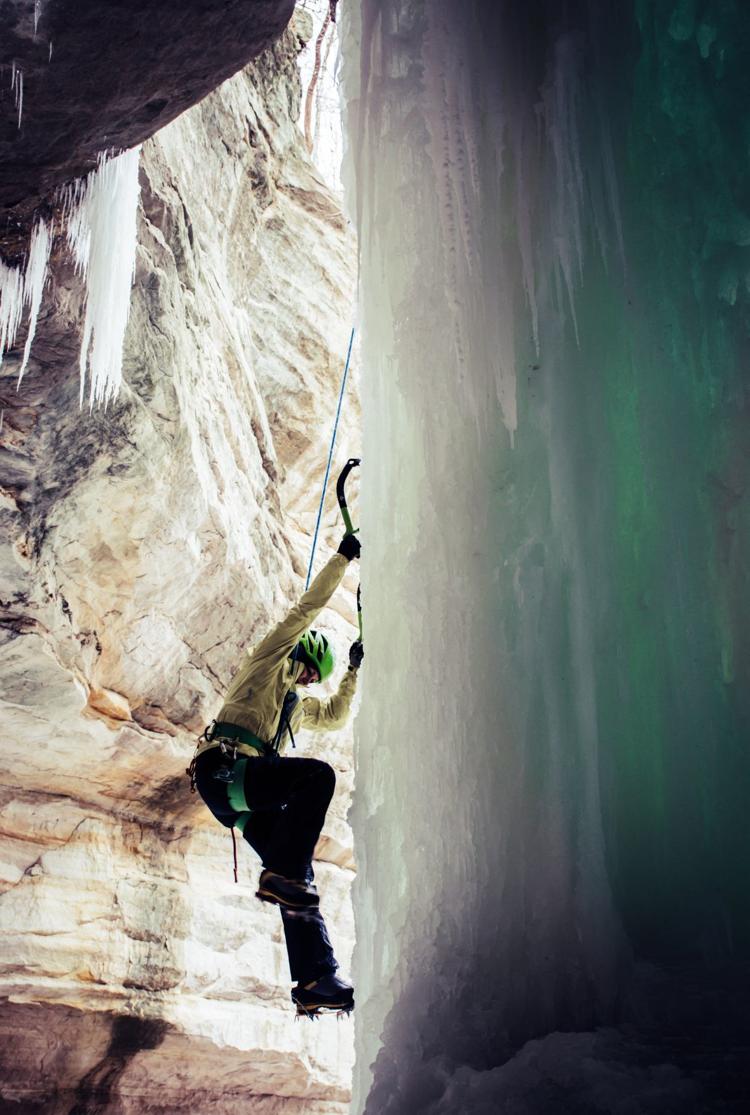 But ice climbing is a whole different animal, which Bruns did not expect when she tried it for the first time.
"The only thing that's the same is that you've got a harness and a rope," she said.
And ice is always changing.
"It's not like rock climbing, where you climb the same route over and over again," Voelliger said.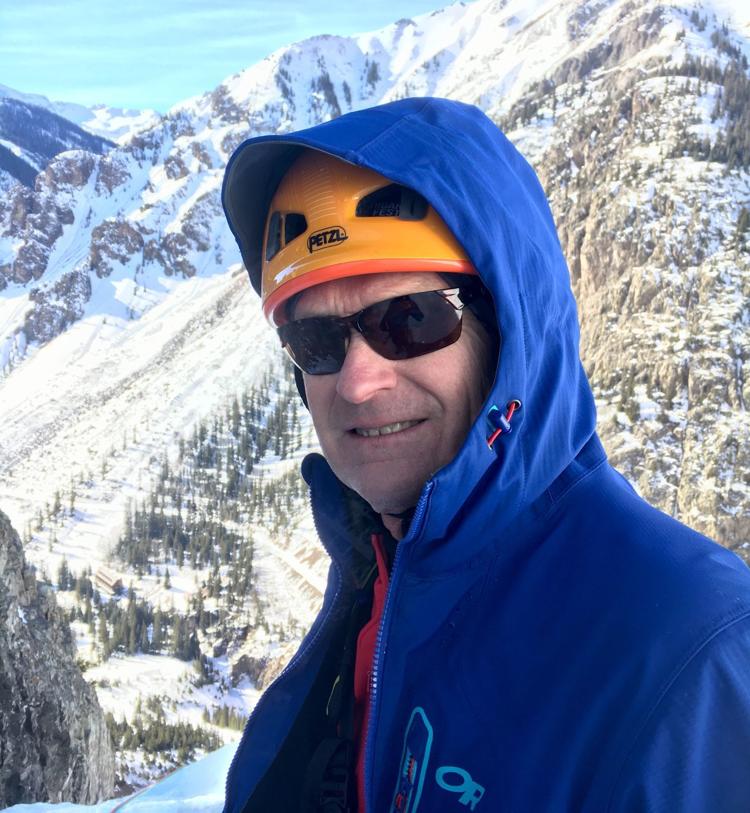 The veteran emergency responder began regularly ice climbing in 2010 when he strapped into a harness and scaled the now-shuttered frozen grain silo at a farm near Cedar Falls. 
"If you're able to climb the silo, because of how vertical it is," Voelliger said, "you can essentially climb anywhere."
Earlier this winter, he traveled with his wife, Lynne, to Ouray, Colorado, a small town in the southwest part of the state that is home to one of the world's largest ice climbing parks.
On that vacation, he traveled to nearby Eureka, Colorado, closer to Silverton, for what could go down as one of the climbs of his life. Equipped with the proper equipment, including spikes strapped to the bottom of his boots called crampons, ice axes and ropes as well as ice screws that secured his ascent, Voelliger climbed a 2,100-foot waterfall dubbed "Stairway to Heaven." He completed the journey he simply described as "awesome" with the assistance of mountaineering guides in about eight hours.
"Honestly, the only thing that's in your brain is, 'don't fall,' because there's so many sharp things you have in your hands and on your feet," said Voelliger, a former professional ski patrolman in Colorado. "The focus is the most intense focus I've ever experienced."
In the Midwest, he relies on Bruns, his "highly-skilled" and trusted climbing partner — and vice versa. 
"Sometimes people just click," Voelliger said.
She now has a six-year-old son, Henley, whom she has introduced to climbing and other outdoor activities. The single mother has grown accustomed to being the sole female climber on group trips. She connects with other avid woman climbers on social media, sometimes using the #climblikeagirl hashtag. 
"That's been my life in the outdoor world," Bruns said. "It's always been that way for me, but I don't let it slow me down."