DULUTH, Minn. — They have been ski patrollers at Spirit Mountain for longer than many on the slopes have been alive. And they're still at it.
One of them is 82. Another recently had his third hip replacement and is eager to get back on the snow. Four of them have been ski patrolling at Spirit Mountain since the winter it opened: 1974-75.
"It's something that kind of gets in your blood," said Jim Gearns, 70, of Duluth.
Gearns has been on Spirit Mountain's Ski Patrol since skiers first began descending the hill 43 winters ago. He still takes his shifts, wearing the red Ski Patrol jacket with the big cross on its back. Each fall, he teaches an Outdoor Emergency Care course, the medical training course required of all ski patrollers.
The longest-serving Ski Patrol member at Spirit Mountain is Rod Monson, 77. Monson recently received an award for his 50 years of service on the Ski Patrol. (He put in seven years at Mont du Lac before Spirit Mountain opened.) He's the one waiting for his latest hip replacement to heal so he can get back on the slopes.
Several of the long-timers gathered near the Ski Patrol room at Spirit Mountain recently to talk about their love of serving their fellow skiers. Among them were Bob Levander, 82, and Jim Melander, 70. Like Gearns and Monson, they began patrolling when Spirit Mountain opened.
"There are three reasons to be on the patrol," Levander said. "First, you learn good technique for first aid. Second, we just want to ski. Third, it's the group's camaraderie, just being together."
Those themes rose again and again during the discussion.
Warren "Slug" Wagness has been a Ski Patrol member at both Lutsen Mountains and Spirit Mountain for at least four decades.
"I've got a 40-year pin somewhere," Wagness said. "I like to ski, primarily. If I can be of help in a medical situation, that makes me feel good inside. And the camaraderie with my mates — you can't beat it."
Dennis Lally, 67, of Duluth started the second year Spirit Mountain was open and has been at it for 42 years. Gary Berggren, 73, of Duluth Township, began patrolling at Spirit Mountain in its second season and has patrolled there intermittently for about 30 years, he said.
"We just enjoy helping people," said Kristi Wilke, a 20-year patrol member and director of the hill's 125-member Ski Patrol. She's also a member of the bike patrol for Spirit's lift-served biking runs.
"I enjoy skiing and mountain biking," said Wilke, an athletic trainer for St. Luke's hospital. "It's not all medical. A lot of times it's just interacting with guests and making sure they have a good time. I find it very rewarding at the end of the day to know I helped somebody."
While the majority of those on the Ski Patrol at Spirit Mountain are male, the number of women is growing.
"We're pushing to get more ladies involved," Wilke said. "In the last couple of (fall training) classes, we've had about 50-50, guys to gals."
Women bring a different set of skills to the job, she said.
"It's a different type of patient care," Wilke said. "The ladies have an easier time with little kids. It's that whole motherly thing."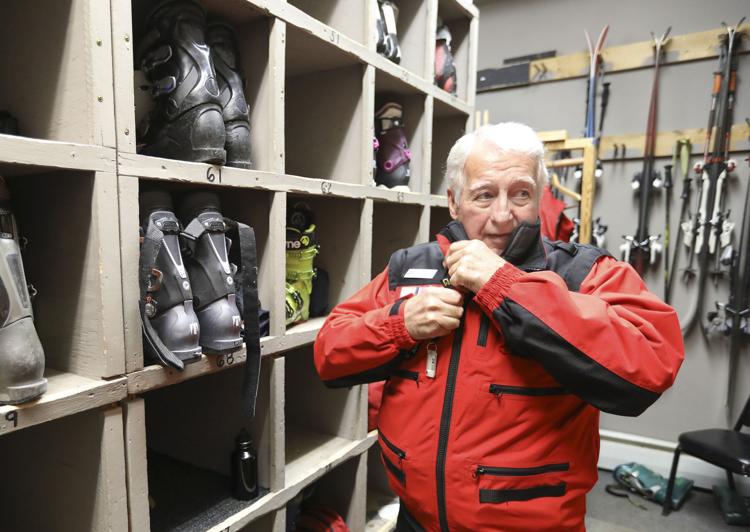 Ski Patrol members are all volunteers. They must buy their own ski jackets and helmets. The average patrol member puts in about 80 hours a season, said Cindy Cerio, Ski Patrol assistant director at Spirit Mountain. Some typically work weekdays, some work evenings and some work weekends. The patrol brings together skiers from all walks of life.
"You've got psychologists, an auto body guy, an accountant ... " Cerio said. "We have such a great realm of knowledge."
"It's the quality of the individuals you work with," said Melander, a retired teacher.
"The skiing brings you together," said patrol member Bruce Johnson, 62, "and you become friends. We solve a lot of the world's problems on the chairlift."
Childhood friends John Norman, 69, and Dave Nyquist, 69, have worked the Ski Patrol for 30 years. They put in a lot of shifts.
"John lives out here," Monson said.
Norman holds the informal record for most consecutive hours on patrol duty — 250 — according to his peers.
"The biggest thing is, it's a lot of fun," Norman said.
Several Ski Patrol members have met their future spouses on duty at Spirit Mountain.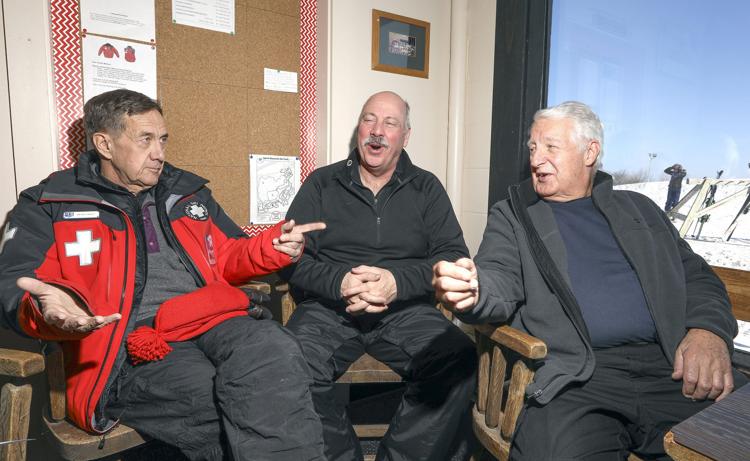 Here come Johnson and Melander now, on a sunny midweek morning, cruising past the upper chalet and onto Bindle Stiff run. Skis hissing on freshly groomed snow, the two patrollers disappear over the crest of the hill, carving graceful serpentine arcs.
Ski Patrol members typically travel in pairs, skimming over the runs, eyes peeled for skiers who might be injured or having equipment issues. The patrol has toboggans stored at various points on the hill, available in the event an injured skier needs to be transported to the Grand Avenue Chalet at the bottom of the hill. Patrol members take annual training to hone their skills in towing a loaded toboggan.
"Snowboarder injuries are usually waist-up, skiers' are waist-down," Johnson said. "Knees for skiers. Wrists and shoulders and thumbs for snowboarders."
Injury rates have fallen dramatically over the four decades Spirit Mountain has been open, the patrollers said.
"When I first started, I'd splint four, five, six arms or legs a day," said Ski Patrol member Thom Storm, 68, who has patrolled for 29 years. "That doesn't happen anymore because the equipment is so much better."
"The first couple of years (after Spirit Mountain opened), people came out with skis they'd found in their attics," Melander said. "The bindings wouldn't release."
"The biggest difference is the change in bindings," Wilke said. "We're seeing less injuries."
Helmets have become standard, too. About 80 percent of skiers at Spirit Mountain wear helmets now, the Ski Patrol members estimate.
Although skiing technology has made dramatic advances, Levander still chooses to wear the Rosemount ski boots he bought in 1969. The boots were revolutionary at the time. Hinged, they opened to the side rather than at the top. Levander's are well broken in.
"They're like bedroom slippers," he said with a grin.
While several members of Spirit Mountain's Ski Patrol are advanced in years, they're still capable of doing what the job requires and must take annual training.
"I don't see any downside to having older patrols," Wilke said. "With our recruiting, we do try to take the pressure off some of those patrollers and fill in with younger patrollers."
Norman and Nyquist, both at 69, have no plans to hang it up soon.
"We talk about it," Nyquist said. "The toboggans are getting heavier. The people are getting heavier. ... You don't want to get hurt doing this stuff. I just try to stay in the best shape I can and go from there."
Gearns, too, said he plans to keep patrolling.
"I'll go as long as I can, I guess," he said.
Sometimes, on a night with the wind chill well below zero, patrolling can be a bit uncomfortable, the patrollers say. But those nights are offset by other days.
"On a bluebird day, with calm wind and it's about 27 degrees, it's just perfect," Gearns said. "You think, 'This is why we live here.' "