Peering out across Sunset Marina on Thursday from the U.S. Coast Guard Auxiliary's office in Rock Island, veteran volunteer Ed Lieblein could not pass up an opportunity to educate a passing kayaker.
The paddler, Nick Valberg of Rock Island, was fishing from his kayak before heading into work.
During Lieblein's routine safety check, the 76-year-old retiree noticed almost immediately that something was missing from Valberg's vessel: a life jacket.
"You don't have to wear the life jacket, but you have to have it with you," Lieblein, a fellow Rock Islander, told him.
Valberg, a longtime tattooist and body piercer at O'Tool Design in Rock Island, said he did not think he needed a personal flotation device, or PFD, on board while floating in the marina. 
"That's good information," he said. "There's a lot of people down here kayaking who probably don't know that."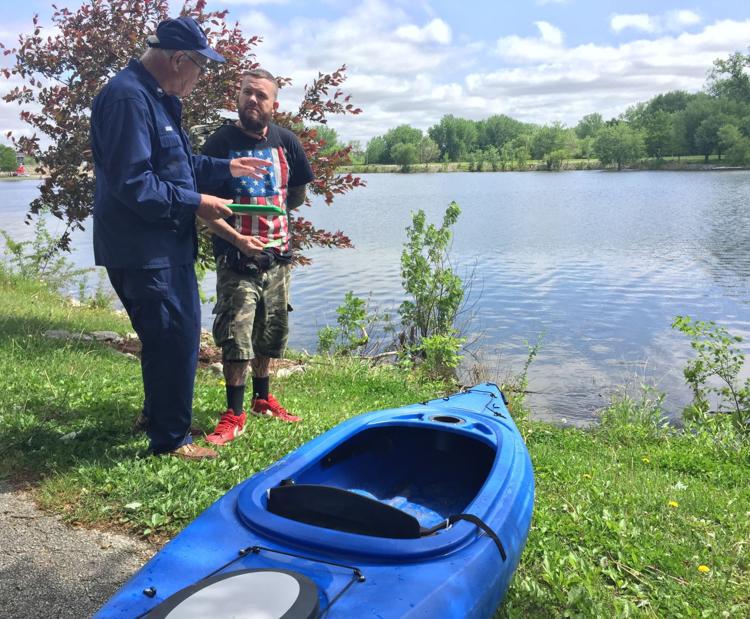 Joined by Erik Maitland, a certified kayak instructor through the American Canoe Association, the duo stressed the importance of wearing a life jacket, especially in colder waters. If someone capsizes, Maitland said, the initial shock can cause them to gasp for air.
"If you were to flip over and that happened, you'd take in some water, the process of drowning would already start and you wouldn't have the time to help yourself," he added. "If you had a PFD on and you had your whistle ready, you could at least signal to somebody on shore that something's wrong."
Saturday marks the beginning of National Safe Boating Week, and due to the rise in popularity of kayaking and other paddle sports, Lieblein is on a mission to promote safe practices. 
Next Saturday, the U.S. Coast Guard Auxiliary is hosting a paddle craft training seminar at the Moline Public Library that will be geared toward those curious about kayaking.
In recent years, kayaking has become an inexpensive family activity, Lieblein said, making it the fastest-growing water sport.
Between 90,000 and 105,000 canoes and 350,000 kayaks are sold annually, according to industry figures. 
While kayaking, stand-up paddleboarding and kayak fishing have grown dramatically in recent years, so have the number of accidents involving those vessels. 
From 2011-2015, the U.S. Coast Guard reported 881 paddle craft fatalities. In 2014, drowning caused almost 90 percent of paddle craft fatalities, and more than 80 percent of those victims were not wearing a life jacket.
In 2015, 29 percent of all boating deaths involved paddle craft, and in 2016, that rate climbed even higher. 
"Were finding that people go to a big-box store, buy a kayak and away they go," Lieblein said. "They don't realize the risks that are involved until they actually start doing it."
While he does not have any law enforcement powers, Lieblein hopes his efforts increase recreational boaters' safety awareness on the water.
Before parting ways with Valberg, Lieblein handed the paddler a bright orange whistle.
In response, the angler thanked the volunteer for his time, assuring him his duties there were done.
"Next time you see me out here, I'm going to have that fancy vest on," Valberg said.