WATCH: Mountain biking 'Stampede' returns Sunday to Sylvan Island
Her toes were cold Thursday evening when she returned home from a 20-mile loop ride on the recreational trails in Davenport, but Mandy Griesenbeck's bicycle was intact.
It was a leisurely stroll compared to her past two outings at Sylvan Island in Moline, where one of her tires kept flattening and her chain broke because of "all the extra crap that's out there."
"It's already kicked my butt," Griesenbeck said of the 35-acre island's rocky, rugged terrain. "I can't even complete three laps without something going wrong."
But those struggles aren't stopping her from chasing her goal of competing in the 10th annual Sylvan Island Stampede mountain biking race next Sunday, April 8, the first one after a four-year lapse.
The spectator-friendly race also marks the first organized competition on the property since late December, when crews installed a new 200-foot bridge across the Sylvan Slough, located south of the Rock Island Arsenal. Friends of Off-Road Cycling, or FORC, hosted the Stampede from 2005 until 2013, when the city of Moline closed the former steel span because engineers deemed it unsafe for foot traffic.
The inaugural Stampede inspired other groups to host similar happenings on the isle in the following years, including River Action's Taming of the Slough and Lagomarcino's Cocoa Beano 5K run.
The 2013 Stampede drew more than 300 competitors from around the region, but Griesenbeck, who doubles as race director, expects closer to 150 participants next weekend.
Novice riders will complete two laps around a 4-mile loop, and expert competitors will ride six laps, equaling 24 miles.
Volunteer trail builders led by Ray Nees began revisiting and rehabbing their old, overgrown stomping grounds about a year ago in preparation of the Stampede.
"We worked hard to get the trails back to 95 percent of what they were before," said Nees, who did not want to alter the original course. "We like what it used to be, so when we go back there, it's just like old times for us."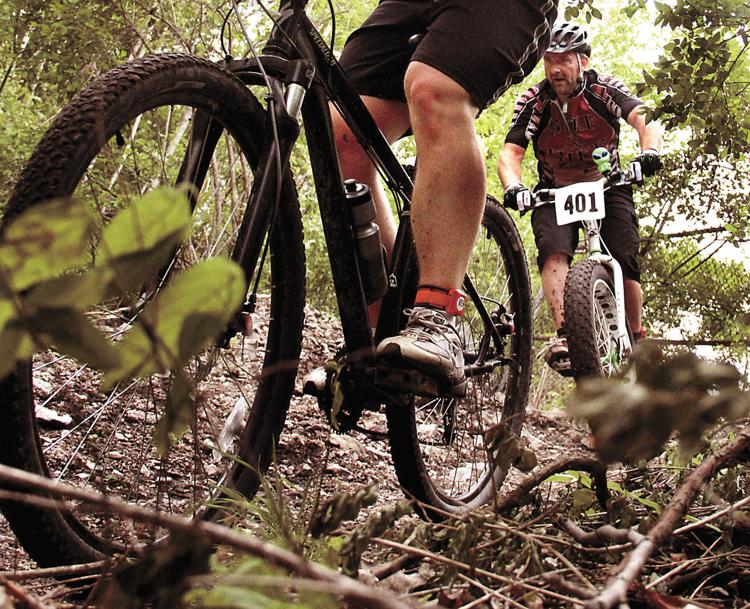 Maintaining speed on turns while dodging debris and rubble left behind from the island's industrious past make Sylvan Island's relatively flat off-road trail system one of the most challenging courses in the Quad-Cities, Griesenbeck said.
"It gets a lot more technical the faster you go," Nees said.
Beginning in 1894, Republican Iron & Steel Co. occupied half the island for more than 70 years before closing its foundry in 1966, when the city of Moline purchased the land.
Its history and location make it unique, said Griesenbeck, who learned the basics of mountain biking on the island before it was shut down to those without access to a boat. 
Watching her brother race in the 2013 Stampede sparked her interest in the sport. 
"I like the history of the island, and you can see it everywhere," Griesenbeck said. "Not a lot of people know there's a mountain bike trail in the middle of the city in the middle of the Mississippi River."