The overwhelming mantra of St. Patrick's Day festivities seems to follow "it's like everyone is Irish for a day." For some, that motto could mean cheering on a parade, wearing copious amounts of green or donning a makeshift Irish accent.
To me, it also means eating as the Irish do. And there were plenty of options for that this weekend across the Quad-Cities.
Special Irish fare — ahem, corned beef — showed up on menus in a variety of forms. Yes, corned beef was tucked under sandwiches, flipped into an omelette or strewn about atop nachos. It was layered with more beef on hamburgers and simply slapped onto paper plates at food stands on Saturday. Plus, there's always a side of cabbage nearby. When St. Patrick's Day is celebrated via food, the question is not "what do you want to eat?" Ultimately the question becomes, "what vessel do you want your corned beef served in?"
This weekend, that question was on repeat as I ate my way through the festivities in Davenport and Rock Island. Read on for a play-by-play of sights, sounds and tastes of this weekend.
Kelly's Irish Pub
2222 E. 53rd St., Davenport
Walking into Kelly's on Friday felt like observing an empire. Two giant tents. A stage with live music. Rows and rows of tables filled with people. A dozen stands for beer and food. And, the green beer was indeed flowing. Reminder: The official party didn't even start until Saturday. But no one seemed to care.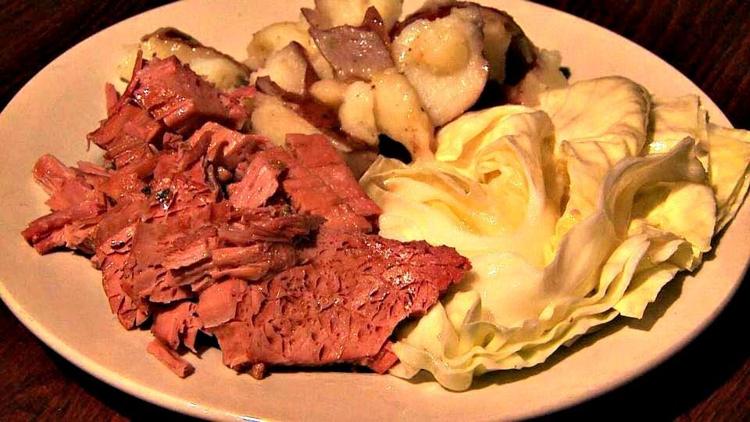 I sampled some of the helmet nachos and a corned beef sandwich, which was my first foray into Irish dining. So, as I was getting into the spirit, I also ordered my first-ever Guinness. It seemed like the proper starting point.
After a few minutes, it became clear that food was the last thing on some people's minds. At Kelly's, the food was almost an afterthought.
"I'm here to drink my stress and sorrows away," Steve Engler, 30, said. "We're a hard-working community and we all need a weekend to blow off steam."
Admittedly, Engler isn't Irish, but he was happy to celebrate the heritage at Kelly's.
"I think the Irish figured it out way before we did on how to have a good time," he said. "And that's why I'm here"
Icons
124 18th St., Rock Island
The District in Rock Island was taken over by St. Patrick's Day decorations, and bar specials. About 22 establishments participated in deals for the day of parade, and many are continuing this week. Inside Icons, a martini bar on 18th Street, the paper shamrocks, games of beer pong and Irish flags continued. You could even buy your own T-shirt with the Icons logo and phrase, "May the Irish be with you."
Icons offered a $5 special on green martinis, including apple, pistachio, thin mint and melon — basically the sweetest (as in almost-candy) concoctions of alcohol. I tried the apple one, which was glazed with caramel syrup, and can confirm the sweet factor.
Q-C Coffee and Pancake House
1831 3rd Ave., Rock Island
Strategically placed on the route of the grand parade, Q-C Coffee and Pancake House was even busier than usual on Saturday morning. And the steady stream of customers were even more interesting. There was the lady wearing the tiny, glittery green top hat. The guy wearing the green tutu. The guy wearing the all-green, shimmery suit. The older man dressed as a leprechaun with an orange beard. And plenty more.
It was the perfect viewing spot for the parade, the most creative costumes and also the place with the most delicious corned beef offerings. My plate included a corned beef omelette with Swiss cheese, a side of chopped red potatoes, carrots, cabbage and two slices of toast, making for a giant helping of hearty, yet yummy, food.
Me & Billy Bar and Kitchen
200 W. 3rd St., Davenport
This place has been counting down to the parade since the last day of February. Or, probably, the day after last year's parade. Like other bars and restaurants around downtown Davenport, Me and Billy opened early Saturday morning, at 8 a.m. And the party kept going all day.
I tried a Guinness-infused cheese dip (because hello, Irish food is very filling) with chips while sipping on my first, and only, green beer of the weekend. It was a dyed Coors Light and it was very, very green. Around the room, there were green-dyed fish bowls of rum or vodka, a giant cooler of beer bottles, plus green and white balloons and plenty of impromptu dance parties. It's safe to say Me & Billy was ready for the holiday.
Mac's Tavern
316 W. 3rd St., Davenport
With a jam-packed bar full of wannabe-Irish people, Mac's Tavern, which is just a short walk from Me & Billy, though you had to battle groups of other wannabe-Irish people for room on the sidewalk, was another go-to place on Saturday. Mac's also opened at 8 a.m., and some folks had stayed late into the afternoon. There were people wearing green screen-printed T-shirts with clever riddles and Irish sayings and plenty of options near the window to the kitchen in the back. You just had to spot the big poster, reading "Food here,"
Choosing from more corned beef and cabbage, bangers and mash or Irish stew, I went with a small shepherd's pie — though it was really a cottage pie because it was cooked with beef. And to make these two days come full circle, I paired it with my second-ever Guinness. My only hope is that the real-Irish would be proud.