PREPARING FOR SOLAR ECLIPSE
Eclipse glasses are going fast
Jeff Struve is worried.
He is president of the Quad-Cities Astronomical Society and super excited about the upcoming solar eclipse on Aug. 21. But he's concerned about people's safety.
It is never safe to look directly at the sun's rays — even if the sun is partly obscured — except with special eclipse glasses and, indications are, they're getting hard to find.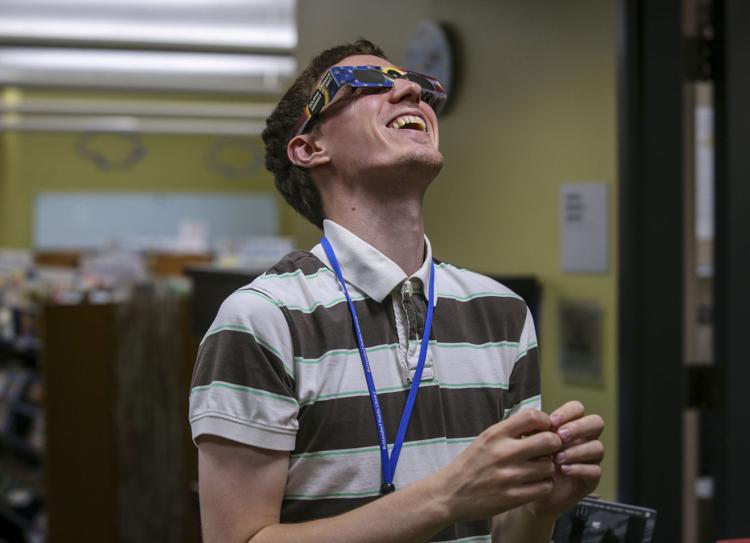 The Rock Island Public Library had 900 glasses to give out free, and they're all gone, Lisa Lockheart, publicity and outreach liaison, said.
The Davenport Walmart has been out since at least Monday, and they were going fast this week at the Davenport's Lowe's Home Improvement, 3955 Elmore Ave. Books-A-Million, 4000 E. 53rd St., Davenport, still had some at last check.
Other retailers to try are Best Buy, Casey's General Store and Toys "R" Us.
The glasses look very similar to movie theater 3-D glasses and sell for around $2.
Ordering online is another possibility, or you can arrive early at any one of the special viewing parties set up by Quad-City libraries or at the Putnam Museum. (See accompanying story)
Or you can watch via an alternative indirect method, such as with a pinhole viewer that you can easily make at home.
Meanwhile, the regional office of the Better Business Bureau in Rockford, Illinois, is warning against scammers releasing phony glasses.

Real solar eclipse glasses have specially designed filters that keep your eyes protected. But fake ones, regular sunglasses or watching the eclipse through binoculars and cameras will leave your eyes vulnerable to damage, the bureau said in a news release.
The bureau is alerting consumers of reports of counterfeit glasses that falsely claim to meet the standards for safe solar viewing set by the International Organization for Standardization (ISO). All a dishonest vendor has to do is copy the ISO logo and affix it to his product, Dennis Horton, director of the Rockford office, said.
"This is one of the rare scams that actually can cause harm and threaten the physical well-being of consumers," he said.
If you are looking for an online vendor or want to check to make sure your brand of glasses are safe, go to this website: eclipse.aas.org/resources/solar-filters.
What Struve is most concerned about is that with just more than 90 percent "totality" in the Quad-Cities, that much darkness might cause people to forget and look up at the sun directly for too long.