Why are you running for Davenport City Council?
When my husband and I moved to the Quad Cities in 1997, we purchased a home in the Hamburg Historic District. We immediately became engaged in neighborhood revitalization, including creation of a 501 (c) 3 organization, Gateway Redevelopment Group, whose mission is saving abandoned buildings in our neighborhood. To date, we've intervened on behalf of seven buildings, either by rehabilitation or transfer of ownership of derelict properties to responsible new residents.
That, along with my participation in the Weed & Seed task force and the research I've conducted over the past three years in pursuit of my master's degree, has reinforced my belief that the city must do a better job of stabilizing our heritage neighborhoods scattered throughout our urban core area. Through the years, I've shared what I've learned with city council and staff. I decided last fall that the only way to be an effective part of the change was to have a seat at the decision making table and so decided to run for office. When the 3rd Ward alderman resigned in April 2017, I entered the race for the seat and was elected in July to complete that term. Having served only three months, there is much yet to be done.
How does your work, public service or volunteer experience translate to serving on the Davenport City Council?
I spent many years working in local commercial television in leadership roles responsible for meeting goals, budgets and recruiting and retaining strong staff. As President/General Manager of WQAD, fiscal responsibility and capital and operating budgets were routine matters for which I was charged. These experiences give me a solid foundation for conducting the city's business responsibly.
My volunteer activity focusing on neighborhood revitalization gave me a solid understanding of city regulations and practices. Most recently, my historic preservation courses have afforded me the opportunity to use Davenport as my lab in writing research papers that focused on law, public policy and planning. In the course of doing that work, I've also studied how other cities are addressing the issues Davenport faces. Understanding how our city reached its current condition and also how it operates will assist me in helping residents access actions they need the city to take.
Writing historic tax credit applications (my projects number over 25) has brought me into contact with state agencies, allowed me to develop relationships with cohorts working across the county, and given me a solid foundation of how many of these programs work and what their requirements are.
In your estimation, what are the strengths of the city of Davenport?
Over the past three years, I've studied how a number of cities, particularly those in rustbelt areas, operate. In general, our city definitely has some strengths; For instance, we have clearly defined ordinances and operating practices; the city's rental licensing program is far ahead of those I've found in many cities. While I might not always agree with decisions that have been made, I believe our staff are professionals who are trying to do their best and our council works mostly in a cooperative manner. Also, the city is fiscally sound.
While we have issues within our urban core, our strengths can allow us to address our shortcomings.
What are the areas the city of Davenport can improve on?
As a city, we have been too timid to deal with many of the issues affecting our urban core. We need a strategic approach if we are to have a lasting impact For example, despite Iowa offering municipalities the option to take possession of abandoned properties through 657A 10A of the Iowa code, a law drafted by our own legal team back in the first decade of the new century, we have not taken advantage of this. I've been told by staff there is no political will to use this enforcement. Staff must be empowered by the council to pursue this option.
Once we've gained control of these properties, we also need to find a way to make it easier for residents to rehabilitate those not designated for demolition. While I'm not suggesting that we allow unsafely rehabbed properties along our city streets, I do believe there is a middle ground in which some requirements are relaxed in certain cases. One example of this comes from Baltimore which has a monumental issue with abandoned properties that are also historic. In those cases, the city historic preservation office and the code enforcement division sit together with the owner to develop a plan that balances the need for code enforcement with the practicalities and requirements of rehabilitation these buildings. We could apply the same principle toward rehabilitation in our urban core of abandoned buildings.
It also appears that our code enforcement efforts are uneven. At times, we seem too willing to permit conditions to exist on one property that hurt the appearance of our neighborhoods while at the same time cracking down on a minor infractions elsewhere.
I also believe that we lack an over-arching strategic plan for our city's future growth and operation. An example of a city that does this well is Dubuque. Their overarching goal is sustainability; their planning flows from this single source. I don't believe Davenport has this single focus.
In your ward, what are the biggest challenges facing your constituents? What plans or strategies have you formulated to address these issues?
Most residents in our ward live in older heritage neighborhoods that have seen disinvestment and decline.
In the 2005 Davenport 2025 Plan, writers defined a Core Development area. While that area doesn't exactly align with the 3rd Ward, it does define what life is like for a great percentage of those living in wards 1, 3, 4, and 5. I've updated the census tract information in the 2025 to include the 2010 census. Here's what I found: 25 percent of the residents live in poverty and our vacancy rate is 14 percent, twice that of the city overall. For many people living in this part of our city, day to day living is experienced like that of people living in challenged urban centers elsewhere in the country. Those experiences might include substandard housing, a lower-than-average family income, lack of access to robust public transportation and to amenities and services. I don't have a good solution for dealing with poverty. I do believe it's an effort that, ultimately, needs to be undertaken in accord with all the municipalities that make up the Quad Cities.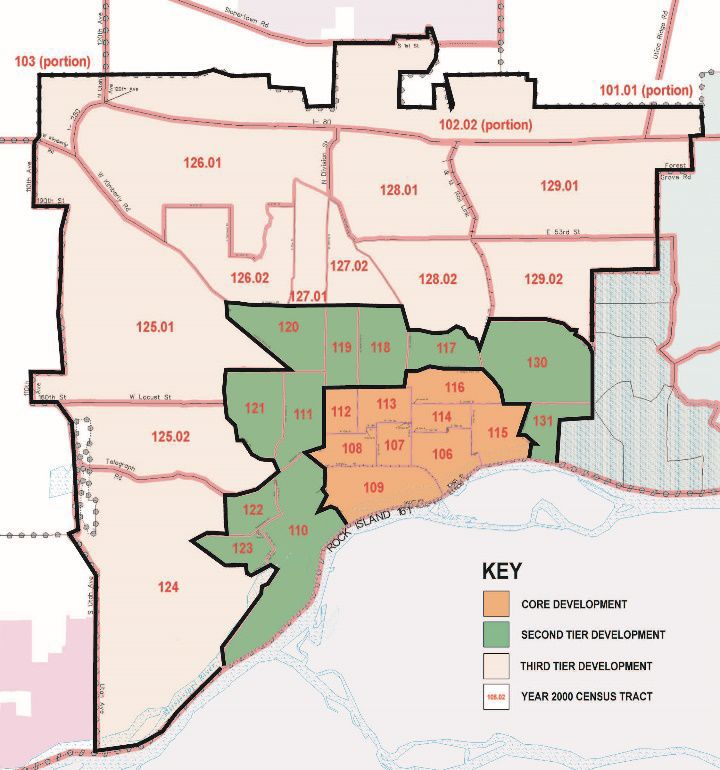 Residents in my ward also sometimes have problems getting issues addressed through city channels. Older infrastructure within wards like the 3rd mean that more problems exist. Roads, alleys and sidewalks are big concerns. While the city doesn't purposefully make the process difficult, it can be confusing for individuals to understand what those steps should be. I receive a number of calls each week asking for assistance, and I see my role as a navigator and advocate for residents.
Residents in much of my ward, particularly the west side, lack access to services and amenities. Some years ago, the city invested in corridor designs that would make that entry way into the city more attractive; unfortunately, all that we have today is that plan.
I see opportunity along the 3rd and 4th Street corridors and the vacated Kraft property for a West Side Redevelopment Group that could engage both 1st and 3rd ward residents and business owners. There are very stable heritage neighborhoods, particularly west of Division.
There is already significant small business investment along 3rd and 4th Streets; there are a number of residences that have been single family homes for many years. Kraft's departure opens up a relatively large chunk of land for many different kinds of new amenities.
There are many strengths to build on.
What have you identified as priorities or goals should you be elected?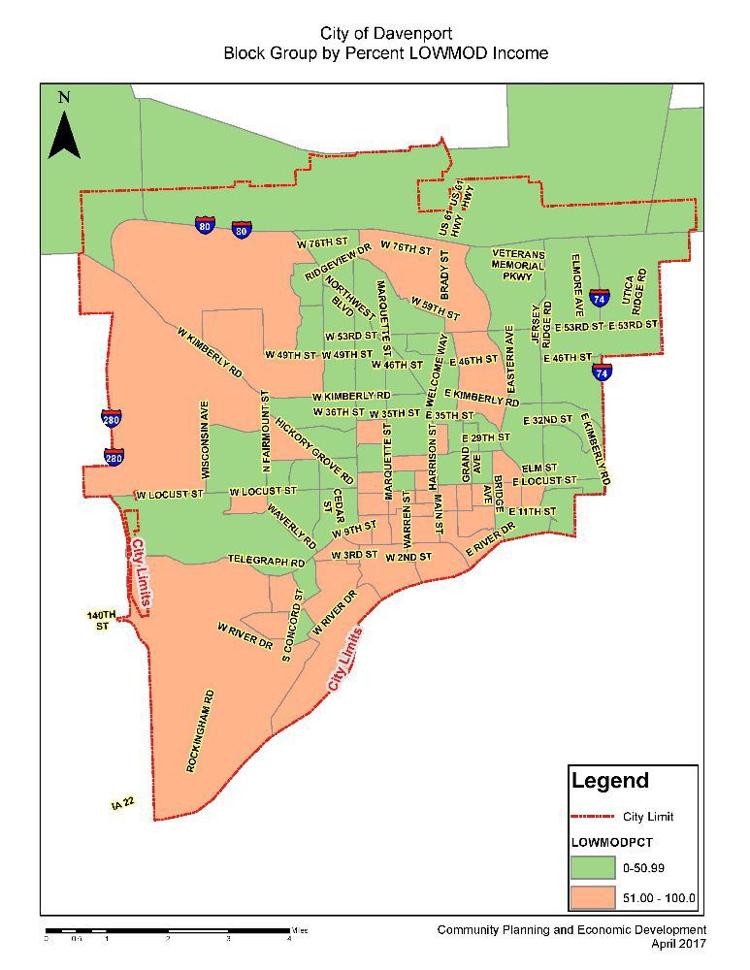 The first is bringing the urban revitalization plan, recently presented to council by Alderman Rawson, to fruition with full council and staff support. That plan includes addressing housing and infrastructure issues that I've defined in 4 & 5 above. I'd also like to see it include ideas for redevelopment/marketing of traditional small business/shopping areas like Locust in the 4th Ward and the 3rd and 4th Street corridors in the 3rd Ward. Historically, neighborhood redevelopment does not hopscotch across neighborhoods, but moves laterally from other centers of strength. Redeveloped shopping areas are often catalysts. A good example of this is the harbor area in Baltimore which is credited with the jumpstarting revitalization in nearby neighborhoods.
Davenport's riverfront is often times referred to as its greatest asset. Is Davenport on the right path to develop a "world-class riverfront?" Do you have a specific vision for what you would like to see or are there certain amenities you would like to incorporate?
I'm not a fan of the word "world class," but our river valley has been an amazing sight to new arrivals at least since 1855, when responses from arriving pioneers was noted. I would agree that our riverfront could be spectacular. I didn't grow up in a town by a river but have had the good fortunate to live in both Chicago and Davenport, who both have this asset.
As our riverfront has moved from an industrial, working site, we've been planning for new uses. I think it is important that, at least on parts of the nine-mile stretch, we develop more areas that are accessible not just from the land but from the water. People should be converging on the riverfront from both land and water. For instance, I'd love to see overnight boat docking at Main Street Landing, right in the heart of the city or just south from Centennial Park.
It is important that we develop more reasons for people to come to the riverfront. I'd like to be able to go down to what we are calling Main Street Landing for a beer and a sandwich. Even before the casino left, there's not much to take me down there unless there is some sort of concert at the bandshell, if I've grabbing a bite at Fresh Deli or going to the Farmers' Market.
As more and more people move downtown, I'd like to see amenities that would bring them there everyday … with the park sort of their front yard. These could be our most active users since they live so close. Weekends and evenings might bring folks from further away.
Davenport NOW was credited with spurring development at a time when construction was lacking. With the program scheduled to sunset next year, would you support continuing the program or what modifications would you like to see?
As I've previously stated, I'd like to see focus and dollars return to revitalization of our urban core neighborhoods. Our city of 103,000 people is the same size it was in 1980 prior to the farm crisis when our taxes supported much less infrastructure on the outer edges of our 67-mile city area. The NOW program had its place during the mortgage crisis and we've seen healthy growth in these areas since then. Unfortunately, while the NOW program was being implemented, the HAPPEN program, a local initiative dating to the time when Charlie Brooke was mayor and designed to encourage residents at all economic levels to gain control and rehab abandoned properties, was eliminated. The only available programs since have been income-restricted. If we can't have them both, then we need to focus on urban revitalization. And any incentives benefiting our new growth areas should return dollars to the urban core by directing TIF or tax incentives there.