While subzero temperatures may have delayed deployment of a few letter-carrier vehicles Tuesday morning in Bettendorf, mail was delivered across town without a hitch.
"Everyone showed up, so I was pleased with that," said Bettendorf Postmaster Ellen Opperman, who oversees 30 full-time carriers. On the heels of a federal holiday, they had more mail on their hands Tuesday than normal.
"Days like this are few and far between," Opperman said. "When it's this extreme, we want them out there as little as possible."
Believe it or not, the veteran U.S. Postal Service employee added, most carriers prefer walking over driving when the temperature hovers around zero degrees.
"Once you're moving, walking is better than driving in this weather because it's much easier to stay warm," said Opperman, who was assigned to her post last month. "These vehicles don't have a lot of heat in them."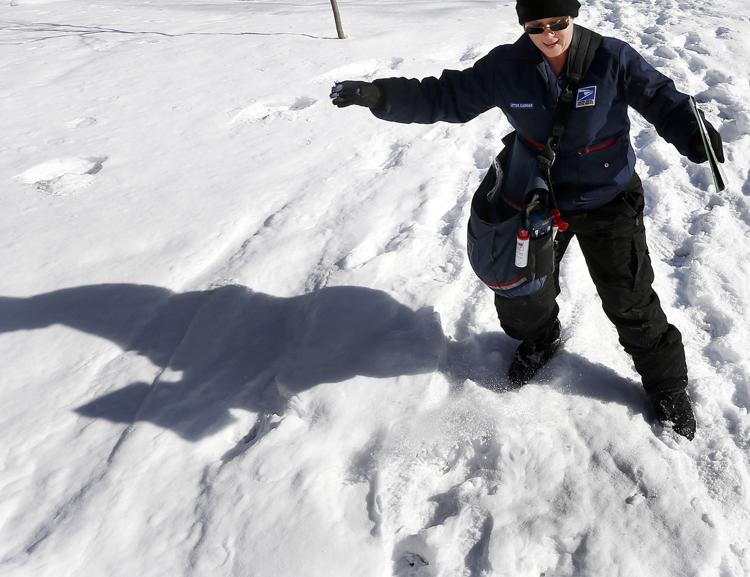 She speaks from years of experience.
During the winter of 1993, Opperman remembers trudging through waist-high snow along her 16-mile delivery route in Bettendorf.
"I lost 42 pounds that winter just carrying mail," she recalled. "I've never had a worse winter."
Twenty-five years later, she makes sure her workers, especially the newbies of the crew, dress appropriately. Her office provides hand and feet warmers as well as extra clothing.
"We round up hats, gloves and boots to keep them nice and toasty," said Opperman, who also reminds her carriers to stay hydrated and take breaks when needed. "We tell them to listen to their bodies, but most of them do very well because they know how to dress in this."
Every year, the U.S. Postal Service gives each of its carriers — numbering more than half a million nationwide — $450 to expand their wardrobe.
"The longer they've been carriers the more they're able to build up their uniforms," Opperman said. "No one knows what it's like out there until they're actually out there doing it."