Ever thought about ditching the city life for the river life?
Before making the jump, you may want to listen to the tales and tunes of longtime "river rats" Kenny Salwey and Jon Stravers.
The duo is set to headline Nahant Marsh Education Center's fundraiser Thursday in Davenport. This month marks Nahant's 17th anniversary and proceeds from the event will benefit programming and future restoration projects there, said Brian Ritter, executive director of the urban wetland.
"They both have a great perspective of the river and a great respect for the river," Ritter said of the visiting performers. "That's why we chose them."
For 30 years, Salwey earned a living along the mighty waterway as a river guide, trapper and roots and herbs forager. He also relied on the food he hunted and fished. The resident of Alma, Wisconsin, whom Ritter dubbed an "incredible" storyteller, is the author of three published books that recount his adventures on and around the river.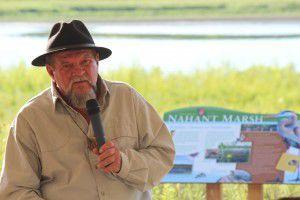 Accompanying Salwey, a trio of musicians led by Stravers will provide additional entertainment.
Nicknamed the Hawkman of Iowa, the ornithologist has earned international praise for his research on red-shouldered hawks and cerulean warblers along the river in the northeast part of the state. Quad-Citians, however, may know Stravers through his music.
In the mid-1990s, he and his late son, Jon-Jon, began making music together under the name Big Blue Sky. Inspired by the wild places they explored together, their sound features influences of several musical genres, including folk, bluegrass, blues and reggae.
Since Jon-Jon's death in 2007, Stravers has teamed up with dozens of musicians to carry on the musical and educational mission of Big Blue Sky. On Thursday, the resident of Harpers Ferry, Iowa, plans to strum his acoustic guitar and sing next to a mandolin player and percussionist.
During a recent phone interview, Stravers said he looks forward to sharing the stage with Salwey, whom "Hawk" coined an "interesting cat."
"He (Salwey) knows so much about living off the river, but he doesn't know hawks," Stravers said. "He knows all the stuff that I don't, and I know the little bit that he doesn't."
The event is sponsored by the Quad-City Conservation Alliance, Miller Trucking and Excavating, Sears Manufacturing and Front Street Brewery.