Need a gift idea for the holidays? Get in the DIY spirit at Craft Love in Bettendorf
Rather than gifting another pair of socks or a sweater, Kris Clements champions something craftier.
Specifically, something you can make with power tools and paint, perhaps while keeping a glass of wine nearby.
At Craft Love, a creative workshop that Clements opened in March 2016, there are plenty of holiday-themed do-it-yourself, or DIY, projects on the menu. Clements' schedule is full of classes geared toward crafting gifts. 
"It's busier this time of year with Christmas coming up," the owner/instructor said. "People are thinking in that mode right now."
Inside the workshop on State Street in Bettendorf, Clements invites you to "hammer out your frustrations" by converting raw materials into a decorative sign. Plus, Craft Love is BYOB. 
You can choose among more than 40 designs to decorate wooden signs. Clements also offers designs for cornhole boards, beer or wine totes, trays and framed signs.
"The options are endless," she said.
At work stations, customers are supplied with planks of wood, paint, stain, stencils and hammers and screw guns to complete their project. Instructors, such as Clements, a carpenter by trade, help out when needed.
"I know some people don't have a lot of confidence in the arts and crafts area," she said. "With this, there's not a whole bunch that can go wrong."
This time of year, wooden signs could be painted with phrases such as "Santa Stops Here" or "Let it Snow Somewhere Else" or "Don't Get Your Tinsel in a Tangle" or simply, "Have Yourself a Merry Little Christmas." For more personal touches, crafters can add specific names or dates or images to the project.
"People are excited to make a gift with their own hands for someone they care about," she said.
Up to 22 people can register for most classes, offered several times per week. Projects range in price from $30-85. Clements also offers private parties, company events, bachelorette parties and moms' nights out.
"It's a fun night out," she said. "And you get to go home with a project."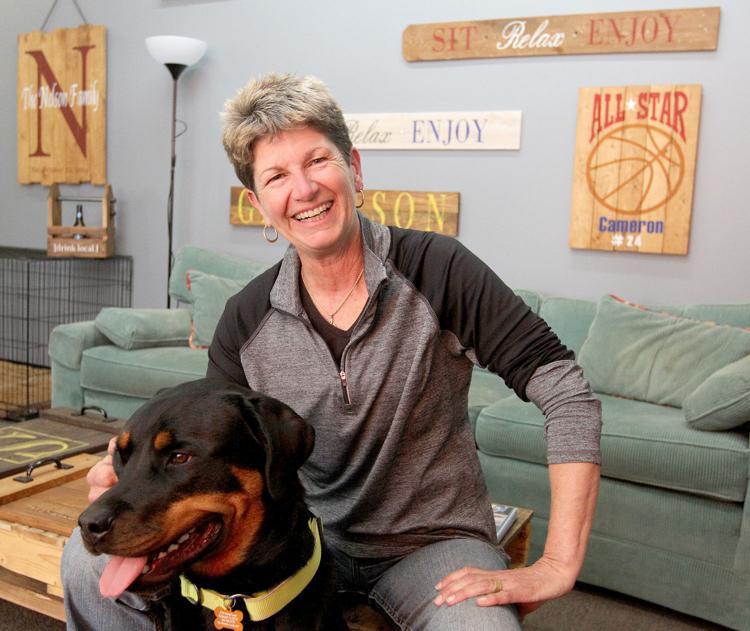 Clements started Craft Love after noticing a surge of "women wanting to make things and be crafty," she said. She liked the idea of paint-and-wine classes, but wanted to make it her own. Her adult children now own their own Craft Love stores in Tennessee.
"Some people that come in have never used a power tool," she said. "By the end, there's a great sense of personal excitement. People leave happy and excited."
That's why Clements tends to think of her Craft Love classes as a form of "empowerment."
"You might see some of this stuff on Pinterest and want to make it, but you might need that little nudge to help you," she said. "This is a good start."