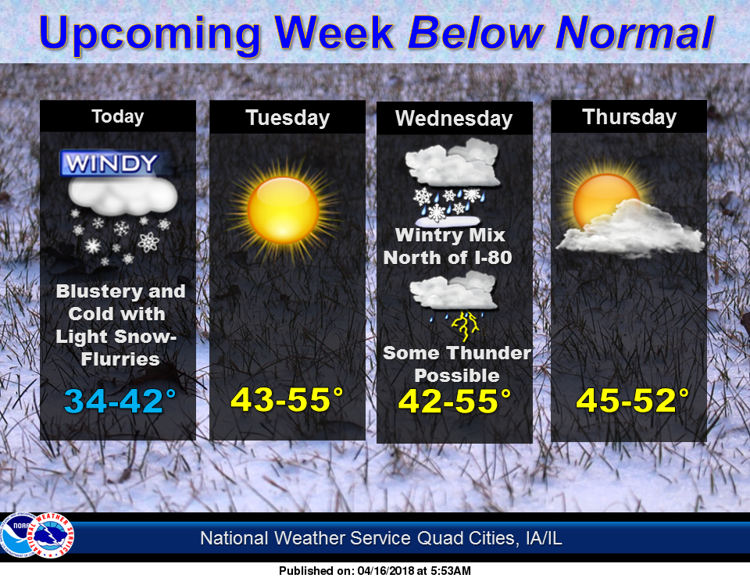 The above weather graphic states "Upcoming Week Below Normal." That can be true of just about any week during the past couple of months, so why change now?
But if we must, here's the afternoon forecast from the National Weather Service.
Skies will be mostly cloudy and breezy with a high near 37 degrees. Northwest winds will gush as high as 30 mph. 
Tonight will be mostly cloudy then gradually becoming mostly clear, with a low around 25 degrees. Northwest winds will gust as high as 25 mph.
Tuesday will be sunny with a high near 49 degrees and a low around 33 degrees.
According to a Hazardous Weather Outlook from the NWS, there's a chance for thunderstorms across portions of the region area late Tuesday and Wednesday. It is too early to determine if there will be a chance for severe weather, according to the weather service.
The same storm system may also produce strong gusty winds and a wintry mix in portions of the area Tuesday night through Wednesday night. There is still a lot of uncertainty regarding the track of this system, thus also where and how much of any wintry precipitation may fall.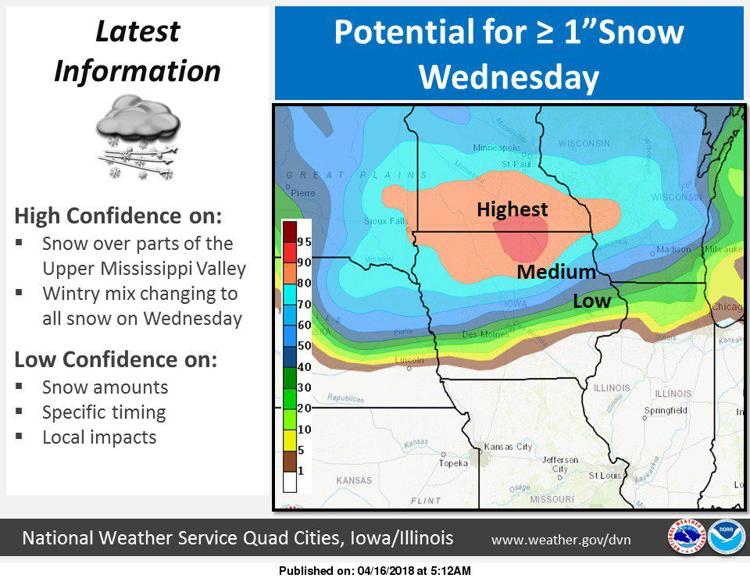 Recent rainfall and expected snow melt may bring rises to the Iowa and Cedar Rivers this upcoming week. Forecasts are not confident, as local rainfall amounts in eastern Iowa were rather light this past few days.
Those with interests near these rivers will want to keep an eye on forecast trends the next few days as the possibility of minor river flooding increases or decreases.
Man, armed with scissors, robs Moline business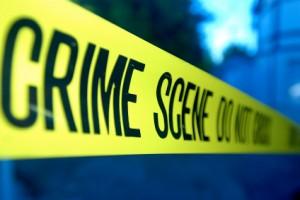 Moline police are investigating an armed robbery that occurred earlier today. Police were called at 7 a.m. to Burke Cleaners, 3024 Avenue of the Cities, to an armed robbery.
The suspect, described as a white male with blonde hair, between 35-45 years of age, wearing grey sweatpants and a grey hooded sweatshirt entered the business and demanded money from the cash register.
The suspect was armed with scissors, took an unknown amount of cash, and fled the area on foot.
The suspect remains at large. There were no reported injuries at the business.
Anyone with information regarding the armed robbery is asked to call the Moline Police Criminal Investigations Division at 309-524-2140 or CrimeStoppers of the Quad-Cities at 309-762-9500.