Here's the afternoon forecast from the National Weather Service.
We'll see rain and freezing rain, possibly mixed with sleet before 4 p.m., then a chance of snow and freezing rain between 4 p.m. and 5 p.m. then a chance of snow with total daytime ice accumulation of less than a 0.1 of an inch possible. Total daytime snow and sleet accumulation of less than a half inch also is possible.
Temperatures will fall to around 23 degrees by 5 p.m. It will be breezy with south winds becoming northwest gusting as high as 30 mph.  
There's a 30 percent chance of snow before 7 p.m. with an overnight low around 9 degrees and wind-chill values as low as -5 degrees. It will be blustery with a northwest wind gusting as high as 30 mph.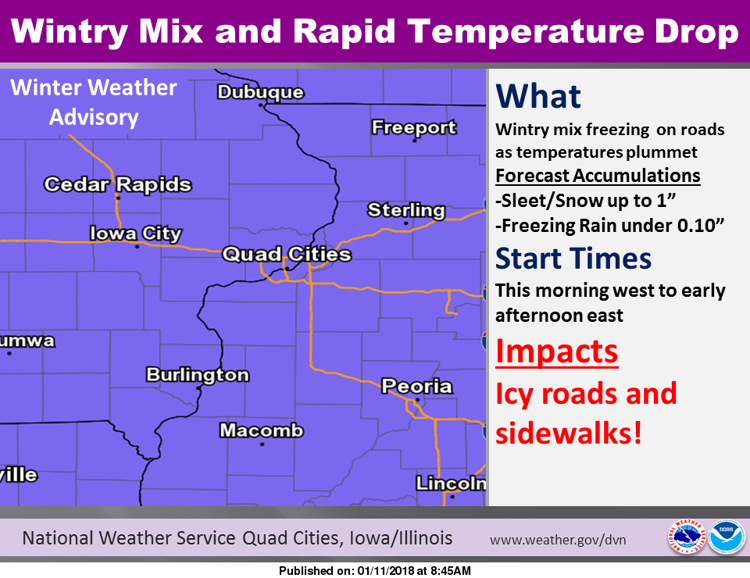 A powerful cold front is bringing below freezing temperatures as it sweeps through eastern Iowa and western Illinois. A wintry mix of light freezing rain, sleet, and snow is expected behind the cold front.
Initially, this will melt on the warm pavement, but as temperatures plunge into the teens and 20s, any wet pavement that is not treated will freeze into ice, creating hazardous travel especially during the evening commute.
The icy roads will linger into this evening as the wintry precipitation ends.
Total sleet and snow accumulations of up to 1 inch and ice accumulations under a tenth of an inch are expected.