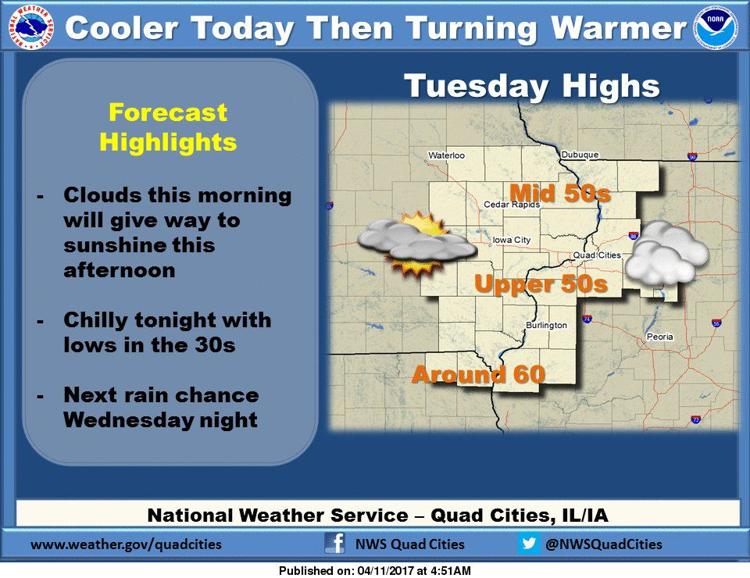 Good afternoon, Quad-Cities. Here is your National Weather Service forecast.
We'll see a gradual clearing with a high near 58 degrees and a low around 39 degrees.
Wednesday will be mostly sunny with a high near 70 degrees.
Wednesday night there will be a 50 percent chance of showers and thunderstorms after 1 a.m. Skies will be mostly cloudy with a low around 51 degrees. Southeast winds will be around 10 mph. New rainfall amounts could be between a tenth and a quarter of an inch. Higher amounts are possible during thunderstorms.
Man who escaped Maquoketa jail gets 10 years in prison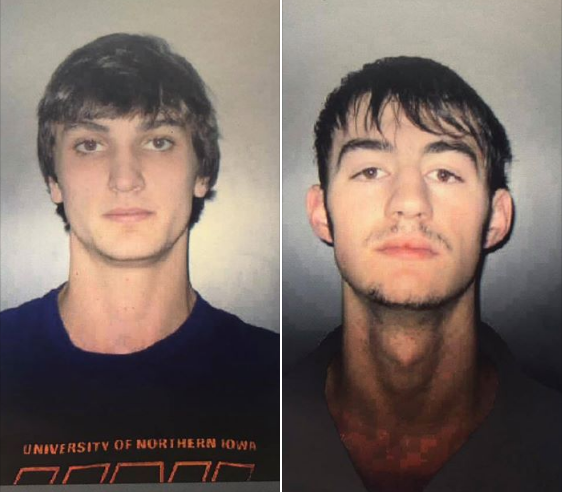 One of two men who broke out of the Jackson County Jail in eastern Iowa has been given 10 years in prison.
Online court records say Brian Willey, 20, was sentenced Friday. He'd pleaded guilty to escape and theft charges and to a burglary charge in an unrelated case.
Clinton police say Willey and Andrew Combs, 29, were captured after a short foot chase March 6. The men had pried open a gate and escaped Feb. 28 from the jail in Maquoketa.
Combs has pleaded not guilty to the escape and to unrelated burglary and robbery counts. His trial has not been scheduled.
Fire pit causes extensive damage to house in Rock Island
A fire, which damaged a business and apartment Tuesday morning in Rock Island, is being blamed on a fire pit that was improperly extinguished.
Firefighters were called to 4510 7th Ave. at 4:23 a.m. for a report of a structure fire. Two residents of an apartment in the upper level were home and safely escaped.
The fire began on the outside of the structure on a second floor deck and spread into the second floor apartment and into the finished attic, according to a news release from the Rock Island Fire Department.
Damage to the upstairs apartment and to Brien Chiropractic, the business located on the first floor, is estimated at $100,000.
The Rock Island Fire Marshal has determined the fire was caused by a fire pit that had been used on the second floor exterior deck the night before. The fire was not properly extinguished and wind contributed to the fire spreading to the deck below the fire pit and into the structure, the report said.
The fire is being ruled accidental.