+6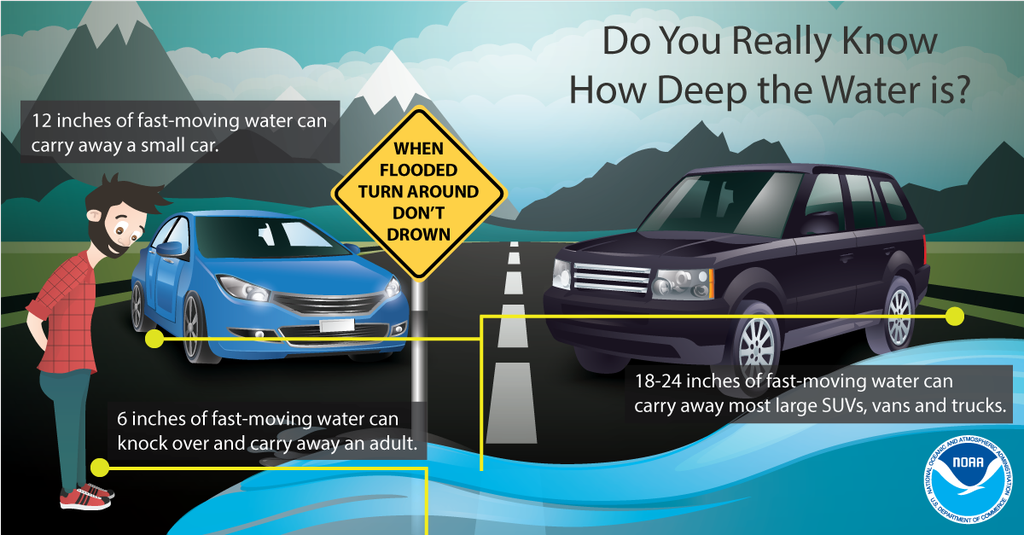 +6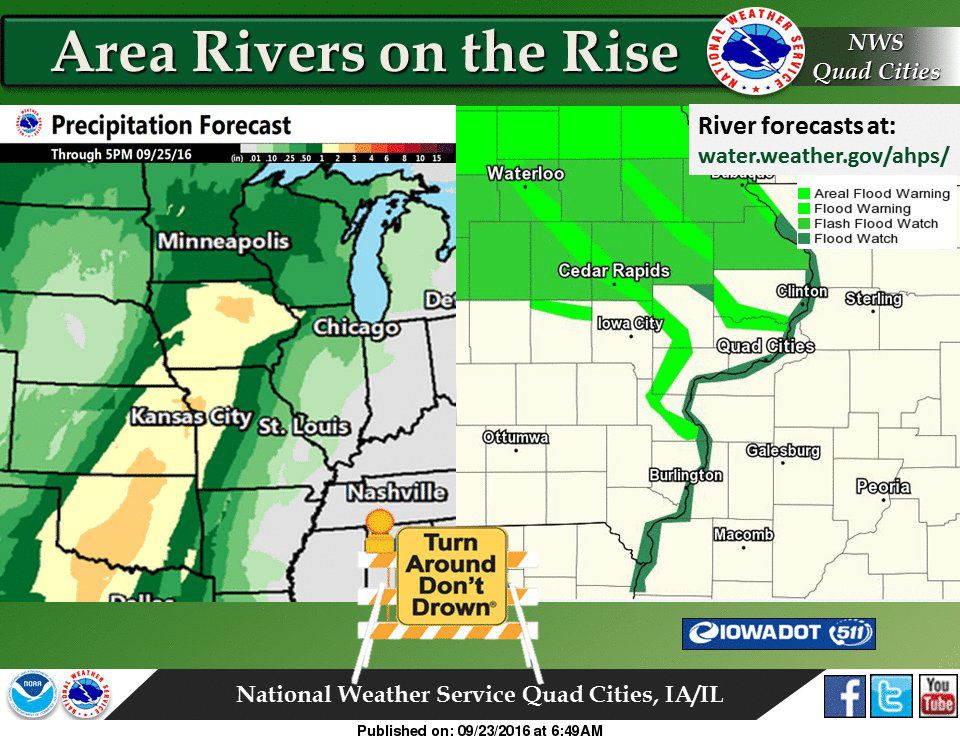 A good, and hopefully dry, afternoon. Heavy rains up north are doing a number on area rivers and streams.
Here's what is in store for the Quad-Cities this afternoon according to the National Weather Service.
Showers and thunderstorms are likely before 3 p.m. Skies are cloudy with a high near 79 degrees. The chance of precipitation is 50 percent with new rainfall amounts between a tenth and quarter of an inch possible. Higher amounts are possible in thunderstorms.
River levels
• Mississippi: Currently 12.08 ft. Flood stage 15 ft. Crest 16 ft. next Friday
• Rock: Currently 9.19 ft. Flood stage 12 ft. Crest 9.4 ft. on Wednesday
• Wapsipinicon: Currently 11.36 ft. Flood stage 11 ft. Crest 12.3 ft. next Saturday
• Cedar: Currently 13.1 ft. Flood stage 13 ft. Crest 18.2 ft. Thursday
• Iowa: Currently 19.07 ft. Flood stage 20 ft. Crest 28.6 ft. next Friday
2 dead in Wisconsin flooding; Cedar River towns brace for high water
+6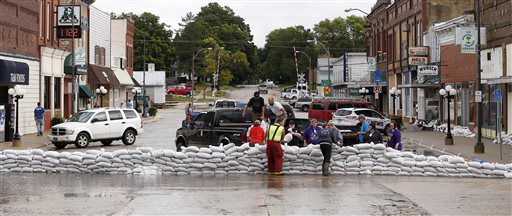 Authorities in Cedar Falls, Waterloo, Cedar Rapids and other cities are mobilizing resources to handle flooding from the rain-swollen Cedar River.
The river already has left its banks upstream, forcing evacuations at several communities along its path through northeastern Iowa. More rain fell Thursday night and earlier Friday, and the National Weather Service says the flash-flooding threat remains high.
The weather service says more rain could change forecasts, and local officials say at least moderate flooding seems a certainty.
Officials were contacting people in the North Cedar area of Cedar Falls, telling them about the rising water and offering aid in evacuation. Officials closed floodgates in Waterloo, and Cedar Rapids officials deployed portable dams, barriers and pumps in preparation for flooding before Monday's expected crest at 24 feet. That's 7 feet below the June 13, 2008, record of just over 31 feet.
There have been two weather-related deaths.
In Wisconsin, Vernon County sheriff's officials say 79-year-old Joseph Menne attempted to drive through floodwater on a road near his home on Thursday.
Investigators say he was in a pickup truck pulling a trailer that got stuck in six feet of water. The floodwater eventually filled the pickup compartment. Menne was reported missing about 7 p.m. His body was found about two hours later.
The torrential rain and flooding also killed 53-year-old Michael McDonald in the same western Wisconsin county on Thursday, when his home slid down the side of a bluff and onto a highway.
The flooding and mudslides heavily damaged the small community where McDonald lived near the base of a bluff along the Mississippi River. Read more.
Coming Sunday, the big story: Investment comes to the East Village
+6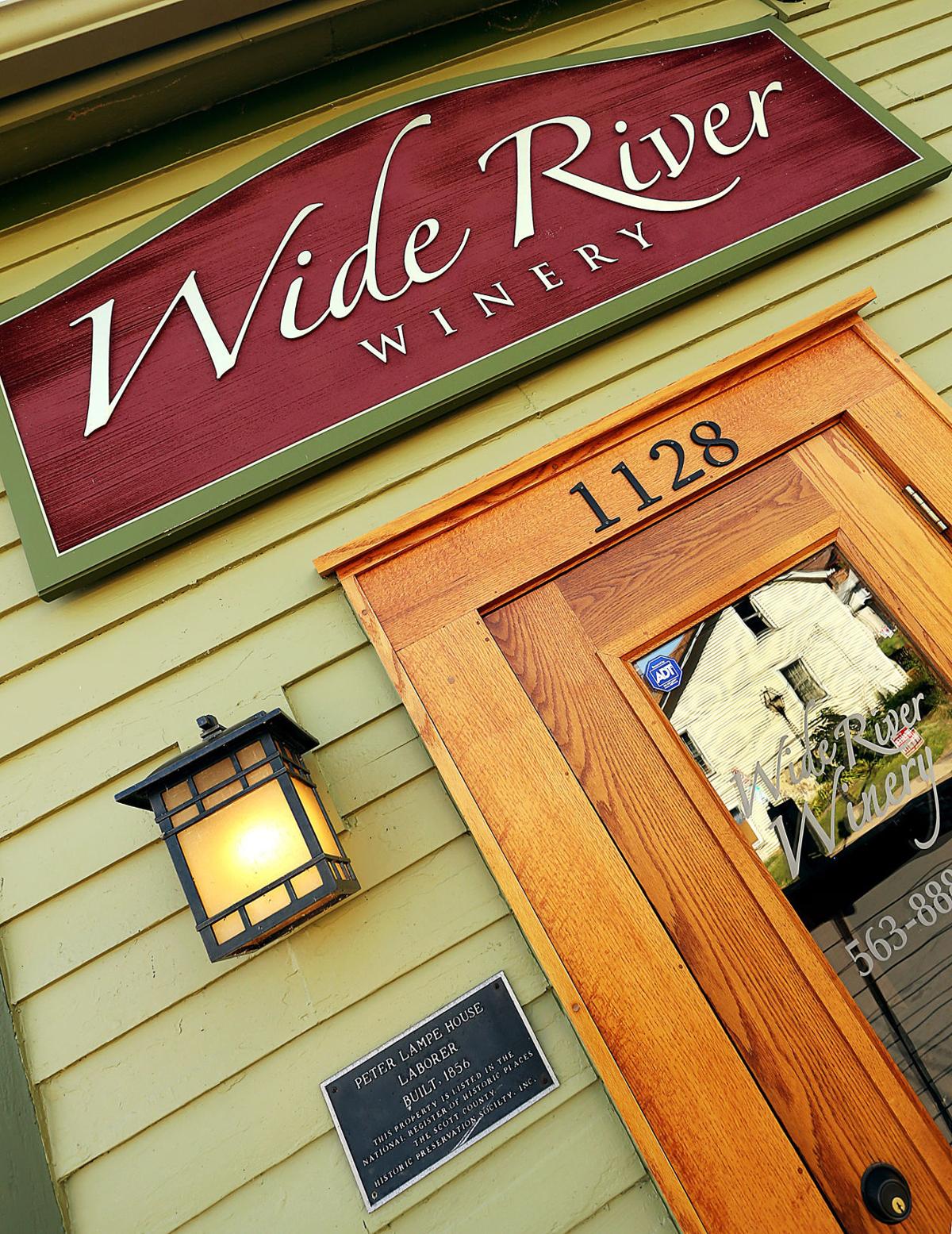 A new thrown-around nickname for the Village of East Davenport is "Little LeClaire." Some Village merchants are cool with that. Others say the Village is too different from LeClaire to draw a comparison.
Either way, the redevelopment boon in the Village bears a striking likeness to the renaissance upriver. Read online at qctimes.com or in Sunday's editions of the Quad-City Times.
Woman flips car when spider falls from rearview mirror
+6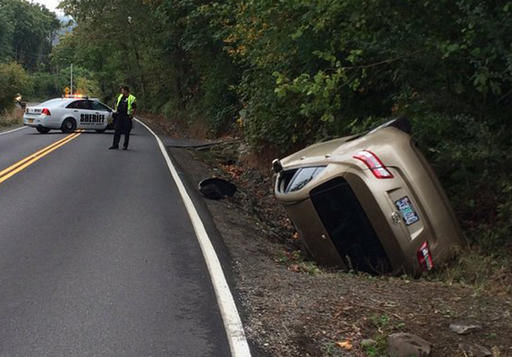 Police say woman freaked out by a falling spider flipped her car in Portland, Oregon.
The Washington County Sheriff's Office tweeted Wednesday that the spider dropped from the rearview mirror as the woman was driving on a rural road.
Though the car was totaled in the rollover crash, the driver was not hurt.
The sheriff's office warned its Twitter followers that spider season is in full swing.
Birthday greetings from Davenport, Iowa
+6
+6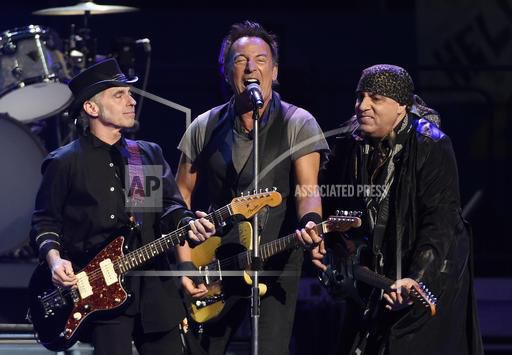 Today is Bruce Springsteen's 67th birthday. And the rock music Hall of Famer is still performing on the road, stronger than ever. Earlier this month fans got their money's worth as he and his E Street Band performed a four-hour, four-minute concert at Citizens Bank Park in Philadelphia. Happy birthday to "the Boss."