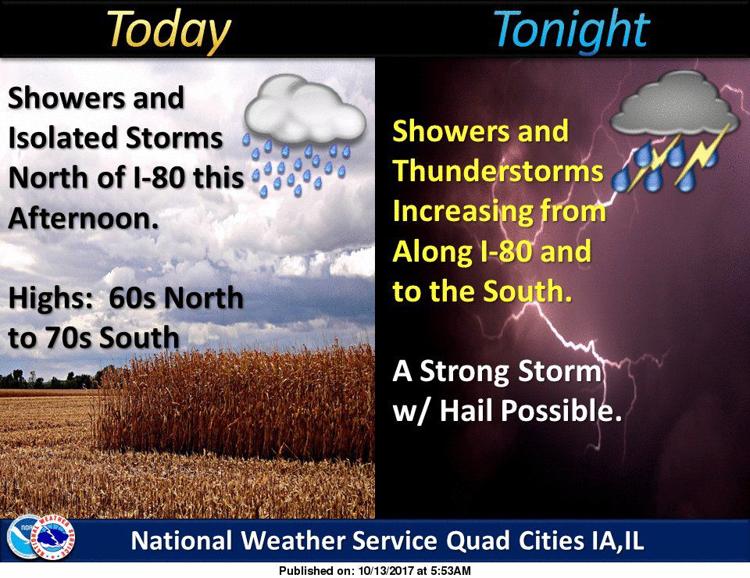 Here is the afternoon forecast from the National Weather Service. Isolated thunderstorms will be possible north of Interstate 80 this afternoon. Skies will be mostly cloudy with a high near 69 degrees.
Tonight showers and thunderstorms are likely with a low around 60 degrees. The chance of precipitation is 80 percent with new rainfall amounts between a quarter and half of an inch possible.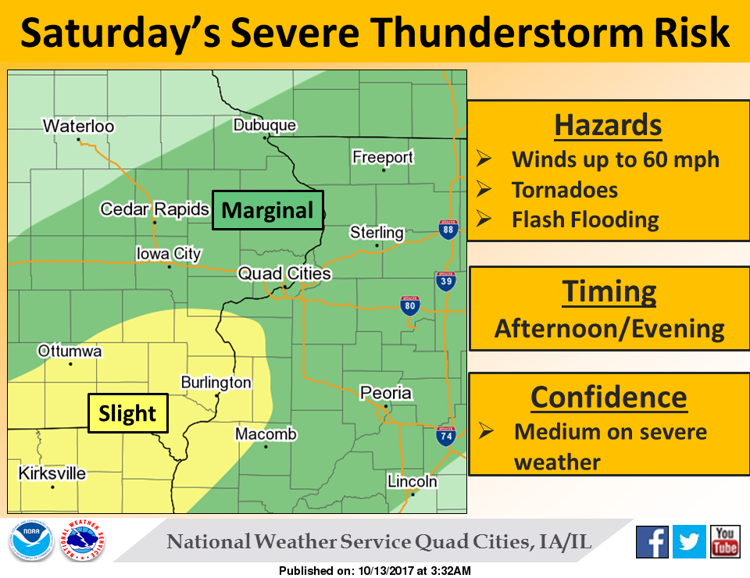 Thunderstorms of more scattered coverage are expected to develop later tonight, especially along and south of the Interstate 80 corridor. There is a low chance that some of these storms will be able to produce large hail. The Storm Prediction Center has placed areas generally along and south of a line from Cedar Rapids, to just southeast of the Quad-Cities in a marginal risk for severe weather tonight.
Areas that experience repeated storms tonight may get locally heavy rainfall of over an inch which may produce ponding of water on roads and in drainage ditches.
1 hospitalized after mobile home fire in Bettendorf
An early morning fire to a mobile home in Bettendorf sent one person to the hospital. The call came in at 1:19 a.m. with Bettendorf firefighters responding to a report of a fire at Valley Mobile Home Park, 5425 Valley Drive.
When firefighters arrived to the fully involved mobile home, they were told that a man was inside. Crews made entry into the mobile home, located and then removed the man. He was transported to Genesis East Medical Center. The extent of his injuries are not known at this time.
The man's identity is not being released at this time. The fire was under control at 1:37 a.m. with hot spots extinguished at 2:11 a.m. The Iowa State Fire Marshal was notified and will assist in the investigation.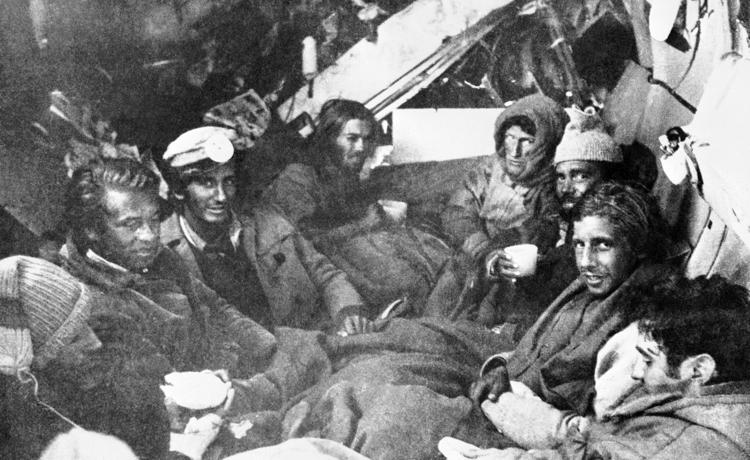 • Today is Friday the 13th. Here are 13 events that took place on this date in history. See more.
Have you seen this Bettendorf shooting suspect?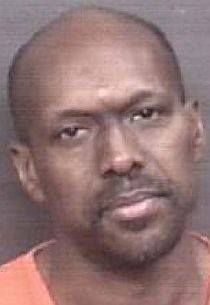 CrimeStoppers of the Quad-Cities is enlisting the public's help in locating a man involved in a shooting in Bettendorf.
Demetrias Martin, 41 is wanted by Bettendorf Police on a warrant for robbery, willful injury and conspiracy. He is alleged to have been involved in a shooting on July 23, 2017 in the 2800 block of Hawthorne Drive. One victim was injured in the incident.
Any one with information about Martin or any other felony fugitives, is asked to call the tip line (309) 762-9500 or submit your secure tip on our Facebook home page by clicking on the "Submit a Tip" tab. Do not approach this subject.