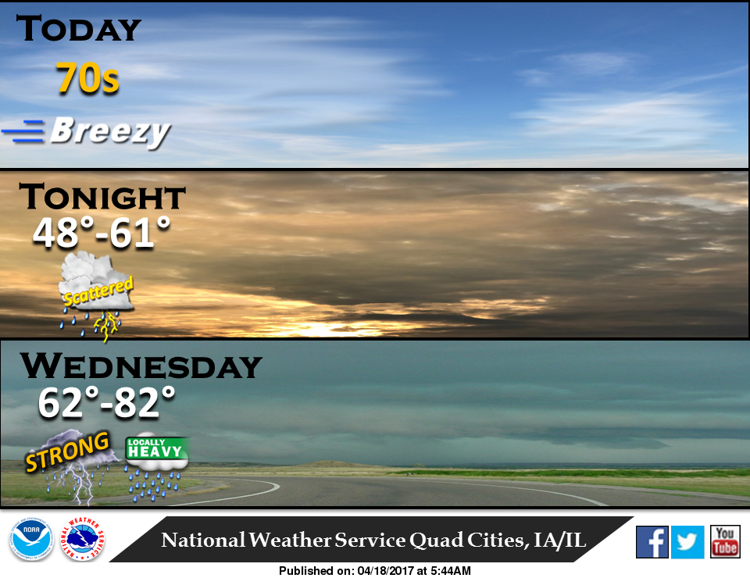 Here's the afternoon forecast from the National Weather Service.
It will be mostly sunny and breezy with a high near 75 degrees. South winds could gust as high as 25 mph.
There's a 40 percent chance of showers and thunderstorms after 10 p.m. No severe weather is expected. The overnight low will be 56 degrees.
Thunderstorms are expected Wednesday and Wednesday night. There is a low risk of heavy rainfall. The Storm Prediction Center at this time has a low risk of severe storms across the area. However, the most likely time frame for severe storms will be Wednesday from 4 p.m. to midnight. The primary threats at that time will be large hail and damaging winds with a few tornadoes also possible.
Several area rivers are experiencing flooding.
Moline officials report that Veterans Park is closed until further notice because of high water. 
One dead in area moped crash
One person is dead after a moped and truck collided Monday night on U.S. 61 in Louisa County. The crash occurred at 9:50 p.m. on U.S. 61 near Kennedy Drive in Wapello.
The moped was traveling westbound on Oak Street attempting to cross U.S. 61 when the driver failed to yield upon entering the highway and was struck by a 2003 International truck at the intersection of Kennedy Drive, according to a crash report from the Iowa State Patrol.
Both vehicles came to rest in the southbound lane of U.S. 61 at Oak Street. 
The driver of the moped has been identified as Sierra Jane Bowdre, 15, of Wapello.
The Iowa State Patrol was assisted by the Louisa County Sheriff's Office, Wapello Fire Department and EMS, and the Louisa County Medical Examiner. 
No charges to be filed in gun death of Fulton man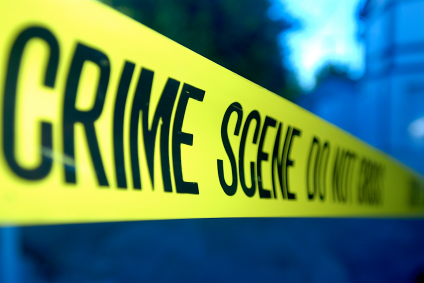 CAMANCHE, Iowa — An eastern Iowa prosecutor has decided not to charge a man who shot to death an Illinois resident.
Authorities say 25-year-old Derick Carroll, of Clinton, shot 22-year-old Nicholas Luskey, of Fulton, Illinois, on Feb. 1. Clinton County Attorney Mike Wolf said in a news release the shooting was done in self-defense.
Wolf says Luskey was watching the home of a woman he'd dated several months previously and pulled Carroll from the woman's car after he blocked them from driving away. Wolf says Carroll and Luskey were struggling when Luskey got his hands around the barrel of a handgun Carroll was legally carrying, so Carroll fired, fearing that if he lost control of it he and the woman would be killed.
Luskey later died at a hospital.