Notes @ Noon: Floatzilla fanatic will 'never' miss paddle fest
The main channel of the mighty Mississippi River, with its strong current and bustling barge traffic, can pose a slew of challenges to beginner paddlers.
Despite a somewhat scary first outing in the spring of 2010 off the shore of East Moline, Jothanial Santilli, who had not received any prior training, was hooked.
Before long, the Milan man purchased his own kayak.
Call it good timing because River Action Inc. announced plans shortly thereafter for its inaugural paddle sports festival, dubbed Floatzilla.
"I haven't missed one since, and I never will," Santilli, 37, said this week. "It's a great time."
Upward of 1,500 paddlers from more than a dozen states are expected to partake next weekend in the eighth annual event, which has become the largest happening of its kind on the Mississippi River.
Every year, River Action hopes to break the Guinness World Record for the largest connected raft of canoes and kayaks, which was set in 2014 by a group of 3,150 boats in Upstate New York.
Participants will paddle from five launch sites along the Mississippi River to Lake Potter at Sunset Marina in Rock Island, where they will gather for the traditional group photo.
For the first time this year, organizers want to attempt to break an additional world record for the largest simultaneous launch of canoes and kayaks, which was set in 2014 by a group of 396 paddlers in New Hampshire.
For that to happen, at least 397 participants will need to put in at Lake Potter within 15 seconds.
New launch site
Because of construction along River Drive in Moline, there will be one new launch site this year. River Action announced Thursday that paddlers who planned to launch from the Ben Butterworth Parkway site will be rerouted downriver to the Sylvan Boathouse at the foot of 17th Street in Moline.
The 400 paddlers who already registered to launch from Ben Butterworth may opt to start at Empire Park in East Moline, a 12-mile route to Lake Potter.
Last year, 700-plus people began Floatzilla at Ben Butterworth, a 9-mile route, according to River Action.
Those who depart from the boathouse, which is managed by Two Rivers YMCA, may unload their gear there, then park at the iWireless Center and shuttle back to the dock. They will have to portage across Sylvan Island on their way to Lake Potter. 
Advanced paddlers who launch from Empire Park may pass through Lock and Dam 15 or portage across Sylvan Island.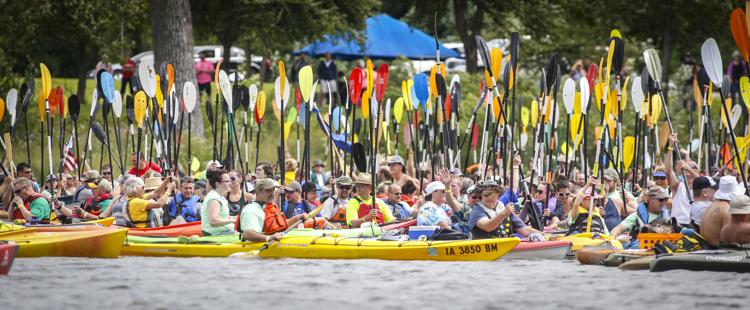 Kathy Wine, River Action's executive director, said the goal of Floatzilla is to expose people to the water trails in the area, which include the sloughs and shorelines along the various routes.
To lessen distractions, the U.S. Coast Guard will shut down river traffic during the event.
"It's a good introduction to what the Mississippi has to offer," Wine said. "There's a lot you can learn about the river from the seat of a kayak."
For the 'love of water'
The last two years, Santilli started at Ben Butterworth, but this year, he plans to paddle from the Marquette Street boat launch in Davenport, a two-mile course.
The semi-truck driver, who makes multiple trips every week to Fargo, North Dakota, said he will drive through the night to make it back in time for the adventure.
"I won't be bright-eyed and bushy-tailed, but I'll be there," he said.
The bearded father of five literally wears his passion for the event. In 2013, Santilli's buddy tattooed a menacing image of the Floatzilla symbol — a lizard's eye with a kayak and paddle in the middle — on the top of his right hand.
It accompanies a tattoo of an anchor on his left hand.
"It's my love of water," he said. "I grew up along the Mississippi, and I've always had my toes in that water."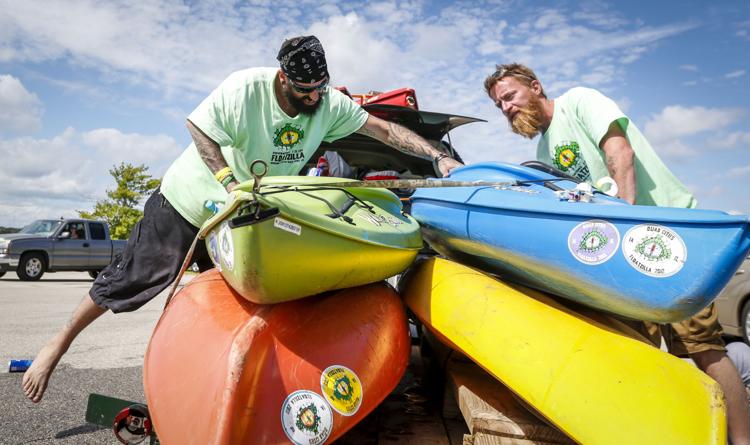 At Theisen's in Davenport, kayaks have been flying off the racks this season more than any other item in the sporting goods department, according to Brian Smith, a salesman there.
"I don't think it's just because of Floatzilla," he said. "I think people in general want to get out and do something different."
The store is donating one kayak, which will be awarded to one random registrant.
Those in need of watercraft for Floatzilla may rent a canoe or kayak from one of River Action's partnering outfitters.
Santilli, who now owns two kayaks, said he and his girlfriend plan to paddle alongside another couple. In the future, he hopes to bring his children. 
"A kayak is better than a big boat because you're right down on the water," he said. "There's nothing more peaceful in the world if you ask me."
Editor's note: Look for reporter Jack Cullen's Notes @ Noon Tuesday, Thursday and Friday online at noon. He will capture various sides of life in the Quad-Cities. Contact him at jcullen@qctimes.com or 563-383-2363.