A Davenport chef already has made a name for himself as The Crepe Guy, but he no longer wants that identity to define his culinary prowess.
While Chad Cushman's sweet and savory pastries have garnered him quite a devout following over the past six years, he thinks the nickname also has stifled his catering business opportunities.  
"I'm ready to break out," said Cushman, who is best known for operating a pop-up brunch station at various venues around town. "I'm ready to show people that Chad can cook more than just crepes."
But crepe fans should not fret.
The 46-year-old self-taught cook said his popular staples still will have a spot in his rotation, which will feature a wide range of "non-traditional" street foods from around the world. 
"If I stopped doing crepes at the (Freight House) Farmers Market, I think people would be in an uproar," he said, calling this transition both "scary" and "exciting." "This just gives us the ability to tailor our menus to our clientele."
To help rebrand himself, Cushman acquired a bigger workspace.
Instead of opening a brick-and-mortar eatery, however, he and his business partner, Bettendorf-based entrepreneur Bruce Grell, opted for a new set of wheels.
They commissioned a Miami-based manufacturer, United Food Truck, to install the components of a full-size commercial kitchen, including a griddle, char broiler and convection oven, aboard a custom 1989 Chevrolet Utilimaster.
The 18-foot vehicle, which Cushman helped design, cost close to $60,000.
"It's more than just a food truck," said Grell, who met Cushman a few years ago at Dunn Brothers Coffee in Bettendorf, where The Crepe Guy formerly served brunch. "This is going to give Chad the opportunity to cater just about anything anybody would throw at him."
The rig, which arrived last month, recently received a fresh coat of red paint at Jackson Auto Body in Matherville, Illinois.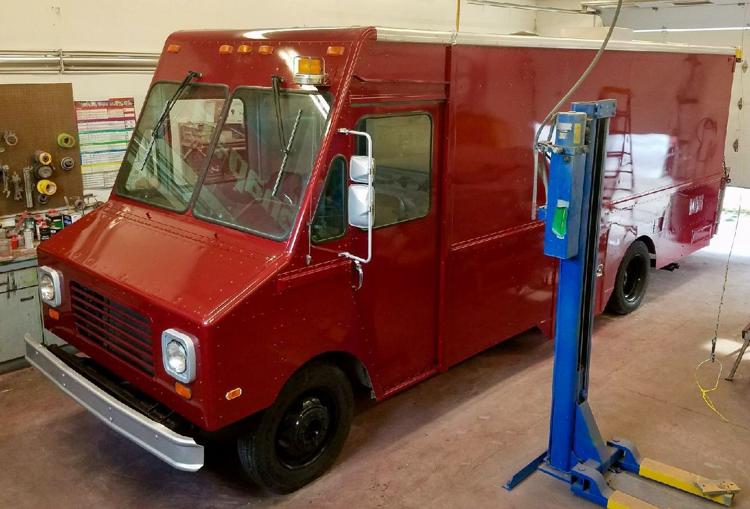 Once it clears health and fire department inspections, the duo hopes to unveil the mobile restaurant in late July/early August.
From "high-end" corporate events and farm-to-table dinners to food truck rallies in downtown Davenport, Cushman said he plans to hit the streets with the truck at least five times a week.
"You could do a steak dinner out of this thing," said Cushman, whose girlfriend, Maggie Proper, will continue working by his side. "We'll be busy right off the bat."
Grell, who runs Healthy Habits Bicycle Shop and Peachwave Frozen Yogurt at a strip mall he owns on Devils Glen Road in Bettendorf, said he envisions hosting the truck on his property.
"We can park this thing here anytime we want to," he said. "The possibilities are pretty endless."
At 48, Grell said he needs new challenges to keep him busy, and the food truck idea piqued his interest. 
"I get restless running the bicycle shop," he said. "I've been doing that for 17 years now, so it's pretty dialed."
Throughout the last year, Cushman, who "fell in love" with the restaurant industry at age 15, has become the go-to guy for those looking to launch a mobile food vending startup in the area. 
As of Monday, Davenport had granted 19 mobile food unit licenses, said Mallory Merritt, assistant to the city administrator.
Cushman said he welcomes the competition.
"We need to be one force," he said, "because when you just see one lonely food truck hanging out in a zone, it's just not as exciting as when you see eight colorful food trucks."