Notes @ Noon: Q-C bikepackers inspired, sore after off-road adventure
Displayed on the wall of a back-alley gym in Moline, a multicolored map of the United States, along with a few amusing photographs, illustrates an adventure two 33-year-old men from the Quad-Cities tackled earlier this summer.
One of them, Mike Kinney, co-owner of the facility off 14th Street between 4th and 5th avenues, called it a "miserable" experience during a recent bike maintenance class he led.
He was referring to the inaugural American Trail Race, a self-supported, cross-country bike trek that he and his training partner, Ry "Indiana" Schulz, completed in fewer than 40 days. (He earned that nickname while hiking through a jungle in Cambodia.)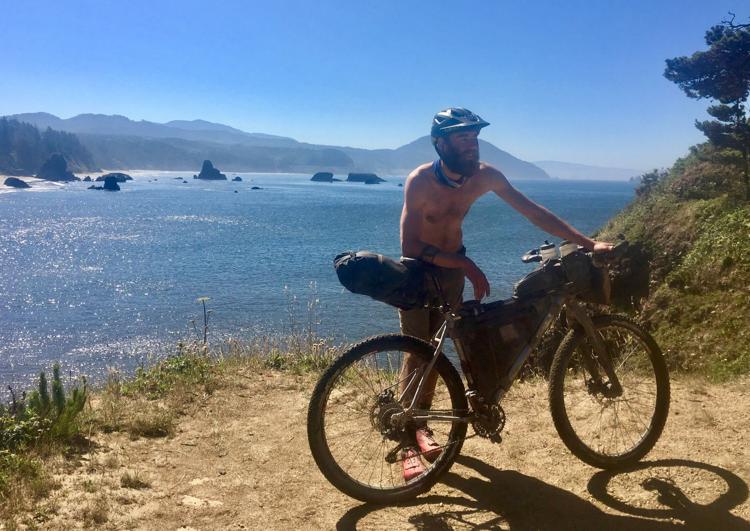 A squiggly line on the map at Plan for Adventure, Kinney's business, shows the 5,100-mile off-road route they navigated from North Carolina's Outer Banks to Port Orford, Oregon, known as the Trans-America Trail.
Thirteen people registered for the ride that began June 1. Eight of them finished, three were "scratched" and one person is still listed as "active," according to bikepacking.com.
Schulz finished the race in 36 days and 9 hours, second overall, and waited at the end for his pal, Kinney, who finished third after 37 days and 8 hours.
They each logged an average of 100-plus miles per day and they carried all their own gear.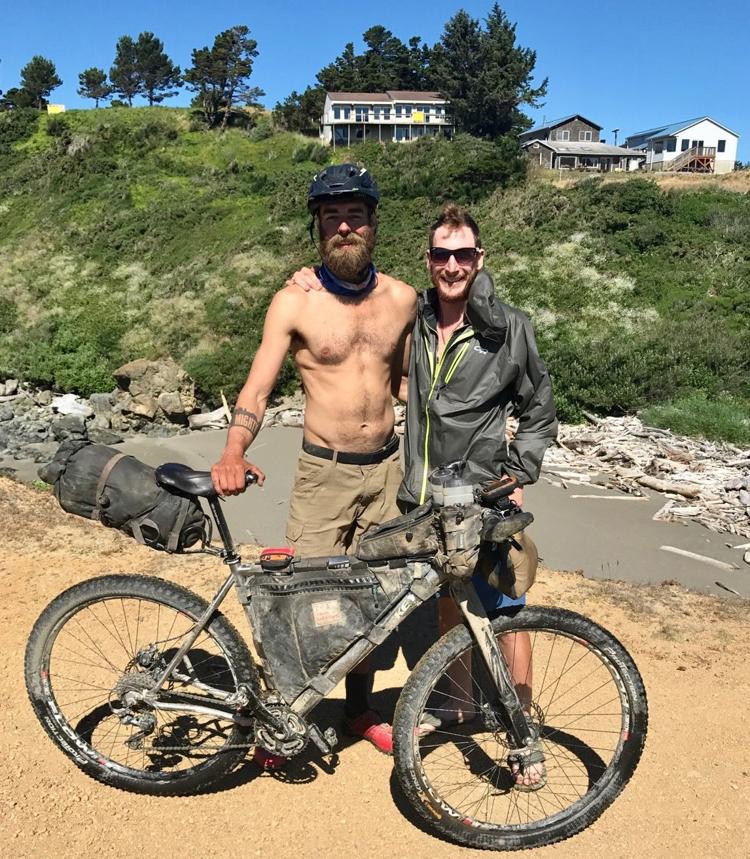 Relive on Instagram
During their respective journeys, the duo learned how to live uncomfortably, constantly battling the elements and rugged, sometimes treacherous, terrain.
Schulz, a decorated ultrarunner, recalled pedaling through the extreme heat and humidity in Oklahoma and later pushing and carrying his bike through snow and ice in the mountains of Colorado.
"Every day was different than the next," he said. "It was probably the most challenging, yet rewarding adventure I've ever been on."
On a mission to "reconnect with nature," Schulz switched his phone to airplane mode for a majority of the trip, however, he tried to post on Facebook every other day.
Meanwhile, Kinney regularly shared his extreme highs and lows on Instagram.
In late June, a slender, long-bearded Kinney posted a photo of an old cattle trough in Utah he slept in that night, which he ranked better than the sandy gravel he was accustomed to.
The next day, he published a video with the caption, "Sun is melting my brain," and backed that up with a photo of his bike leaning up against a wall of snow he carefully traversed.
Other posts were not as intense, although they may have revealed too much detail at times, including one of Kinney smiling wide after bathing in a creek in Nevada.
"It was fun," he said, taking back his previous remark about how "miserable" it was. "I packed years of physical and mental effort into a month and a half."
'You versus yourself'
Because it was a self-supported race, competitors could not accept free food, repairs or lodging accommodations.
"It's you versus yourself," added Kinney, who spent one day super-gluing small pieces of duct tape to the sidewalls of his tires to plug a series of leaks. "You have to make do with what you have until you can get something better."
Both men estimated they each spent about $6,000 — mostly on food, repairs and airfare.
It marked Kinney's second major bikepacking excursion. Two summers ago, he completed the Tour Divide, a 2,800-mile self-supported mountain bike race. He biked from Banff, Alberta, Canada, south along the continental divide to Antelope Wells, New Mexico, in 23 days.
Inspired by Kinney's ride, Schulz decided he wanted to give the ultra-endurance sport a try in August 2016 as he neared the end of the Leadville Trail 100 Run, a 100-mile race in Colorado. Kinney happened to be running by Schulz' side as a pacer at the time, more than 24 hours into his run.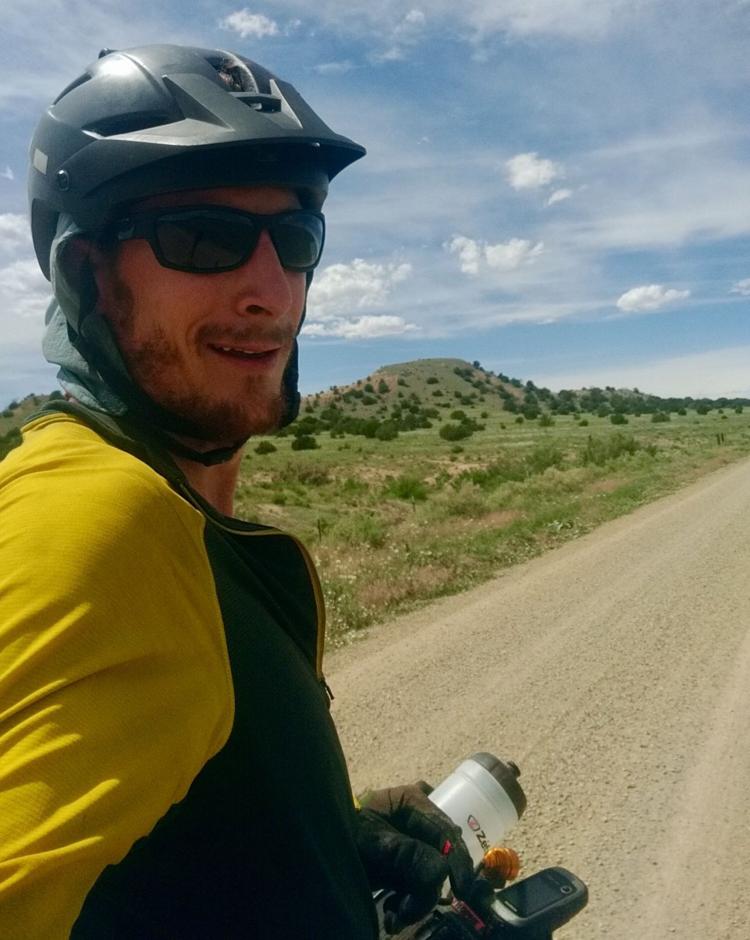 That October, Schulz, a Quad-City native, moved from Colorado back to his childhood home in Coal Valley.
The friends trained together seven days a week for the next eight months.
"Mike (Kinney) really took me under his wing when I moved back here," Schulz said. "He was my guru in all of this."
What's next?
Looking forward, Kinney hopes their story inspires others to find the courage to break out of their comfort zone.
"It doesn't have to be physical activity," he said. "But whatever it is, do a little bit a lot of times to find your happiness."
Since the race, Kinney has climbed a 14,000-foot mountain in Colorado and gotten married. He and his wife, Alexandra, now live on the grounds of YMCA Camp Abe Lincoln near Blue Grass, where she works.
This past week, he began biking to work, about a 17-mile ride.
To earn extra cash for his next adventure, he picks up additional hours at Great River Brewery in Davenport.
Next summer, he and his business partner and friend, Nathan Tackett, plan to compete against each other at Wilderman, an off-road triathlon in North Dakota.
As for Schulz, who also works at Great River Brewery, he has his eyes set on the Trans Am Bike Race, a 4,300-mile self-supported competition that begins in Oregon and ends in Virginia.
But he needs more time to recover before he begins training again.
After completing the American Trail Race, Schulz rode his bike from Portland, Oregon, north to Astoria, Oregon, before cruising down the Pacific Coast, about another 1,000 miles.
His sit bones are still bruised. 
Editor's note: Look for reporter Jack Cullen's Notes @ Noon Tuesday, Thursday and Friday online at noon. He will capture various sides of life in the Quad-Cities. Contact him at jcullen@qctimes.com or 563-383-2363.