Pedaling 400-plus miles across Iowa on a traditional, two-wheeled bicycle apparently lost its lure 10 years ago.
Since then, one RAGBRAI official said he has noticed an increasing amount of adventure-seekers test out alternative, and unusual, modes of transportation during the weeklong trek, which begins Sunday in Orange City.
"We've seen everything under the sun, from unicycles to skateboards," said T.J. Juskiewicz, director of the Register's Annual Great Bicycle Ride Across Iowa.
Heading into this year's journey, I caught up with a couple of Quad-Citians who are gearing up to join the growing list of outliers.
First-time RAGBRAI participant Logan Dykema of Bettendorf plans to complete the 411-mile ride on his unicycle.
"I got the idea that I wanted to do it last year, but I knew it would take me about a year to get ready for it," the 26-year-old said.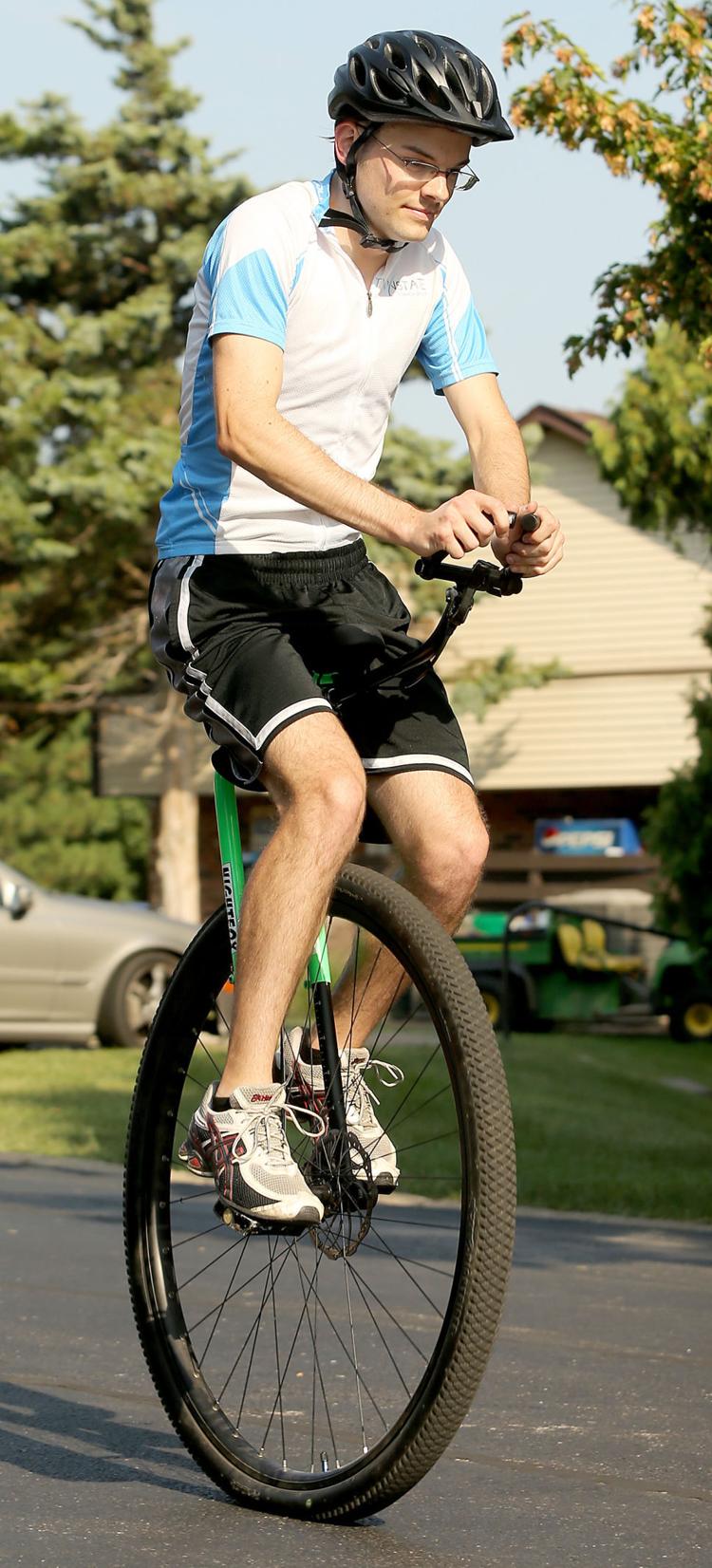 His 36-inch rig lacks gears but features a set of small handlebars and a disc brake system, which allows him to relax and control his speed on downhill stretches.
Although this marks his maiden multi-day voyage, Dykema has been cruising around on a unicycle since the sixth grade, when his aunt gave him his first one-wheeled apparatus as a birthday present.
In preparation for the most exercise-filled week of his life, the Pleasant Valley High School grad said he has been riding four to five nights a week.
"I've tried to focus on hills quite a bit," said Dykema, who works as a help desk specialist at Twin State Technical Services in Davenport. "It's harder to go up hills with a larger wheel."
He plans to carry a small backpack with water, a poncho in case it rains and essential tools, including a small hand pump and a spare inner tube.
To everyone's advantage, this year's ride has been labeled the third-shortest and third-flattest RAGBRAI in the event's 45-year history.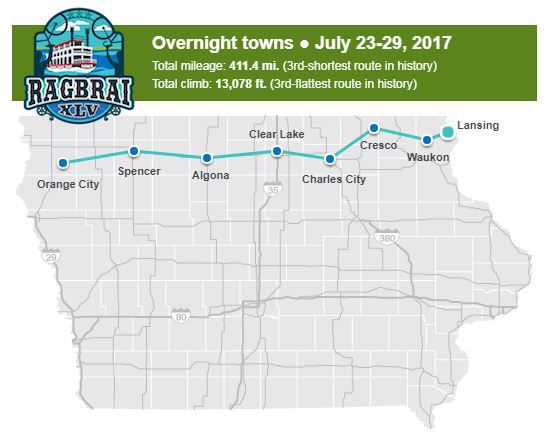 However, Dykema predicts the last leg from Waukon to the small Mississippi River town of Lansing could pose quite a challenge.
"It's only 44 miles, but it has 3,200 feet of climb," he said. "I've never done that much climbing in that short of distance, so it will be interesting."
Swapping her road bike for her fat bike, fellow Bettendorf resident Tina Anderson also will stand out next week on her eighth consecutive tour across the state.
Equipped with 4-inch-wide tires, her fat bike weighs 30 pounds — twice as heavy as her road bike, which she has used in the past.
"It's slower and heavier," said Anderson, who hopes to average about 10-13 mph throughout the week. "The bike's about as big as me."
The 46-year-old Deere & Co. employee said she felt inspired to break out of her comfort zone last summer when she lost her mother to an aggressive form of brain cancer.
"I'm doing it for those who really can't," she said. "I'm also doing it to show people that if you put your mind to something, you can do it with determination.
"It's nowhere near as hard as it was watching my mom go through cancer."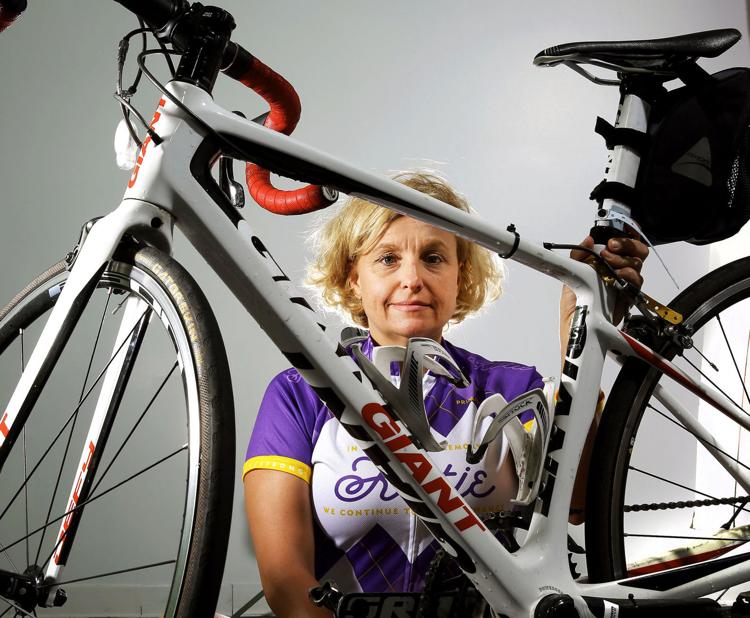 Anderson, who also lost her 13-year-old daughter to brain cancer in 2007, will hit the road Saturday for Orange City with other members of Team LIVESTRONG.
In 2014, she launched a fundraiser ride in the Quad-Cities called Tour de Brew, which has raised $35,000 for cancer charities, including the LIVESTRONG Foundation.
During her training sessions this summer, Anderson said she has seen Dykema practicing along area trails.
"It's amazing," she said of the unicyclist. "He's definitely taking on a big challenge."
Dykema will set out on Saturday for northwest Iowa on one of five charter buses provided by the Quad-Cities Bicycle Club, which will transport his camping gear next week from town to town.
Just shy of 310 people from 32 states registered with the QCBC to take advantage of its convenient $255 service, said Dixon Novy, director of RAGBRAI logistics for the club.
"It's the best bang for their buck is what I've heard several times," Novy added. "We have a good group of people who will help each other out."
Both Dykema and Anderson expect to see others on setups similar to theirs. 
When asked what advice she'd give to first-timers, the veteran RAGBRAIer, speaking from her own experiences, said:
"You can't be afraid to ask for help along the way."