Beginner paddlers hoping to squeeze in an outing on the water this weekend in the Quad-Cities, here's your chance.
The Saukenuk Paddlers Canoe and Kayak Club is hosting a free class from 6-8 p.m. Sunday in the Davenport Harbor, the slip of water that abuts the western edge of Credit Island.
But here's the catch: Those interested must first register for River Action's Floatzilla, the Mississippi River's largest paddle sports event on Saturday, Aug. 19.
Anyone 12 and older may join the session, which is limited to 20 paddlers. The first 10 people who sign up will receive a custom Floatzilla life jacket. 
The class will cover basic paddling techniques and river kayaking. Instructors will provide all the gear, and attendees can park in the lot near the corner of Miller Avenue and South Concord Street, Davenport.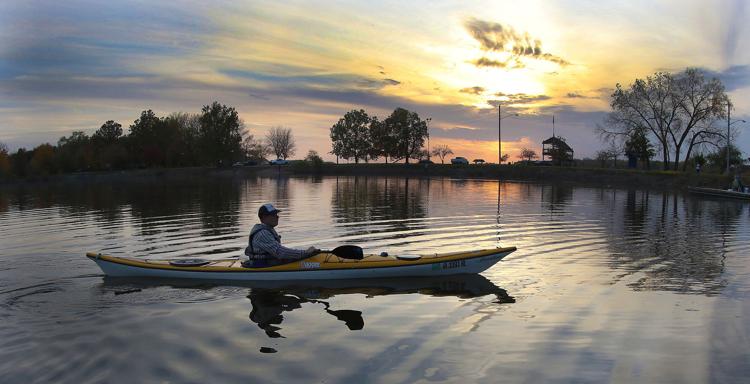 Those partaking in the eighth annual Floatzilla in two weeks will spend the day paddling from one of the following five launch sites along the Mississippi River:
• Credit Island, Davenport: Half-mile trip with estimated paddle time of 30 minutes.
• Marquette Street, Davenport: Two-mile trip with estimated paddle time of one hour.
• Main Street, Davenport: Three-mile trip with estimated paddle time of 1.5 hours.
• Ben Butterworth Parkway, Moline: This nine-mile route requires passing through Lock and Dam 15 or portaging across Sylvan Island. Estimated paddle time of three to four hours.
• Empire Park, East Moline: This 12-mile route, with an estimated paddle time of three to four hours passes through Lock and Dam 15. As an alternate route, paddlers can portage across Sylvan Island.
The event culminates in Rock Island's Lake Potter, where participants will gather for a traditional group photo in an attempt to set the world record for the number of canoes and kayaks floating in one place.
Sign up by Wednesday, Aug. 16, for $25; Aug. 17-19 admission costs $30. For more information, go to floatzilla.org.