A good Tuesday to all. Are you heading back to work today or are you hitting the streets in search of bargains at area stores? Either way, it will be cold. Very cold. Here are the weather details from the National Weather Service.
1. Bitter cold today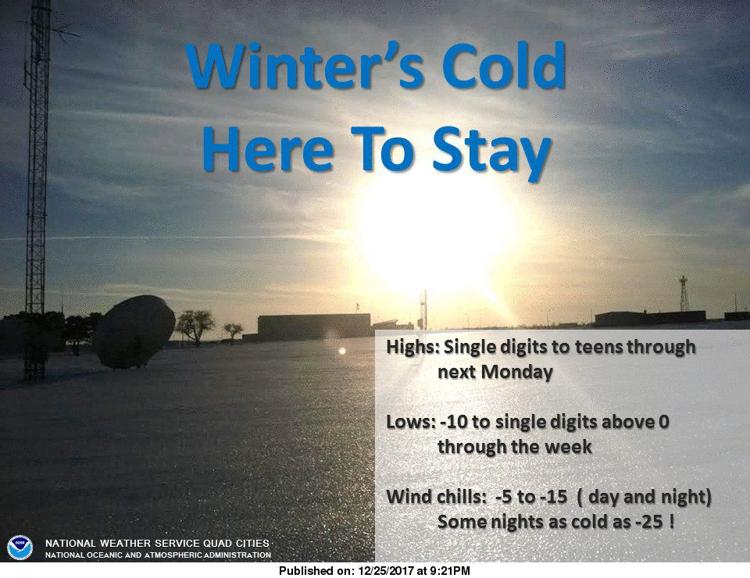 Straight from the National Weather, we are looking at a morning temperature of 0 degrees and a windchill of -16 degrees. If that's not enough, we can expect more of the same over the next few days.
It will be mostly cloudy today then gradually becoming sunny and cold with a high of only 8 degrees. Wind-chill values will be as  low as -20 degrees.
The coldest wind chills will occur north of the U.S. 30 corridor, where a wind chill advisory remains in effect through late morning. Wind-chill values will then remain from around zero to 10 degrees below through the afternoon.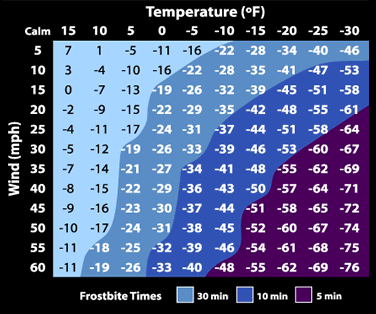 Tonight will be mostly clear with a low around -9 degrees and wind-chill values as low as -20 degrees. Winds will be from the northwest at 5 to 10 mph.  A new wind chill advisory may be needed tonight and into Wednesday morning.
Wednesday we'll see increasing clouds and cold with a high near 8 degrees. Wind-chill values will be as low as -20 degrees.
Wednesday night will bring a 30 percent chance of snow after midnight. Skies will be mostly cloudy with a low around 4 degrees. Wind-chill values will be as low as -5 degrees.
Looking ahead, Expect additional periods of bitterly cold conditions later this week. Wind chills of 15 to 25 below zero will be common Friday night, Saturday night, and Sunday night.
Several rounds of light snow are possible this week. The first storm will impact the area Wednesday night into Thursday with light accumulations along and north of Interstate 80. Additional chances of light snow are possible on Friday and possibly Saturday.
2. 4 die in early-morning Blue Grass house fire
Four people have died in a Christmas morning fire in the 300 block of East Salem Street, Blue Grass.
Blue Grass and Buffalo firefighters, along with Scott County crews, were called at 12:34 a.m. to a fire in the ranch-style home in a residential neighborhood.
Four people were inside the home at the time the fire started. One of the occupants, who was able to exit the residence, was transported to the hospital but died later. Three other people in the home were unable to escape and died inside.
Investigators searched Monday for clues about the cause of the fire. Crews removed debris from the charred wreckage of the house, which sits next to a garage with a basketball hoop. Outside the home were some children's toys, including a little yellow car and a wheeled vehicle for a small child.  Read more.
3. Porch replacement under way at Annie Wittenmyer
Work is under way to rebuild the porches of five historic buildings at Davenport's Annie Wittenmyer Center, 29th Street and Eastern Avenue.
The concrete foundations and wood railings/pillars had worn on the porches of four cottages on the north side of the property and on the south porch of the administration building, so they have been removed and will be rebuilt, said Clay Merritt, capital manager for the city.
The $187,997 project was awarded to Swanson Construction, of Bettendorf. Read more.
4. I-80 study for rural Iowa due in May, public invited to weigh in
A major study of Interstate 80 through rural Iowa is due to be completed in May, according to the state Department of Transportation, and the public will get a chance to weigh in on it early next year.
The DOT has been studying the state's most-traveled east-west road for more than a year, with an eye toward figuring out what improvements will have to be made to accommodate the expectation of growing traffic volumes.
Officials believe traffic along I-80 will grow significantly by 2040. In Cedar County, near West Branch, for example, the DOT predicts that daily traffic along I-80 will grow from about 34,000 vehicles a day to 74,000 by 2040, with truck traffic more than doubling. Read more.
5. Hawkeyes learn Christmas lessons at Ground Zero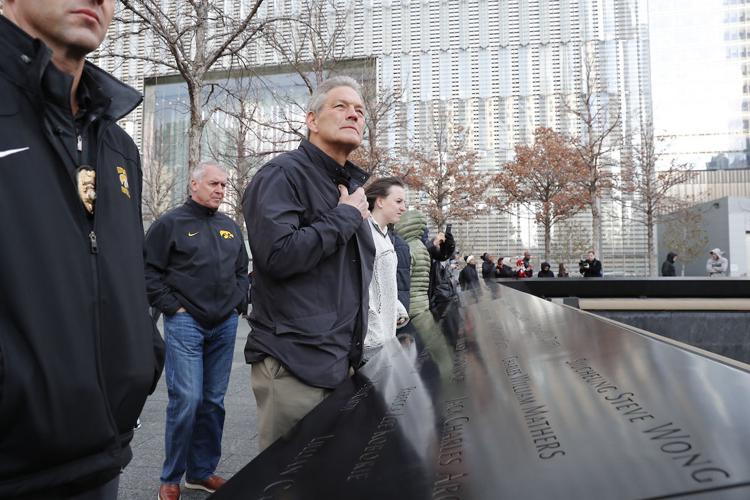 Upperclassmen on the Iowa football team were in first grade or kindergarten on the September morning in 2001 when the world changed. For most, the memories are distant if there at all.
But on a raw Christmas morning on the south side of Manhattan, the Hawkeyes gained an understanding of the events that took place 16 years ago on Sept. 11, 2001, and how it impacted the lives of people beyond those who paid the ultimate sacrifice.
Iowa players and coaches joined their opponents from Boston College in taking a break from Pinstripe Bowl preparations on Monday to learn at the 9/11 Memorial Plaza and Museum and gain a perspective of the vastness of the city they are playing in from a 102nd-floor vantage point at the One World Observatory. Read more.
6. Off Limits Places: Backstage at the Q-C Airport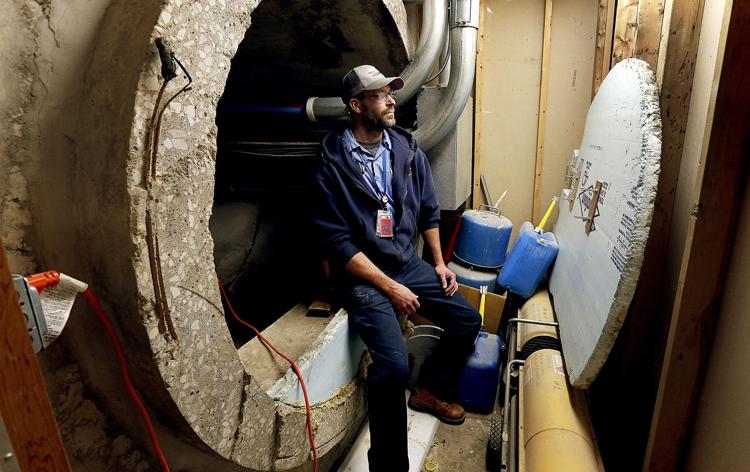 Most of us have no idea. And why would we?
The Quad-City International Airport is similar in ways to a concert arena. There's the so-called front of the house, which is what the public sees. That's the main terminal and ticket counters, security, concourses and baggage claim. Then there's the back of the house. And it's full of surprises.
A tunnel runs from the basement, all the way to the airfield. A seemingly mile-long catwalk hovers above the terminal. And a combination police/fire department contains elaborate emergency equipment that few know exists.
Our Off Limits Places tour took us behind the scenes — backstage, if you will — to the heights and depths of a complicated operation. Read more.