A good Thursday to all. Windy and cold highlight your Thursday. The National Weather Service has issued a "special weather statement" that warns of strong winds through daybreak.
According to the weather statement, "A strong surge of northwest winds is developing behind a cold front early this morning. Expect sustained wind speeds of 20 to 30 mph, and gusts around 40 mph. Drivers of high profiles vehicles should use caution. Winds will diminish slightly after 7 a.m."
Here's the rest of today's forecast.
1. Blustery with negative wind chills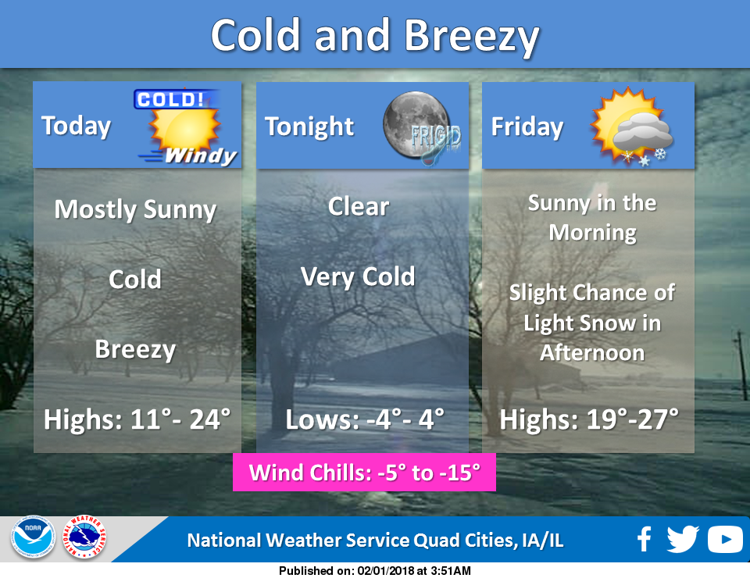 Today will sunny and blustery with a high near 19 degrees and wind-chill values as low as -5. Northwest winds between 15 to 20 mph will gust as high as 30 mph.
Tonight will be clear with a low around -1 degree and wind-chill values as low as -15 degrees. Northwest winds will gust as high as 25 mph.
Friday there will be increasing clouds with a high near 22 degrees and wind-chill values as low as -10 degrees. 
Friday night brings a 20 percent chance of snow before midnight. Skies will be mostly cloudy with a low around 18 degrees.
A NWS "hazardous weather outlook" says, "light snow showers are possible late Friday afternoon into Friday evening north of Interstate 80. More light snow is possible area-wide Saturday, and again on Sunday, with potential accumulations of an inch or two.
"Additional snow is possible across the outlook area Monday into Tuesday. It is too early to determine specific amounts and favored areas."
It's a new month so let's look back at the NWS January 2018 Climate Report for the Quad-Cities.
Average temperature — 22.6 degrees
Precipitation total — 0.41 inch
Departure from norm — -1.08 inches
Departure from norm — -7.2 inches
2. Controlled burn today in Davenport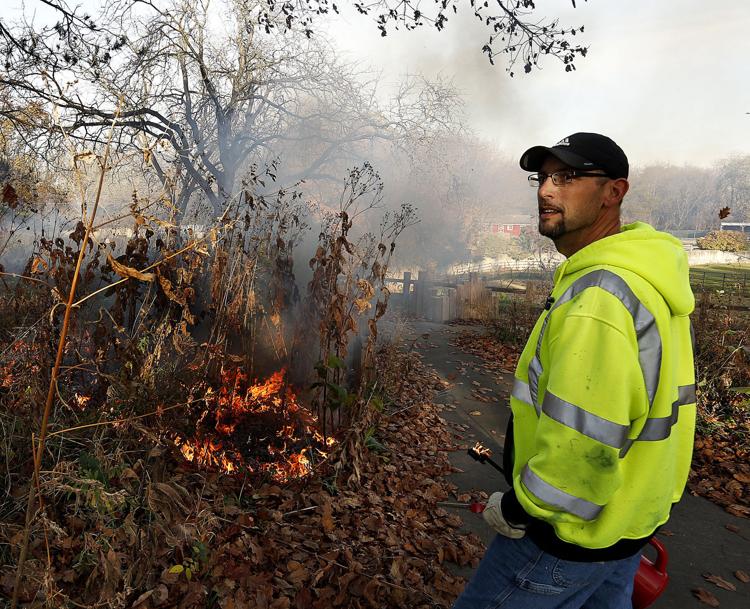 The city of Davenport will be conducting a scheduled controlled burn today at the southeast corner of West 53rd Street and Northwest Boulevard.
The burn is scheduled to take place at 10 a.m.
The burn is being conducted to remove cattails that are inhibiting the drainage way from functioning as intended. Re-grading and seeding will take place as weather allows.
The Davenport Fire Department will be on site to assist with burn control as needed. It is recommended that persons with smoke allergies or asthma who live nearby keep their windows closed while the burn is being conducted and for several hours afterwards.
Persons may also wish to leave their homes if they are able during the burn to avoid smoke exposure. 
3. Ask the Times: Railroad crossings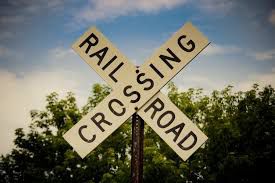 A Quad-City Times reader Asked the Times why Davenport allows the railroad companies to raise the tracks at street crossings so it is a raised bump from the road? Example: Carey Avenue and 53rd Street crossing and now an even worse road bump at 1725 Rockingham Road (west of Division Street). It has about a 2 inch height increase from new repairs with about a 8-inch slope up ramp to it. Columnist Roy Booker gets the answer.
4. No time to shop? Instacart rolls out retail delivery service to Q-C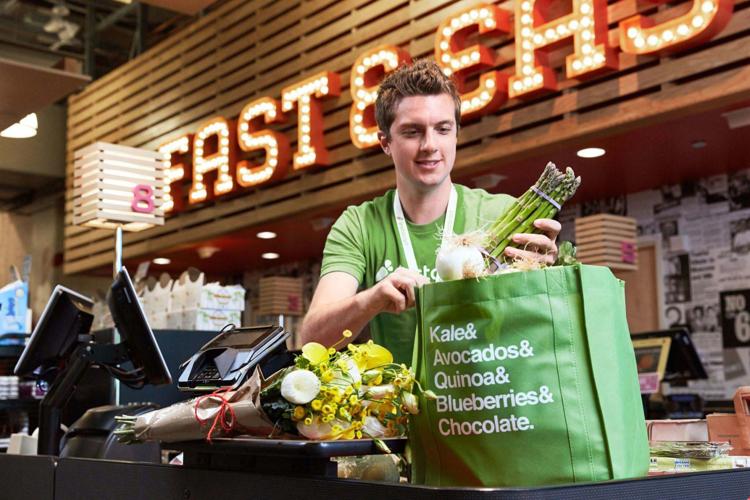 Can't find the time to do your grocery shopping or need a little help with it?
Instacart, a national retail delivery service, has expanded to the Quad-Cities to provide customers with same-day delivery from three local retailers: Schnucks, Natural Grocers and Petco. The service is available to most of the metro Iowa and Illinois Quad-Cities and surrounding communities. Read more.
5. WW II ship to dock in Bettendorf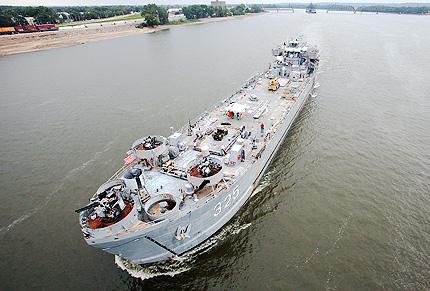 A World War II ship that participated in the D-Day invasion of Normandy is expected to dock in Bettendorf in August, allowing for five days of public tours and a glimpse into history.
The USS LST 325 — the last navigable vessel of its kind in the United States — also visited the Quad-City area in 2008, docking in Moline and Clinton, and drawing thousands of enthusiastic visitors. Read more.
6. Your guide to entertainment fun