A good Wednesday to all. Today's temps will barely get to the freezing level today, but it will feel colder, thanks to a stiff northwest wind. Here are the weather details from the National Weather Service.
1. Breezy with scattered flurries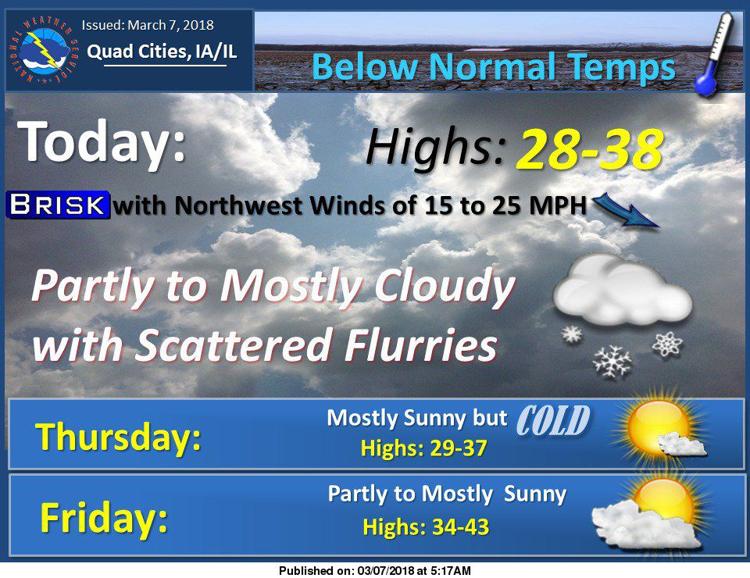 The Quad-Cities can expect scattered flurries after 9 a.m. The high for the day will be near 32 degrees. Northwest winds around 15 mph will produce gusts as high as 25 mph.
Tonight scattered flurries are possible before midnight. Skies will be mostly cloudy with a low around 18 degrees. Northwest winds will be between 10 to 15 mph.
Thursday will be mostly sunny with a high near 33 degrees and a low around 18 degrees. Winds will be from the northwest.
Here's some good news for those living along the Rock River in Moline. The flood warning has been revised and is now set to expire on Thursday. Earlier today the Rock was at 12.4 feet and falling. Flood stage is 12 feet. The river is expected to fall below flood stage on Thursday.
2. Residents form new association to boost pride in Davenport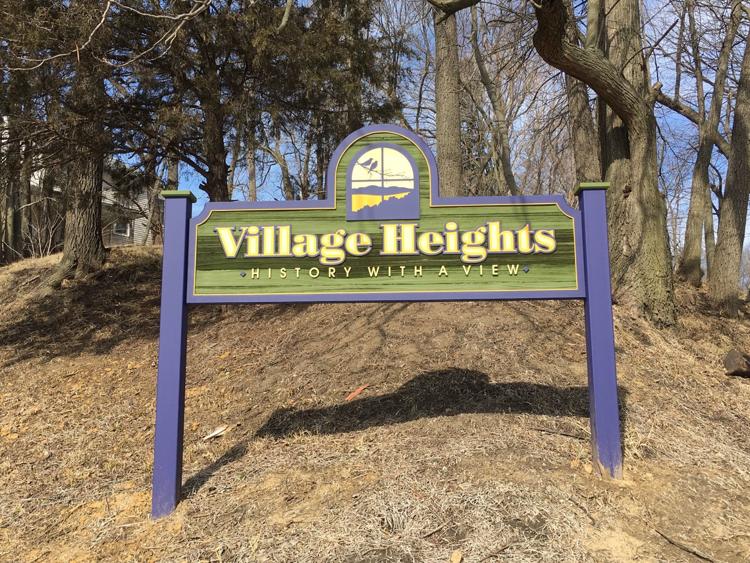 Residents of a neighborhood just up from the Village of East Davenport have founded a neighborhood association — Davenport's newest — with several key goals, including keeping a section of street open and improving housing stock.
In choosing the name Village Heights, residents hope for positive associations with the established names of "the Village" and "the Heights," the more widely known, and generally well-regarded neighborhoods located to the south and the east, association president Chris Barnard said.
A signature feature of the neighborhood is an 1880s wooden railroad overpass bridge that spans a deep ravine at 13th Street to carry vehicular traffic over the railroad through the neighborhood, down to the arterial Kirkwood Boulevard, or down Mound Street to the Village of East Davenport.
If this overpass bridge were declared unsafe and had to be closed or restricted to one lane, that would create a major inconvenience for residents, especially those on the west side of the tracks, Barnard said. Read more.
3. Six foodie things to do this month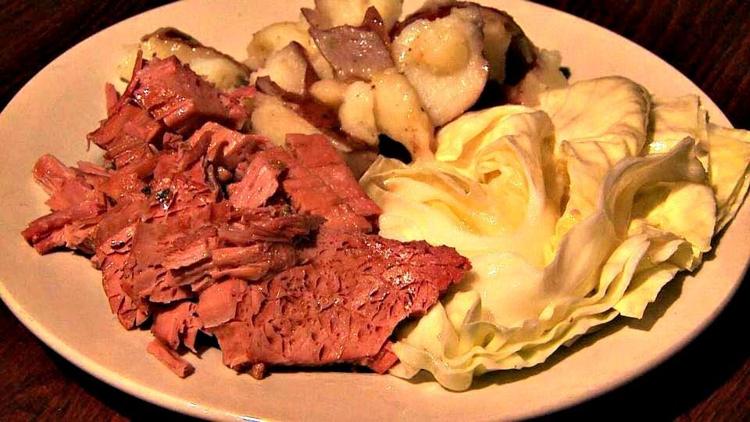 Happy March, foodies. With St. Patrick's Day just around the corner, there will be plenty of chances to fill up on corned beef, cabbage and green beer. And that's not all for food and drink to-dos. Here are six foodie events coming up this month. Read more.
4. A new ride for beer-lovers: Davenport native offers brewery tours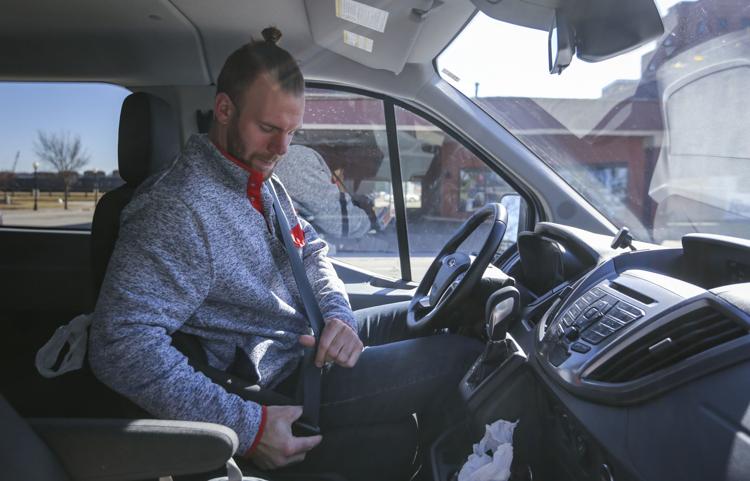 One can go on a bar crawl in Chicago or Des Moines via pedal wagons or double decker trollies or a even a bus engineered to resemble a bourbon barrel. And, now, there's a new way to bar hop in the Quad-Cities: A man and his van. Read more.
5. Three charged with Rock Island armed robbery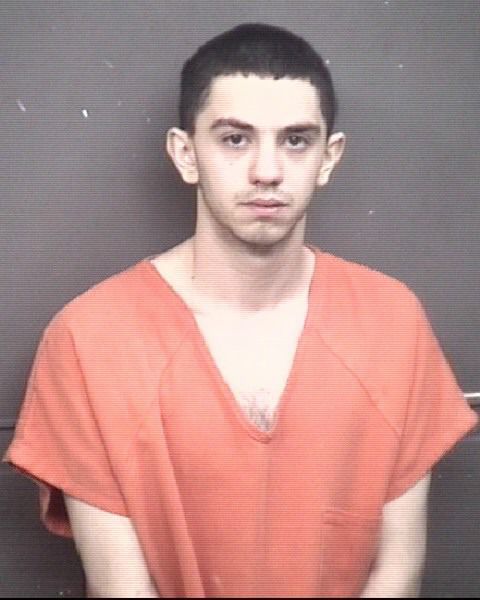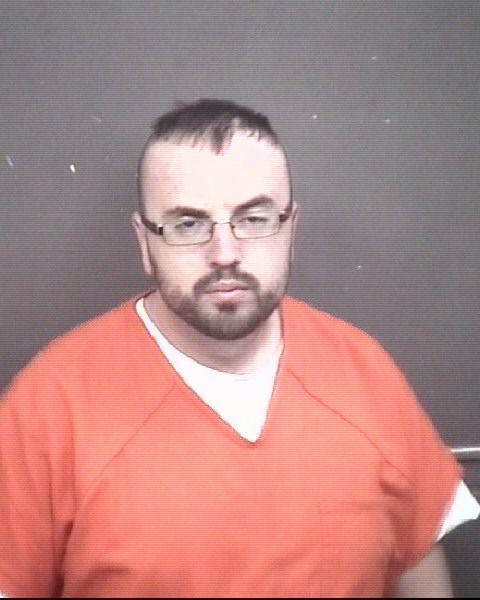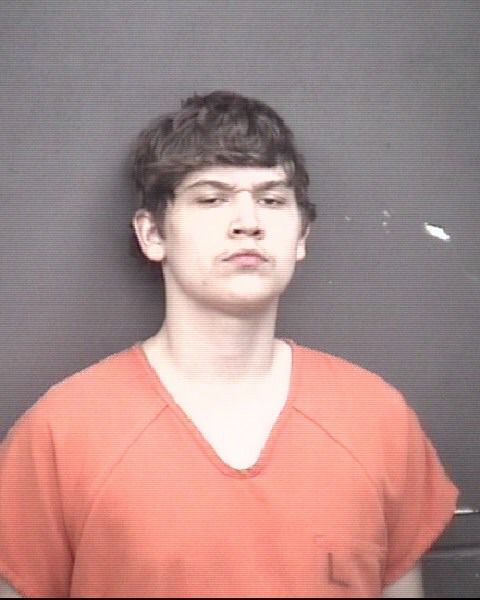 Three men were arrested early Sunday after police say they robbed a man and a woman in Rock Island.
Jack Louis Kalagian, 18, of Rock Island, Samuel Oliver James, 27, of East Moline, and Hunter Christopher Adlfinger, 18, also of East Moline, face charges of armed robbery and aggravated robbery.
According to an affidavit filed in support of a search warrant in Adlfinger's case:
A man and woman were getting out of their vehicle when a white vehicle approached quickly with the lights off.
Two people wearing hooded sweatshirts and bandannas pulled up over their faces got out of the white vehicle. One of them brandished what appeared to be a silver knife, while the other brandished what appeared to be a black semi-automatic handgun and demanded money. Read more.
6. 'Blues Brothers' named top Illinois movie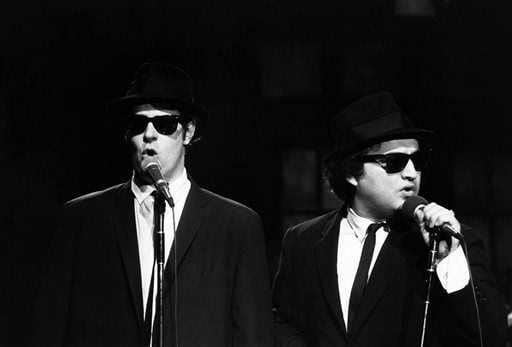 Illinoisans have chosen "The Blues Brothers" as the top movie in state history, embracing a film with classic songs, Chicago landmarks and two main characters trying to do the right thing.
"Ferris Bueller's Day Off" and "A League of Their Own" came next in the online voting, which was part of the Illinois Top 200 project.
Illinoisans can vote every two weeks on the best movies, most inspiring leaders, greatest books, top businesses and more. By the 200th birthday of Illinois on Dec. 3, voters will have chosen 10 favorites in 20 different categories for the Illinois Top 200.