A good Monday to all. Back to work and back to another dose of below freezing temperatures. Here are the weather details from the National Weather Service.
1. High temp in the upper 20s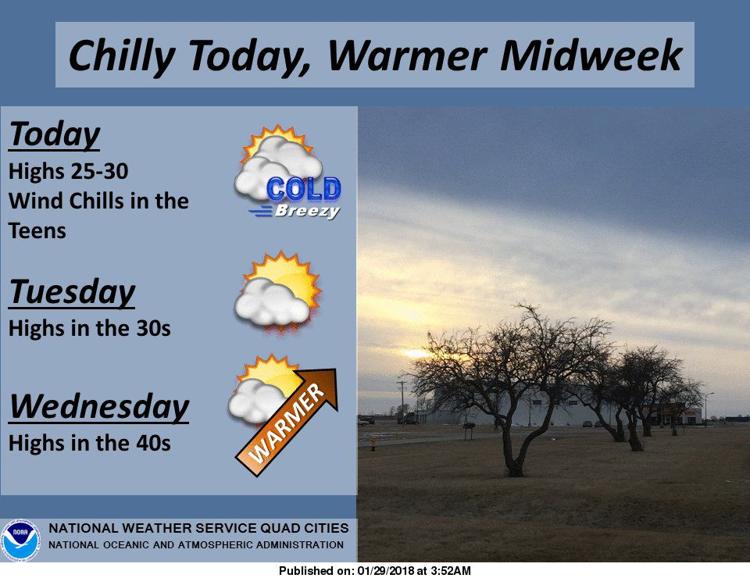 Today will be mostly cloudy then gradually becoming sunny with a high near 28 degrees.
Tonight will be clear with a low around 12 degrees.
Tuesday will be breezy with increasing clouds and a high near 34 degrees. South winds could gust as high as 30 mph.
Tuesday night will be mostly cloudy with a low around 29 degrees.
2. Government Bridge to close for repairs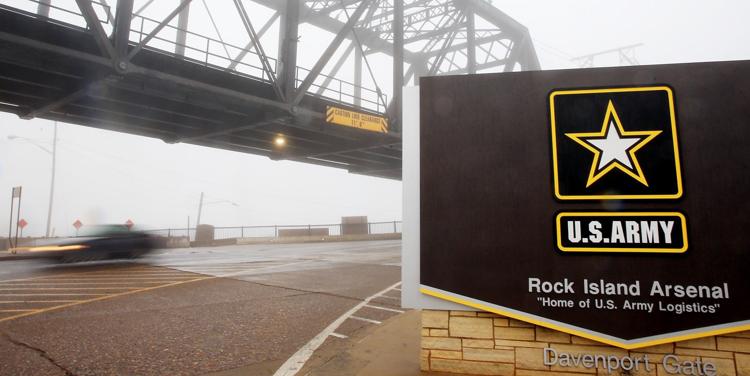 The Government Bridge over the Mississippi River between the Rock Island Arsenal and the city of Davenport will be closing temporarily this week so the U.S. Army Garrison Rock Island Arsenal Directorate of Public Works can perform repairs.
According to the Arsenal's Facebook page, closures will be from 8:30 a.m., Monday through 7 p.m., Wednesday.
There will be a second closure  beginning Wednesday, Feb. 7, from 8:30 a.m., through Friday, Feb. 9, at 7 p.m.
The bridge will remain open to pedestrian traffic. Signs and barricades will be placed during the closure.
3. Davenport road work update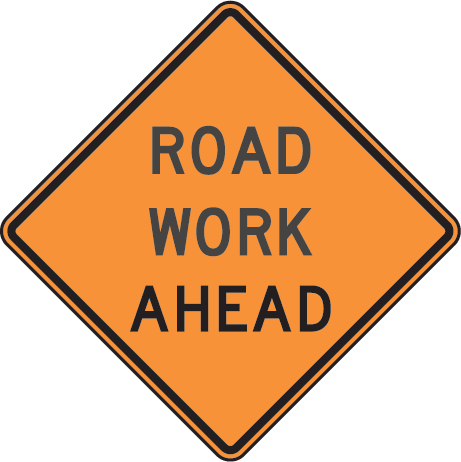 There are several emergency water main issues affecting several Davenport roadways, according to the city of Daveneport.
• The westbound lanes of River Drive at Brady Street, closed because of a vehicle hitting a fire hydrant. Traffic is being detoured up Brady to westbound 4th Street, and then on southbound Harrison Street.
• Marquette Street is closed between 3rd and 4th streets for emergency water main repairs.
• The intersection of LeClaire and 9th streets is closed for emergency water main repairs.
• The intersection of Farnam and 10th streets is closed for emergency water main repairs.
• The intersection of Gaines and Lombard streets is closed for emergency water main repairs. (This closure is anticipated to re-open Friday, February 2nd.)
IowaAmerican Water Company's contractor estimates all work will be completed by Tuesday.
• Rockingham Road is closed between Pine Street and Schmidt Road for emergency sewer repairs. The contractor expects work to be complete on or before Tuesday.
• Work continues on Veterans Memorial Parkkway and Brady Street.
4. Miss the Grammy Awards last night? Catch up here
The Grammy Awards seemed poised to make this a triumphant year for rap at music's showcase event — until Bruno Mars crashed the party.
The song-and-dance man from Hawaii won all six awards he was nominated for on Sunday night, including the three most prestigious Grammys for song ("That's What I Like"), record ("24K Magic") and album of the year. His music also dominated the rhythm and blues categories.
The Grammys on Sunday also saw Kendrick Lamar win five awards, Jay-Z go home empty-handed, some memorable performances by the likes of Lamar, Kesha, Mars and Logic, an odd oversight of singer Lorde and a surprise cameo from Hillary Clinton. Read more.
5. Gun play in the big city
Davenport police were kept busy over the weekend investigating a fatal shooting that left one juvenile dead and a couple of shots fired incidents on Sunday. Here are the details 
6. ICYMI: RAGBRAI to end in Davenport for the third time in 7 years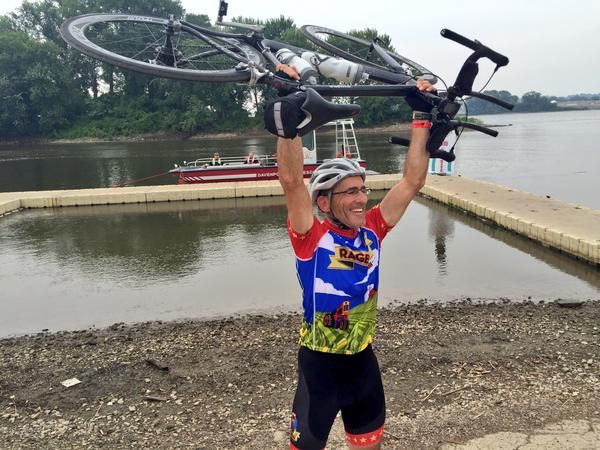 It will be a hot time in the town of Davenport on July 28.
The 46th Register's Annual Great Bike Ride Across Iowa, or RAGBRAI, will end in Davenport on that day, the same day as the Quad-City Times Bix 7 road race.
The announcement of the bike route was made Saturday night in Des Moines. Read more.