1. Cooler weather returns to Q-C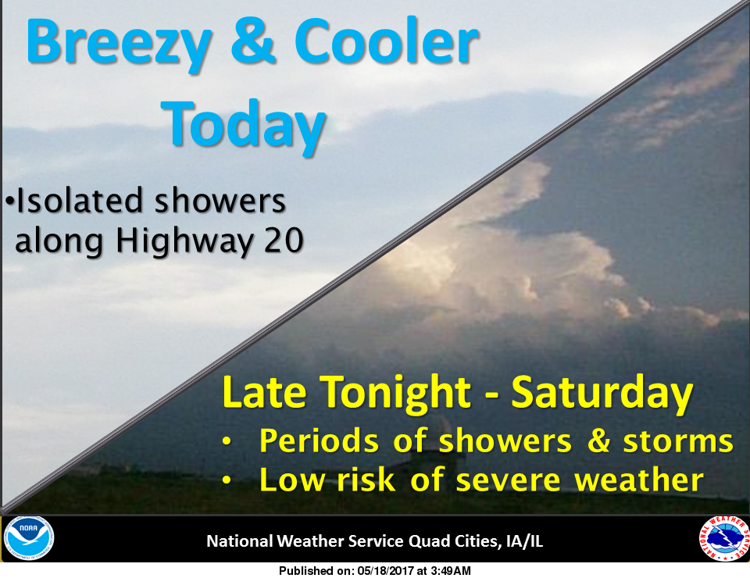 A good Thursday to all. We're looking at cooler temperatures and a much calmer weather picture today.
Here are the details from the National Weather Service.
Today will be partly sunny with a high near 71 degrees. Southwest winds around 15 mph will be from the northwest in the afternoon. Winds could gust as high as 25 mph.
Overnight there's a slight chance of showers and thunderstorms after 5 a.m. Skies will be mostly cloudy with a low around 47 degrees. North to northeast winds could gust as high as 20 mph.
Friday there is a 60 percent chance of showers after 7 a.m. Skies will be cloudy with a high near 58 degrees. East winds will produce gusts as high as 25 mph. New precipitation amounts between a tenth and quarter of an inch are possible.
Showers are likely Friday night with a low around 54 degrees. New rainfall amounts between three quarters and one inch are possible.  East winds could gust as high as 25 mph. 
2. Moline foots the bill to reduce traffic jams along John Deere Road
The Illinois Department of Transportation's construction project along John Deere Road in Moline is costing the city thousands of dollars officials did not foresee spending this year.
When crews cut 60th and 70th streets down to one lane last month, traffic jams overwhelmed the area that encompasses Menards, Sam's Club and Blain's Farm & Fleet.  
In some cases motorists waited up to 30 minutes in traffic to drive less than a mile from Green Valley Sports Complex, located off 60th Street south of the cluster of businesses, to John Deere Road.
But the city has purchased new traffic control devices and have deployed about a dozen staffers from various departments to manually operate the signals and direct traffic.  Delays have decreased to about five minutes.  Read more.
3. Meet ReMIXED, the Q-C kids who 'live to dance'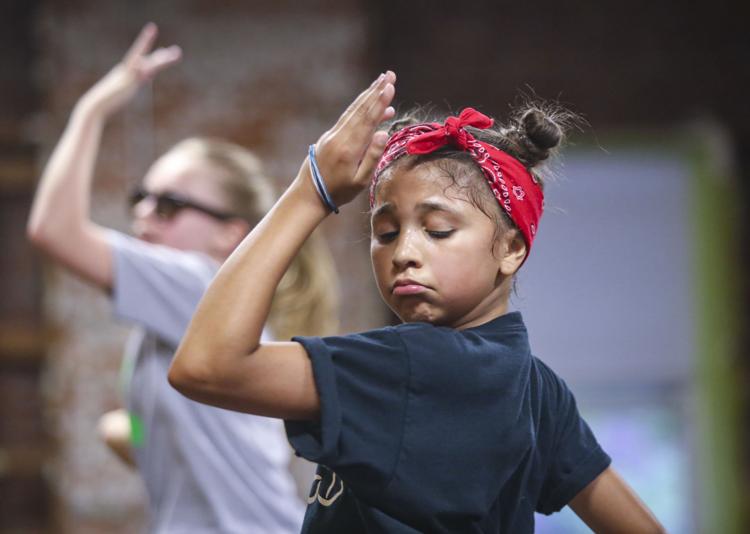 Stardom looks different to each of them.
Tatum Roselle, an animated 11-year-old, for example, hopes to show off his dance moves someday on the Ellen DeGeneres Show, while Tieziyana McGinnis, 11, dreams of moving to Los Angeles.
Speaking up for her peers, a grounded Cienna Reed, also 11, said she wants her hip-hop dance crew to inspire, entertain and "be the best we can be."
Those three, along with six other preadolescent performers from across the Quad-City area, make up the racially and ethnically diverse group, ReMIXED. Read more.
4. Davenport fireworks ordinance draws skepticism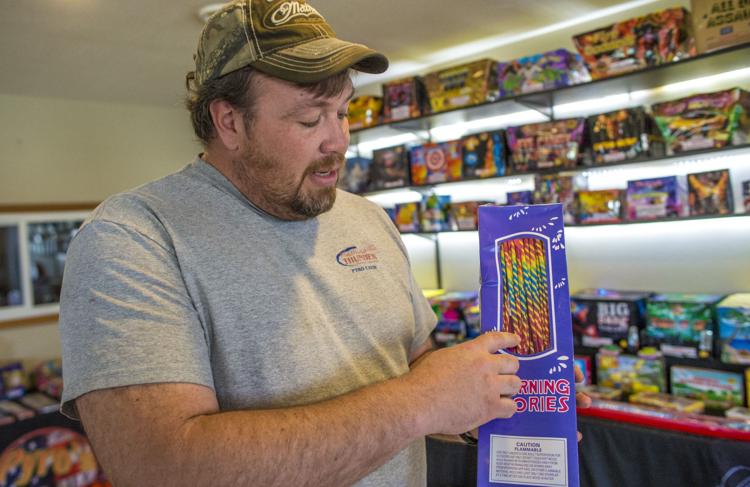 With the legalization of fireworks, the city of Davenport is working to craft a new ordinance pertaining to use within its boundaries, but a few members of the City Council believe it will carry little pop.
The new legislation provides cities with three options: allow discharge during the same window as sales, modifying the window of discharge or prohibiting use all together.
But despite the ability to apply greater restrictions, some members of the Davenport City Council believe any action the Council takes will have little effect. Read more.
5. Rock Island man sentenced to prison in fatal heroin overdose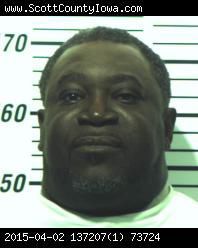 A Rock Island man was sentenced Wednesday to 12 years in federal prison after admitting that he sold heroin to a Davenport woman, who overdosed and died in March 2015.
Anthony James Johnson, 52, must serve three years of supervised release once he completes his prison sentence. There is no parole in the federal system. Read more.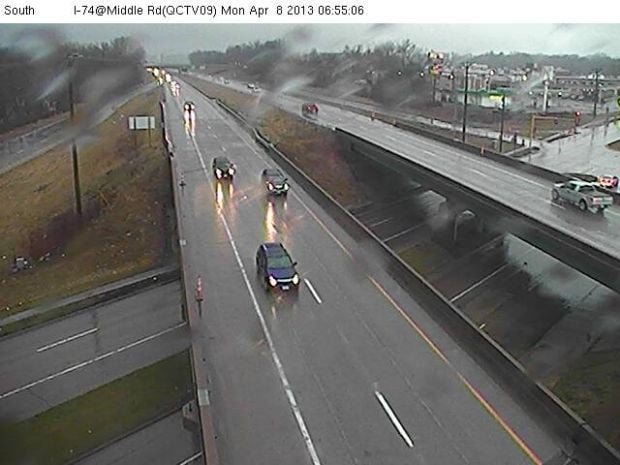 A Times reader says the city of Bettendorf could make a small fortune if it would put up speed cameras on I-74 at Middle Road.  Read what Ask the Times guru Roy Booker found out.