A good Friday to all. Breezy and chilly conditions remind us that winter is not that far away. Here are the weather conditions from the National Weather Service.
1. Freeze warning for Q-C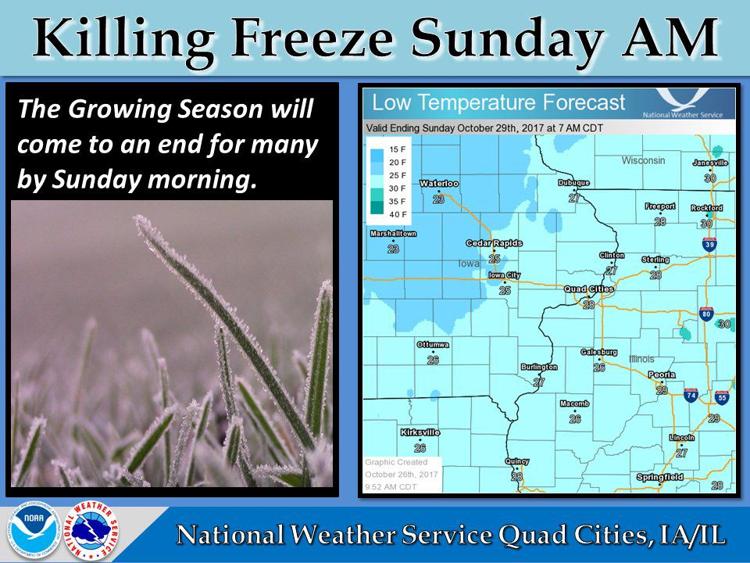 The National Weather Service has issued a freeze warning from 7 p.m. Sunday until 10 a.m. Sunday for the Quad-City region as we mark the end of the growing season with a hard freeze tonight and Saturday night.
The warning states that cold northwest winds will continue to pull chilly air southward over the area today and tonight likely bringing the first below-freezing temperatures this fall to locations west of a Manchester, Iowa to Williamsburg, Iowa to Memphis, Missouri line.
All locations in Iowa, Illinois, and northeast Missouri will see a hard freeze Saturday night. Freezing conditions are expected shortly after sunset Saturday, through mid-morning Sunday, as lows reach the mid 20s.
Additional nights of below freezing temperatures are expected through the week ahead.
A freeze warning means sub-freezing temperatures are imminent or highly likely. These conditions will kill crops and other sensitive vegetation. Bring plants indoors if possible. Cover sensitive plants or bring indoors for protection.
As for today, it will be cloudy and breezy with a high near 42 degrees. West winds between 15 to 20 mph will gust as high as 30 mph.
Tonight there is a slight chance of showers between 8 p.m. and 1 a.m. Otherwise it will be cloudy and breezy with a low around 35 degrees. West winds around 15 mph will gust as high as 30 mph. 
Saturday will be mostly cloudy with a high near 42 degrees. Northwest winds around 15 mph will gust as high as 20 mph.
Saturday night there will be widespread frost  after 11 p.m. Otherwise it will be partly cloudy with a low around 25 degrees.
Sunday there will be widespread frost before 9 a.m. then skies will be mostly sunny with a high near 48 degrees.
Sunday night will see a 30 percent chance of rain before 1 a.m. Skies will be mostly cloudy with a low around 36 degrees.
2. Police recover stolen vehicle; 4 juveniles charged
Four juveniles face charges after they were arrested shortly after a stolen vehicle crashed into a fence in northwest Davenport Thursday afternoon. 
Here's how events unfolded according to a news release from the Davenport Police Department.
• At 11:47 a.m. police received a report of a stolen vehicle from a construction area in the 1000 block of Brady Street.
• At 12:41 p.m. police received a suspicious vehicle call in the area of 1600 W. Kimberly Road which matched the reported stolen vehicle.
• Multiple officers responded to the area, and were then notified of a single-vehicle crash in the 3700 block of N. Fairmount Street in which a vehicle struck a fence. Four subjects were seen running from the vehicle.
• Officers arrived and confirmed that this was the vehicle stolen from the 1000 block of Brady Street. Several additional police units responded, and through detailed accounts from witnesses on scene officers tracked the subjects to the 3100 block of West Kimberly Road.
• Four male juveniles — three 14-year-olds and one 13-year-old — were taken into custody. They were each charged with one count theft 1st degree and one count criminal mischief 2nd degree. All four were placed into the Scott County Juvenile Detention Center.
No injuries were reported. The vehicle sustained heavy damage with damage to a fence reported related to the crash.
3. Trial date set for man charged with attempted murder of Buffalo Police Chief
A Nov. 27 trial date has been set for Logan Jeffery Shoemaker, who is charged with the attempted murder of Buffalo Police Chief Terry J. "TJ" Behning in September.
Behning was critically injured Sept. 25, when Shoemaker, 20, who allegedly was driving a stolen garbage truck at a high speed in an effort to elude police, aimed the truck at Behning's squad car as he was attempting to deploy stop sticks at the intersection of Scott County Road Y40 and Iowa 22.
Shoemaker is facing 13 criminal charges, including attempt to commit murder, serious injury by vehicle, willful injury resulting in serious injury, first-degree robbery, second-degree theft and assault with a dangerous weapon being among the charges. Read more.
4. Rita Crundwell documentary to be shown in Dixon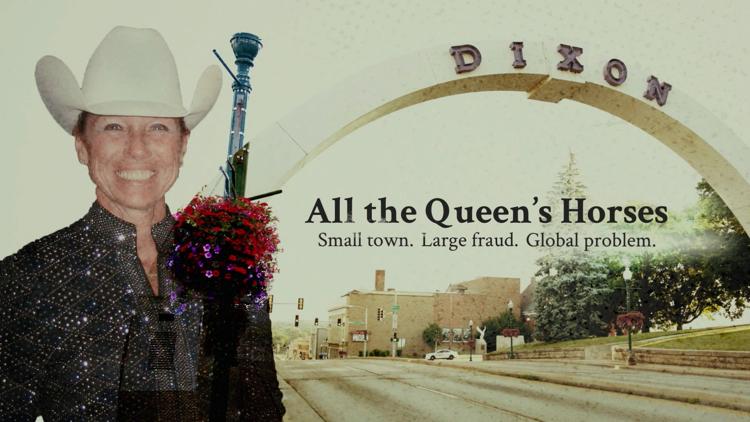 A documentary that centers on the Rita Crundwell embezzlement case is being shown this weekend in Dixon, Illinois.
Crundwell was the comptroller for two decades in the town of 15,000 people located about 70 miles northeast of the Quad-Cities. She managed during that time to steal nearly $54 million from taxpayers. The bookkeeper embezzled the money to build her quarter-horse empire and to bankroll her lavish lifestyle.
The documentary, "All The Queen's Horses," is a 71-minute look at the case and includes interviews with attorneys, government officials, Dixon residents, forensic accountants and members of the equestrian community, among others. Read more.
5. Rock Island 'prepper' set for reality, not zombies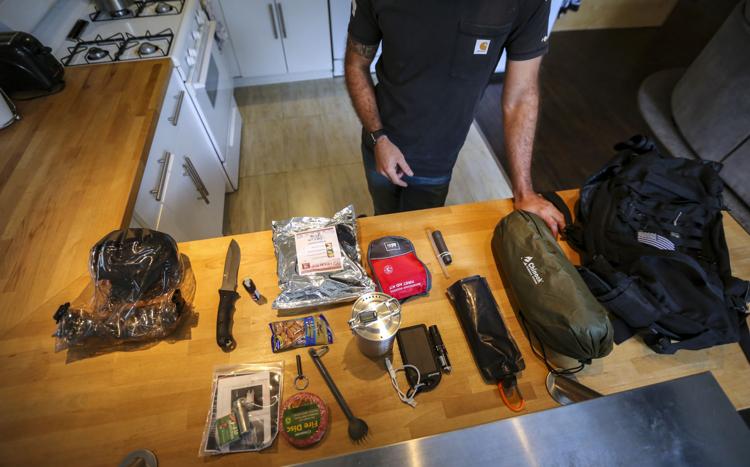 If disaster strikes the Quad-Cities, at least one resident feels ready to handle it.
Jonas Winn has two weeks' worth of food and water, five firearms, about 1,000 rounds of ammunition, gas masks and other emergency equipment stowed away at his family's home in Rock Island's Broadway Historic District. He also owns various modes of transportation to use if and when he decides to flee.
On the surface, however, nothing about the bearded and tattooed man points to his level of passion for disaster preparedness. Read more.
6. Freshman twin towers debut for Hawkeyes tonight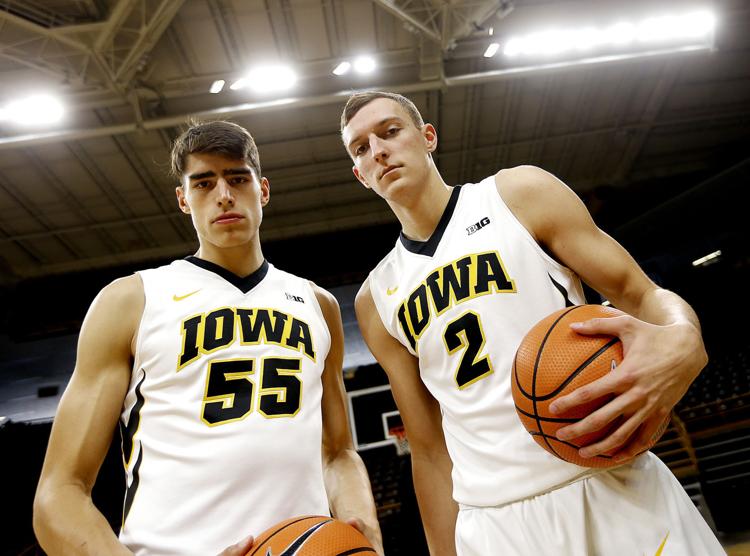 For many Iowa basketball fans, the first glimpse comes tonight. They've heard all about these two 6-foot-11 bookend freshmen that the Hawkeyes recruited.
They've heard how Jack Nunge earned most valuable player honors in leading his team to the championship of the Prime Time League during the summer. They've read that Luka Garza led the Hawkeyes in scoring in all four of their games on a tour of Europe in August.
And if Iowa coach Fran McCaffery and his veteran players are making any attempt to tone down expectations for the two kids … well, they failed miserably. Read more.