A good Tuesday to all. Mostly cloudy and cooler temps are on tap for the region today. Here are the weather details from the National Weather Service.
1. A frosty start to the day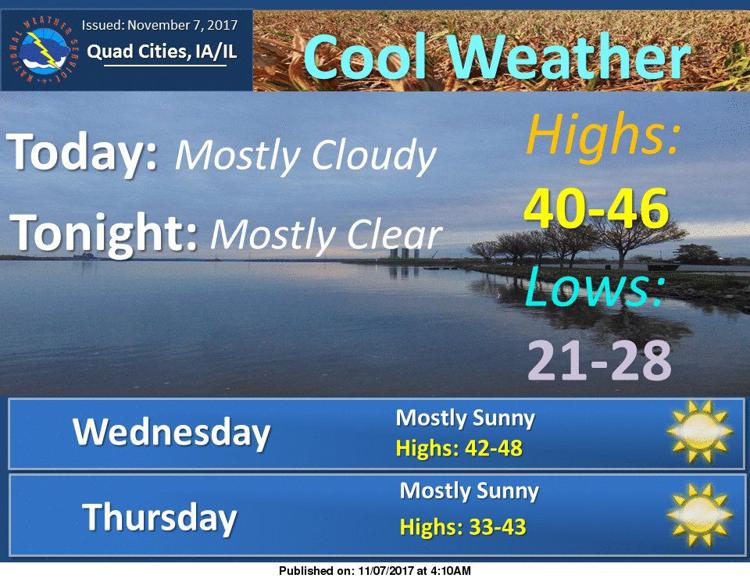 It will be mostly cloudy early, then partly sunny with a high near 43 degrees. Winds will be from the northeast at 5 to 10 mph.
Tonight will be mostly clear with a low around 24 degrees. 
Wednesday will be sunny with a high near 45 degrees and a low around 30 degrees.
And for those looking ahead to the weekend, snow is in the forecast.
2.  1 injured in Mt. Joy robbery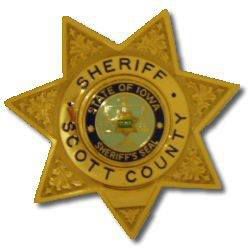 The Scott County Sheriff's Office is investigating a Monday night robbery at a Mt. Joy gas station.
The 911 call came in at 9:01 p.m. regarding a robbery at the station located at 21010 Brady Street.
Scott County Sheriff's deputies, Eldridge police, Davenport police and members of the Iowa State Patrol responded to the scene.
Law officers searched the area for a male suspect who had fled the store prior to police arrival. The suspect was not located during the search and no one is currently in custody regarding this incident.
An employee of the BP/Amoco did sustain minor injuries during the robbery.
The incident is currently under investigation by the Scott County Sheriff's Office Criminal Investigation Division. 
3. Kimberly/Division road work hurt businesses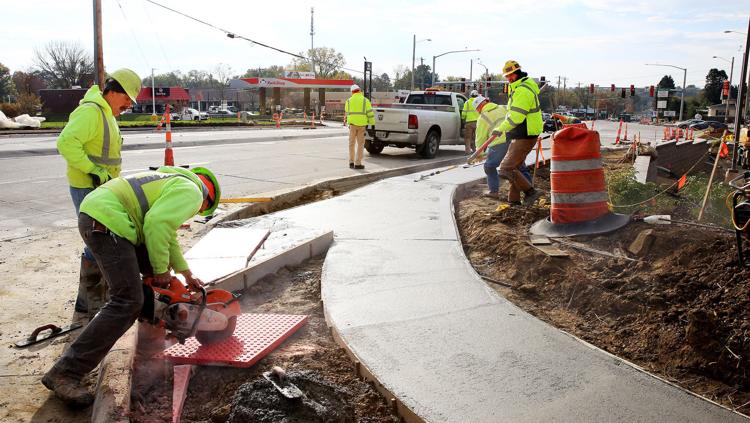 Joe Hines, owner of Millz Pizza in Davenport, jokes about throwing a construction party now that road lanes have been opened at Kimberly Road and Division Street. But the delays have been no laughing matter for local businesses.
Hines and fellow business owners near the intersection improvement project have felt the pain to their bottom line since the project began in March and then was delayed for several months.
"For a new business, this has just been terrible," Hines said. "Speaking to the other four or five businesses — Walgreens, the Kwik Shop, CVS, the shop across from us — business has been down an average of 50 percent." Read more.
4. Baer out 3-4 weeks with broken finger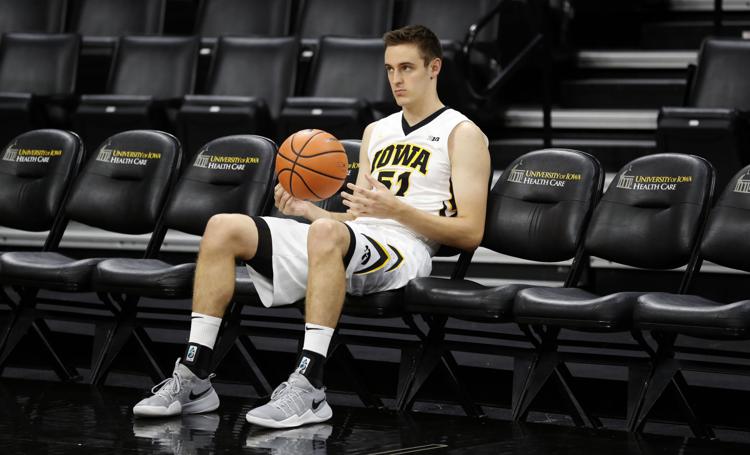 Iowa coach Fran McCaffery has been debating whether or not to use junior Nicholas Baer in his starting lineup.
Now the decision has been made for him.
Baer broke a bone in the pinkie finger on his left hand over the weekend and will be sidelined for three to four weeks. The injury, which occurred in practice, will not require surgery. Read more.
5. Court documents allege more wrongdoing at United Neighbors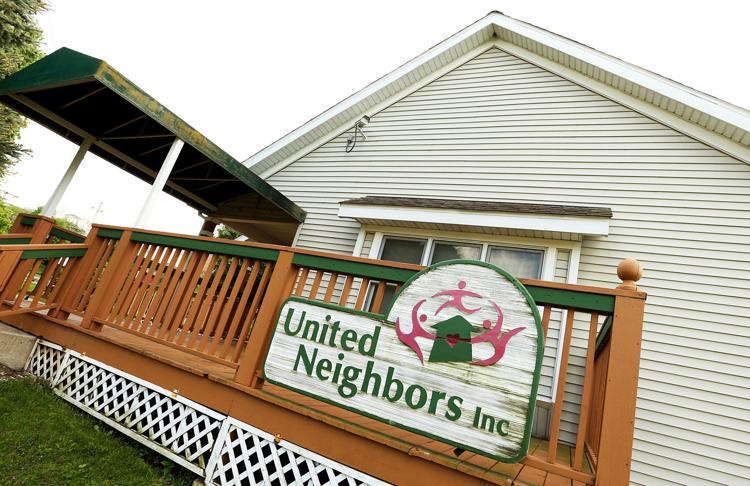 Court documents from the lawsuit against United Neighbors continue to raise more questions about the agency prior to the termination of former Executive Director Ida Johnson.
A hearing for partial summary judgment in a lawsuit filed against the Davenport agency by Johnson and three other former employees is scheduled next week, but deposition transcripts and affidavits admitted into record allege more instances of wrongdoing, including excessive reimbursements, diverting food from a food bank and issuing grant funds to relatives. Read more.
6. Moline police officer gives truck to woman in need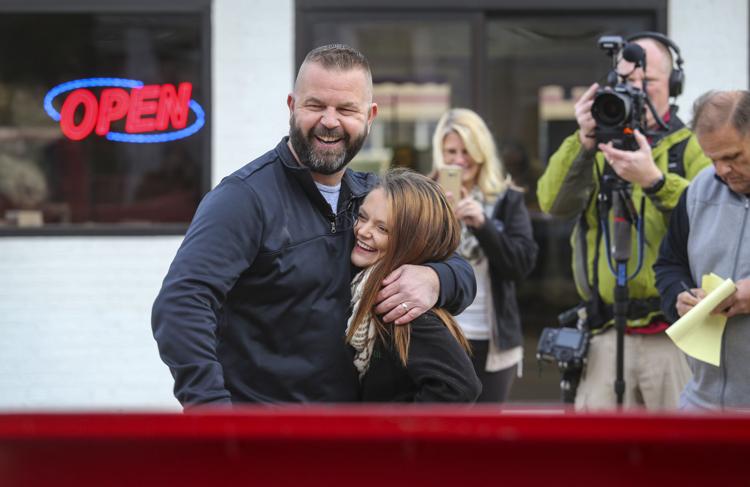 Courtney Groharing giggled and looked on in disbelief at the red 1999 Dodge Ram truck that Moline Police Officer Patrick Moody parked in front of her workplace.
The new set of wheels is something her family desperately needs.
She had lent her car to a co-worker, who wrecked it.
Groharing said she now has to walk 25 blocks to her job at Dutch Way Cleaners in Moline. It also was difficult to get around with her two young daughters without a car.
Being able to help out Groharing and her family is something that made Moody happy.
He said last year that he made a commitment to himself that he would do something big for someone who he knew could never pay him back at least once a year. Read more.