1. Mild today with flood threat on the Rock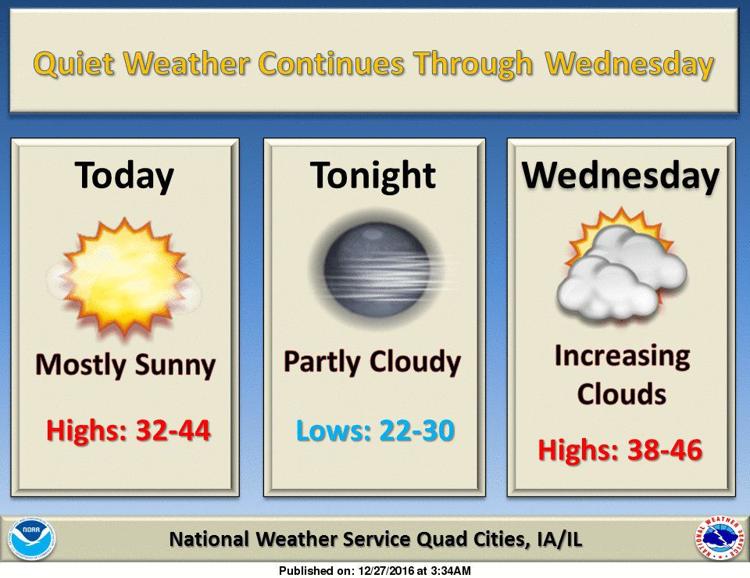 A good Tuesday to all. Rick's Six resumes after a short holiday break. Did you enjoy yesterday's warmth? The Quad-Cities tied the 1936 record high temperature of 56 degrees Monday at 12:01 a.m. What about today, you ask?
Here's the latest forecast from the National Weather Service.
Today will be sunny with a high near 37 degrees and a low around 26 degrees.
For Wednesday it will be partly sunny and breezy with a high near 42 degrees and a low around 26 degrees. Winds will gust between 20-25 mph.
2. Flood warning issued for Rock River near Joslin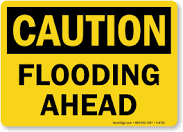 The National Weather Service has issued a flood warning for the Rock River near Joslin, Ill., because of an ice jam. The warning is in effect until further notice.
Early this morning the river was at 12.3 feet and holding steady. Flood stage is 12 feet. The river is expected to rise to 13.6 feet Thursday morning and then begin falling.
As for the Rock River in Moline, the river is expected to only rise to 11.3 feet on Thursday and hold steady into the new year. Flood stage is 12 feet.
3. Lane closures today on Brady Street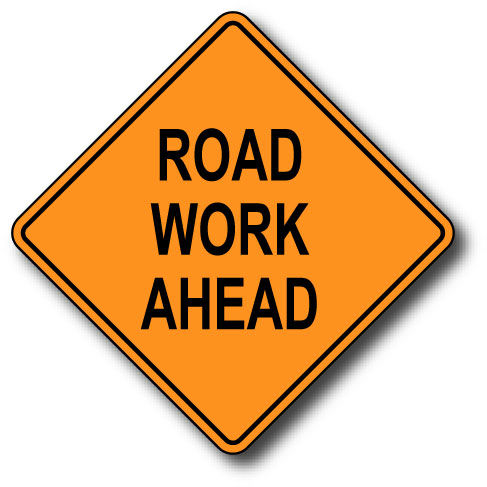 There will be short-term, traveling lane reductions on Brady Street today for  sewer cleaning.
The middle two lanes between 8th and 14th streets will be closed from 8:30 a.m. to 11:30 a.m. while the two left lanes will be closed between River Drive and 7th Street from 9:30 a.m to 5 p.m.
During this time, lane reductions also will occur on some of side streets leading to/from Brady from the east and west. These lane reductions include 2nd, 3rd, and 4th Streets as well as the left turn and adjacent lane of eastbound River Drive. Lane reductions will be removed as work is complete.
This work is being performed in advance of sewer work to be scheduled at a later date.
4. Iowa Senate District 45 special election today
Voters in Iowa's 45th Senate District will go to the polls today to cast ballots in the special election to fill the seat left vacant by the death of Joe Seng.
State Rep. Jim Lykam, D-Davenport, is facing off against Republican Mike Gonzales and Libertarian Severin Gilbert.
Polls open at 7 a.m. and people will have until 9 p.m. to cast ballots.
The 45th District includes much of west Davenport, along with the city's downtown and parts of the central city, as well as the town of Buffalo.
5. DOT completes first I-80 study, suggests improvements
The Iowa Department of Transportation has completed an initial study of Interstate 80 in the Quad-Cities, the precursor for what eventually could lead to major investments to this area's northern traffic corridor.
Much of the study's findings have been apparent to transportation officials for some time. Traffic is heavy from I-74 to U.S. 61, while many of the interchanges are outdated.
In particular, the report contemplates widening I-80, along with changes at the corridor's interchanges with I-280, Northwest Boulevard, U.S. 61, I-74 and Middle Road.
No decisions have been made on what construction projects might be pursued. The main priority for the DOT in this area is construction of a new I-74 bridge. Read more.
6. House fire on Warren Street remains under investigation
One occupant underwent medical evaluation after a house fire Monday morning at 1134 Warren St., Davenport.
At dusk Monday, crews remained on the scene of the fire, which started shortly before 10 a.m. Firefighters said the home's layout, which has a unique compartmentalized construction, allowed the blaze to reach areas that firefighters had trouble accessing.
Winds blowing from the back side of the house made fighting the blaze even more difficult.
Four occupants live in the house, said firefighters. The fire remains under investigation.