A good Friday to all. A mild weekend is on tap for the Quad-Cities while those in Florida are either hunkering down or getting out of town as Hurricane Irma bears down on the region. Here are the weather details from the National Weather Service.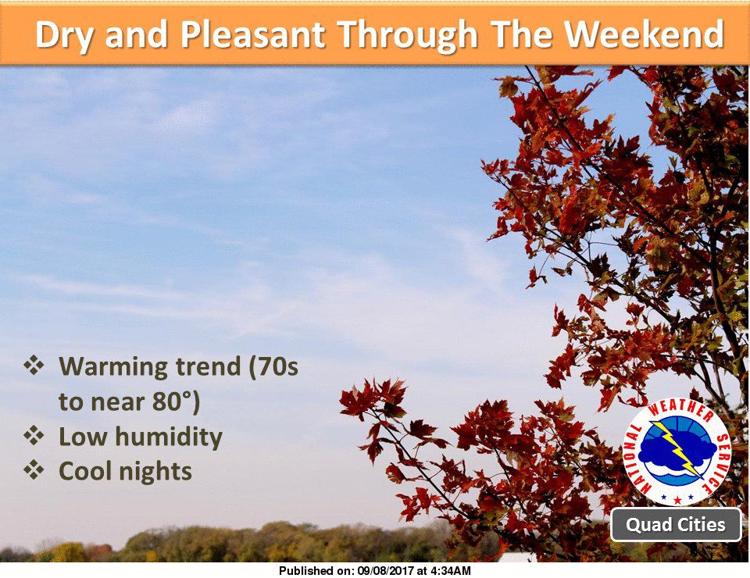 Today will be sunny with a high near 77 degrees and a low around 52 degrees. Grab the jacket or sweatshirt before heading out tonight to your favorite prep football game.
Saturday will be mostly sunny with a high near 76 degrees and a low arouind 53 degrees.
Sunday will be sunny with a high near 75 degrees.
2. Irma slams islands on path to Florida, earthquake in Mexico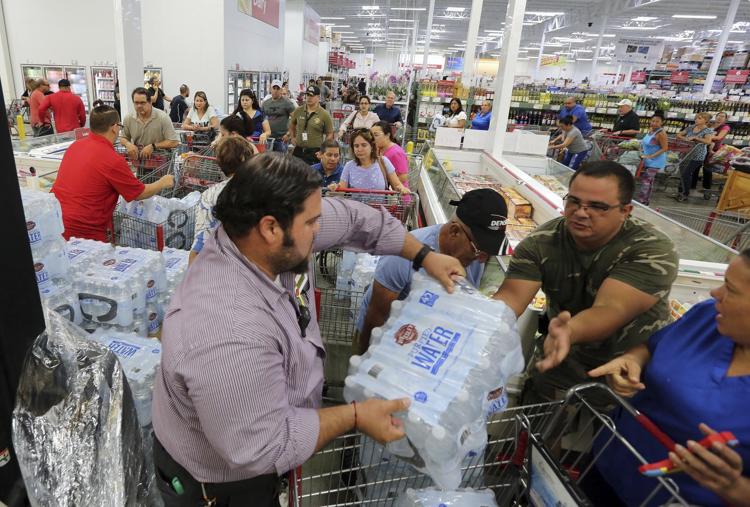 Hurricane Irma battered the Turks and Caicos Islands early today and Cuba evacuated tourists from beachside resorts as the fearsome storm continued a rampage through the Caribbean that has killed at least 11 people, with Florida in its sights.
Waves as high as 20 feet (6 meters) were expected in the Turks and Caicos. Communications went down as the storm slammed into the islands, and the extent of the devastation was unclear.
The first hurricane warnings were issued for parts of southern Florida as the state braced for what could be a catastrophic hit over the weekend. Following in Irma's wake was Hurricane Jose, with some of the islands hit hardest by Irma in its expected path.
Irma weakened from a Category 5 storm to Category 4 this morning with maximum sustained winds near 155 mph (250 kph), but it remained a powerful hurricane.
Hundreds of miles to the west, Florida prepared for Irma's wrath, with forecasters warning the storm could slam headlong into the Miami metropolitan area of 6 million people, punish the entire length of the state's Atlantic coast and move into Georgia and South Carolina.
More than a half-million people in Miami-Dade County were ordered to leave as Irma closed in.
Brian McNoldy, a hurricane researcher at the University of Miami, said Irma could easily prove to be the costliest storm in U.S. history. Read more.
At least 5 killed as Mexico hit by biggest earthquake in century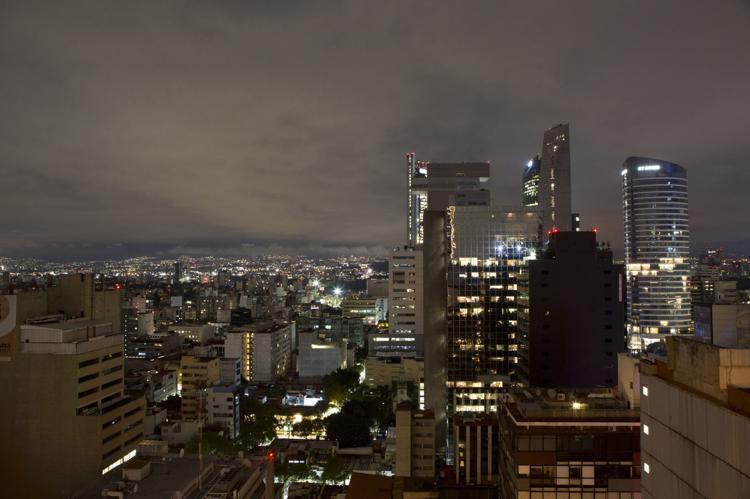 A major earthquake off Mexico's southern coast overnight killed at least five people, with the president saying today it was the biggest in a century to hit the country. Houses toppled and the quake produced tsunami waves and sent people running into the streets in panic.
The U.S. Geological Survey reported the earthquake's magnitude as 8.1, but President Enrique Pena Nieto says it was 8.2, making it the largest in Mexico in 100 years. He also said it was bigger than the one in 1985, when thousands were killed in four Mexican states. Read more.
3. Rock Island native Keys cruises into first U.S. Open final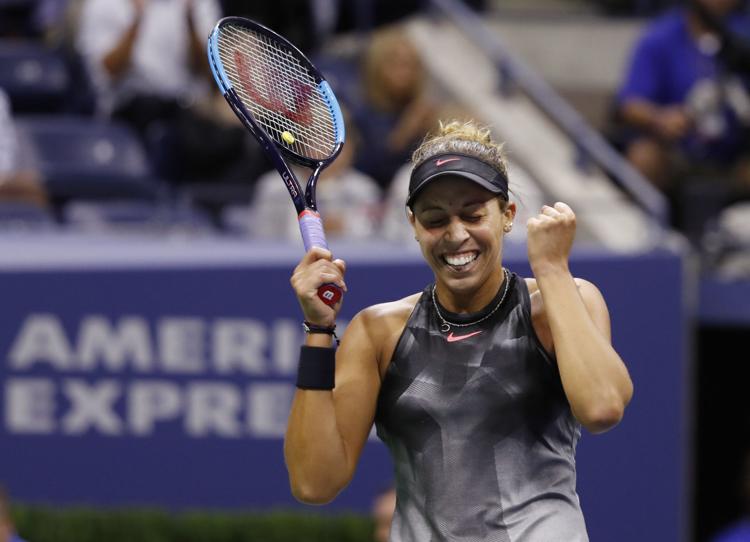 Sloane Stephens was two points from defeat against Venus Williams in one U.S. Open semifinal before pulling out the victory. Rock Island native Madison Keys faced no such test, overwhelming CoCo Vandeweghe in the other semifinal.
Now Stephens and Keys, a pair of pals in their early 20s, will meet in the first Grand Slam title match for each — and the first all-American women's final at Flushing Meadows since 2002.
The 15th-seeded Keys, who dominated No. 20 Vandeweghe 6-1, 6-2, had her own recent health issue to deal with: She missed the first two months of this year after an offseason operation on her left wrist, then needed another procedure in June because of pain in that arm. Read more.
4. Lancers bottle up Blue Devils in win
Kevin Tippet admits his football team does not have a running back with the speed and quickness of Davenport Central's Jatoviay Hill.
Hill showcased his elusiveness with several long runs Thursday night against North Scott's defense, but the Lancers buckled down in the key moments.
Central started three second-quarter drives near midfield or in Lancer territory, but North Scott kept them off the scoreboard each time on its way to a 27-7 non-district victory at Brady Street Stadium. Read more.
5. Parks sentenced in LeClaire Park stabbing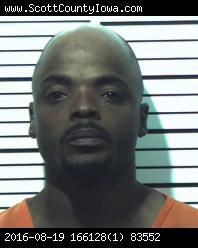 Jennie Nunn didn't want to be angry, vindictive or vicious when she addressed the man who admitted to kicking her grandson, Romane Nunn Sr., the night he was fatally stabbed by another man in a Davenport park.
"I wanted to say something that would have an impact … an impact on your life," she said as she looked straight at Durell Parks Jr. during his short sentencing hearing Thursday in Scott County District Court.
She alternated her gaze between Parks and Judge Thomas Reidel and said she tried to understand what happened — and why — to Nunn the night of Aug. 18, 2016.
"I pray that you would get the understanding that you are to contribute something to your surroundings and the people around you," she said. "Nothing done here can bring Romane back, but you can do better. You can go forward from this, and you can do better."
The 35-year-old Parks spoke directly to Jennie Nunn, who sat in the courtroom gallery, and said he had no idea what really happened that night and he had been around the wrong people. He also said he had been under the influence but that was not a "justifiable excuse for my actions."
"But, I didn't play a part in murder, I played a part in an assault," he said. "That was the part that I took accountability for as far as my actions. Now, I just ask that you forgive me for playing a part in this incident … for the loss of your grandson."
"I forgive you," Jennie Nunn said as a tear rolled down her face.
Reidel sentenced Parks to up to 10 years in prison on one count of willful injury resulting in serious injury, a Class C felony, for his part in the assault on Romane Nunn. Read more.
6. Photos: Bill Wundram's 'Molly' the dog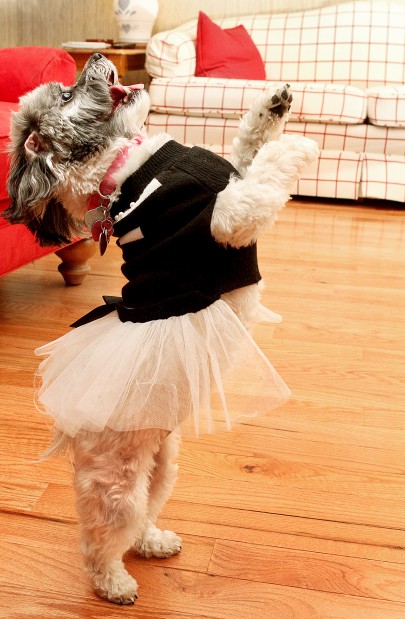 People are always asking Times columnist Bill Wundram about his "Molly," a 5-year-old Havanese dog. Molly's doing great leading a pampered life. Here's some images of her from the Times' archives. Attached to this gallery are links to stories Bill has written of some of Molly's exploits. Enjoy! Read and see more.