A good Monday to all. Our recent spate of fall-like weather continues today. Here are the weather details from the National Weather Service. 
1. Fog early, then partly sunny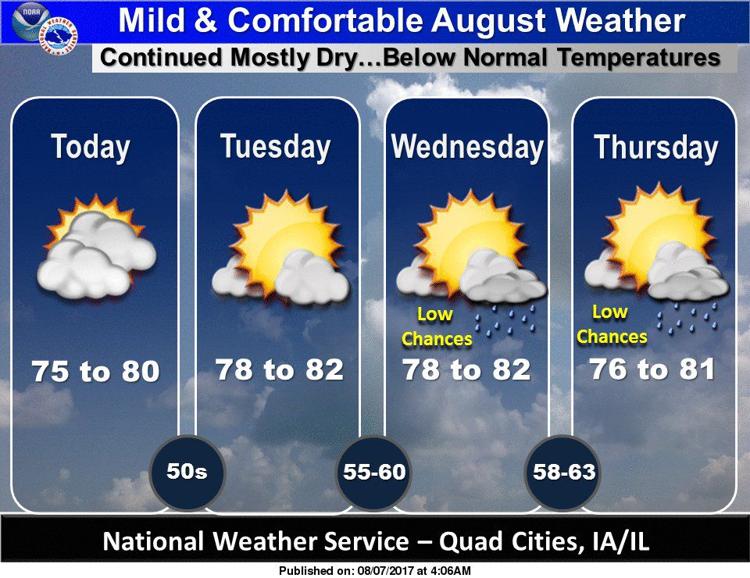 Look for some patchy fog before 8 a.m. with skies becoming partly sunny later. The high for the day will be 77 degrees. There also is a slight chance of showers after 1 p.m.
Tonight patchy fog is possible after 3 a.m. Otherwise it will be mostly clear with a low around 53 degrees.
Tuesday will see some patchy fog before 8 a.m. Otherwise, the day will be sunny with a high near 80 degrees and a low around 57 degrees.
2. Madison Keys earns first U.S. win
Third-seeded Madison Keys of Rock Island outslugged No. 6 CoCo Vandeweghe 7-6 (4), 6-4 to win the Bank of the West Classic Sunday in a thrilling display of power and serving by the two young American stars in their first career matchup. Afterward, they hugged and Keys playfully sat on her opponent's lap.
Keys won her third career singles title and first on hardcourt playing under cloudless skies at Stanford. Read more.
3. Rock Island man dies after being struck by car in Davenport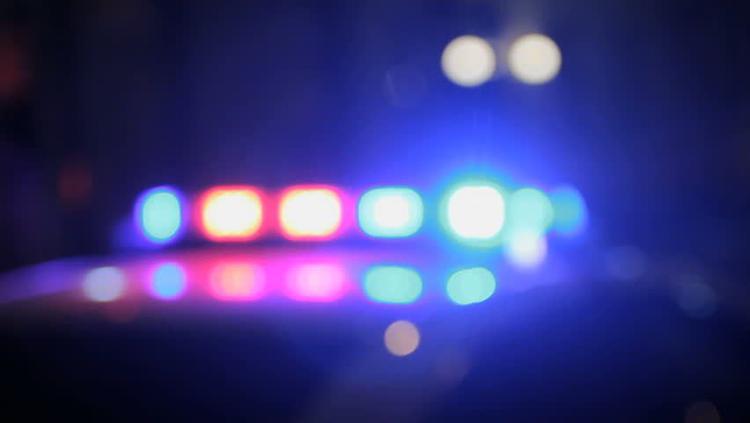 A 25-year-old Rock Island man died early Sunday after he was struck by a vehicle in the area of 100 W. 55th Street, Davenport.
According to Davenport police, the pedestrian, whose identity has not been released, was pronounced dead at the scene after the incident, which happened about 7:49 a.m. Sunday.
The Davenport Police Traffic Safety Unit is investigating.
4. Mississippi Valley Fair ends with a bang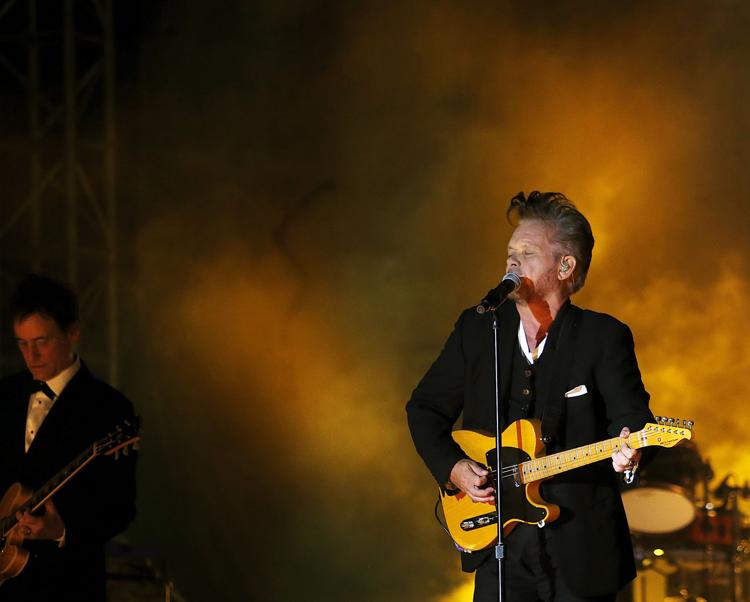 The 2017 edition of the Great Mississippi Valley Fair is history with packed weekend grandstands featuring John Mellencamp and Carlene Carter on Saturday night with Randy Houser wrapping up things on Sunday night. Check out these photos. 
• Photos: Randy Houser at the Mississippi Valley Fair
• Photos: Carlene Carter and John Mellencamp at Mississippi Valley Fair
5. ICYMI: Hawkeye Media Day
Times reporter Steve Batterson was in Iowa City for the Univeristy of Iowa football team's annual Media Day this weekend. Here are his reports.
• Hawkeye lines include some moving parts
• Photos: Iowa Football Media Day
• Hawkeyes work to fortify perimeter strength
• Butler looks for his niche with Hawkeyes
6. Area road work update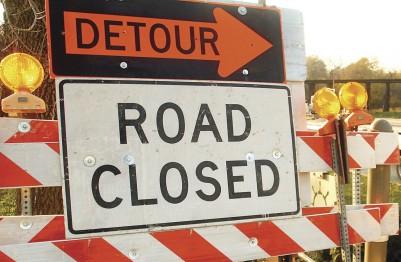 • Work continues in the two right/east lanes of Brady Street in Davenport; asphalt work near 14th Street and storm manhole work at Brady Street and River Drive still needed to be completed.
• Work flips to the two right/west lanes of Harrison Street at 35th Street in Davenport. That work should be completed by Thursday.
• Beginning today and continuing through Aug. 14, full-depth patching begins on W. River Drive between S. Concord Street and the Blackhawk Creek/Railroad overpass in Davenport. Work will be completed in the south eastbound lane and then move to the north eastbound lane. 
• Work to extend Veterans Memorial Parkway between Jersey Ridge Road and the I-74 overpass in Davneport begins today.
Traffic signals will be installed at the intersection of Veterans Memorial Parkway and Elmore, and the road will be constructed from Elmore to the I-74 overpass. The Elmore intersection will remain open to traffic during construction. This should be completed this fall
Preliminary work on the next stage will occur simultaneously with this work. Work will extend Veterans Memorial Parkway between Elmore Avenue and Jersey Ridge Road. This should be completed in late spring of 2018.  The remainder of the project involves installing an intersection at Veterans Memorial Parkway and Jersey Ridge Road. The work should be completed by fall of 2018.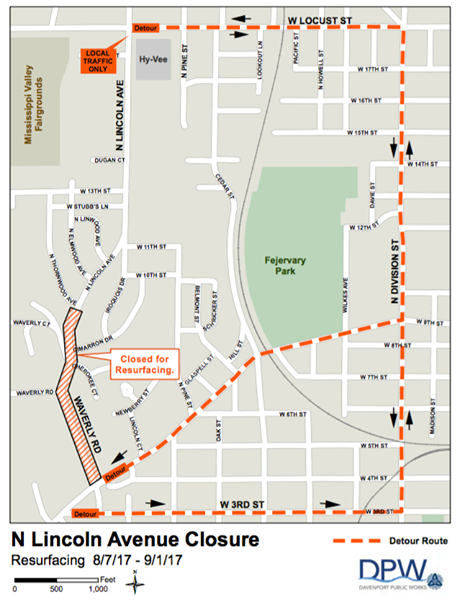 • Resurfacing work on Lincoln and Waverly roads in Davenport begin today and will require closure of Waverly between Telegraph and Waverly roads, and Lincoln Avenue from Waverly Road to Thornwood Avenue.
Drivers will be detoured around the construction zone. Work is expected to be completed by Sept. 1 depending on weather and subsurface conditions.
As part of the project curbs and sidewalks will be repaired, the top layer of roadway asphalt will be milled, underlying pavement repaired, and a new asphalt paving layer will be installed.
• Scott County reports that 85th Avenue will be closed between 265th Street and Allens Grove Road beginning Tuesday. The road will be closed for a bridge replacement over a tributary to Mud Creek. The road may be closed for 45 working days.
• Alliant Energy will be replacing a gas main which will forces the closing of South 6th Street between 8th Avenue South and 9th Avenue South beginning today. This road closure will last through Thursday.
The contractor will be open cutting the road to install gas services and a gas main crossing this road. Only half of South 6th Street will be open at a time to allow homeowner access.