A good Thursday to all. Look for fog this morning then a return to summer with rain chances for the weekend. All that and more in today's Rick Six. Here are the weather details from the National Weather Service.
1. Areas of fog until mid-morning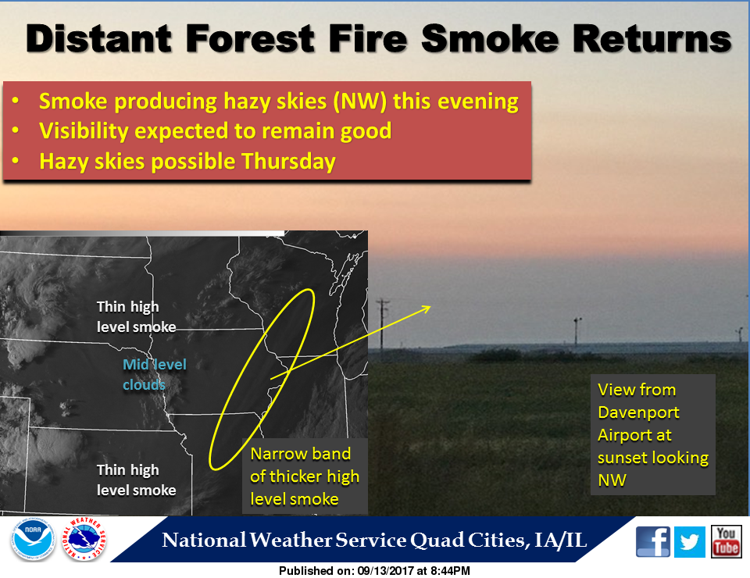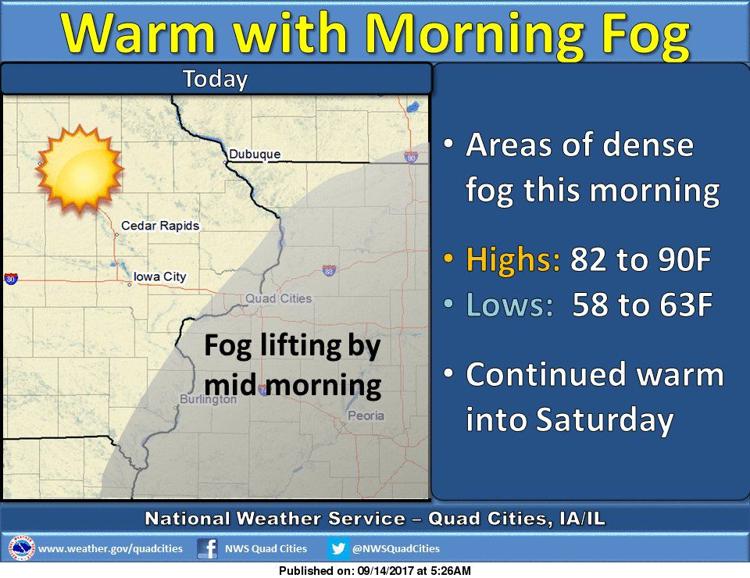 Areas of the immediate Quad-Cities can expect patchy, possibly dense, fog before 9 a.m. with skies turning sunny. The high will be around 86 degrees and a low around 61 degrees. A dense fog advisory is in effect in Carroll, Henry and Whiteside counties in Illinois until 10 a.m. with visibilities of less than a quarter of a mile possible. Drivers should slow down, use headlights and drive defensively.
Friday will be mostly sunny with a high near 88 degrees and a low around 65 degrees.
Saturday will be mostly sunny with a high near 88 degrees and a low around 66 degrees. There's a 40 percent chance of rain overnight.
The 40 percent chance of rain continues into Sunday when it will be mostly cloudy with a high near 81 degrees and a low around 60 degrees.
2. 119 shots fired incidents this year, Davenport looking for solutions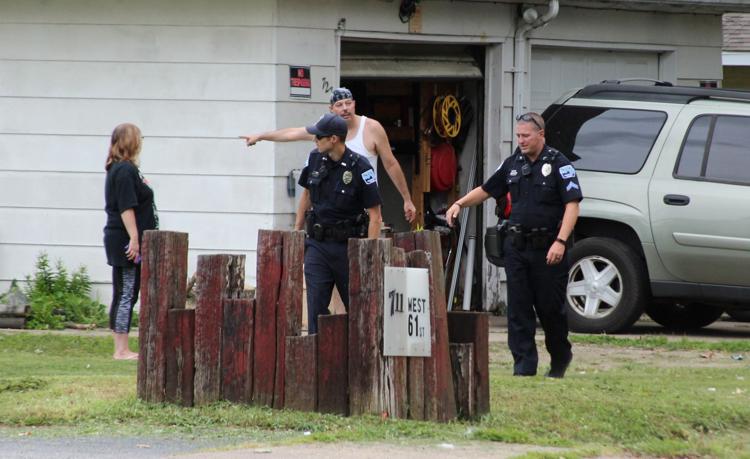 The 119 confirmed shootings in Davenport this year are not localized to one part of town, according to data obtained by the Quad-City Times.
"Our officers are making arrests," Davenport Police Major Jeff Bladel said. "They're making good arrests. We have put a lot of resources into curbing the gun crime. It's our priority and we'll continue to work with other agencies and with the community to curb it."
One of the issues Davenport has is the bridges that lead into and out of the city, he said.
Not all of the people causing the problem are residents of Davenport, so coordinating with Rock Island, Moline and East Moline police, as well as the sheriff's departments and the federal authorities is vital, Bladel said. Read more.
3. Work on new I-74 bridge begins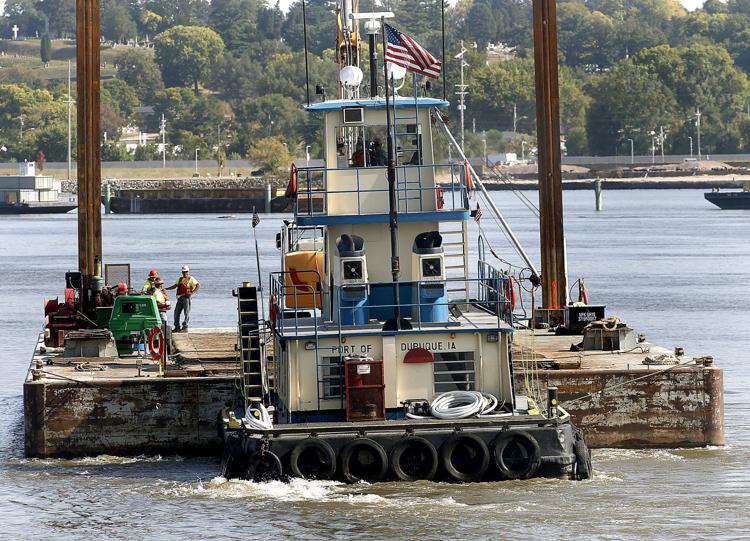 As if all the road construction and detours in Moline and Bettendorf didn't tip you off,  but there's a new bridge going up in the Quad-Cities. Yes, after all those years of talk, and more talk, work is finally beginning on a new I-74 bridge between Moline and Bettendorf that will replace the familiar, but outdated, twin spans. Check out these images by Times photographer Jeff Cook. Wait another 3½ years for the finished product.
4. Mediacom to move cable for new I-74 bridge, service outages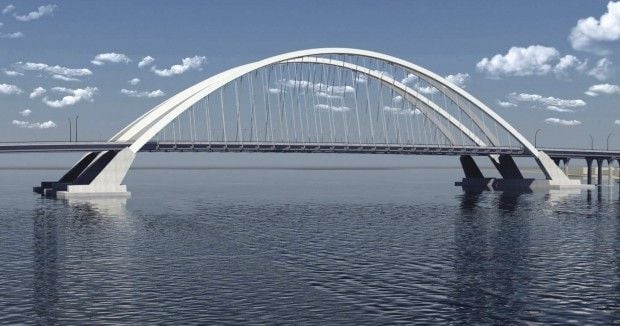 Mediacom Communications says it will relocate a major span of fiber optic cable to accommodate construction of the new Interstate-74 bridge between Bettendorf and Moline.
The move will take place between between midnight and 6 a.m. on Sept. 20 and will mean about 30,000 customers won't have Internet, phone or cable TV service during those hours, Mediacom says.
Mediacom is notifying customers that services will be off line during this time. Read more.
5. Flashback Thursday: When Tavian ran wild at Kinnick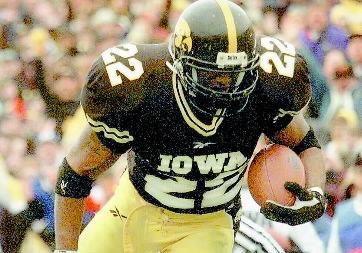 Iowa fans are talking about the speed and elusiveness of Hawkeye running back Akrum Wadley.
But 20 years ago on this date, Iowa fans were gaa-gaa over another Hawkeye running back — Bettendorf's Tavian Banks.
In 1997 the former Bulldog ran for a school-record 314 yards as part of a four-touchdown performance as the Hawkeyes beat up on the Tulsa Hurricanes. Banks went on to play in the National Football League for the Jacksonville Jaguars.
Here, from the Times' archives, is sports reporter Steve Batterson's account of the accomplishment. Read more.
6. More traffic changes around John Deere Road today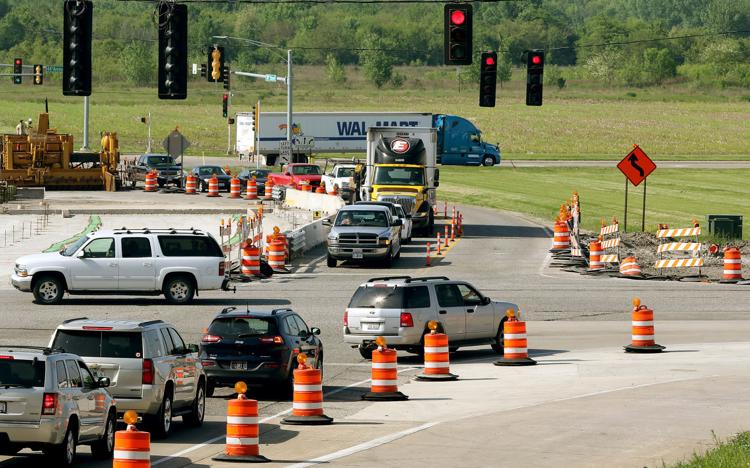 The John Deere Road project will require a shut down of a portion of 44th Avenue at 53rd Street in Moline beginning today. The two-week closure will only affect traffic on 44th Avenue east of 53rd Street. Businesses on 44th Avenue may be accessed during construction via 45th Avenue. Traffic on 53rd Street and John Deere Road will not be affected.