1. Warmer today with rain later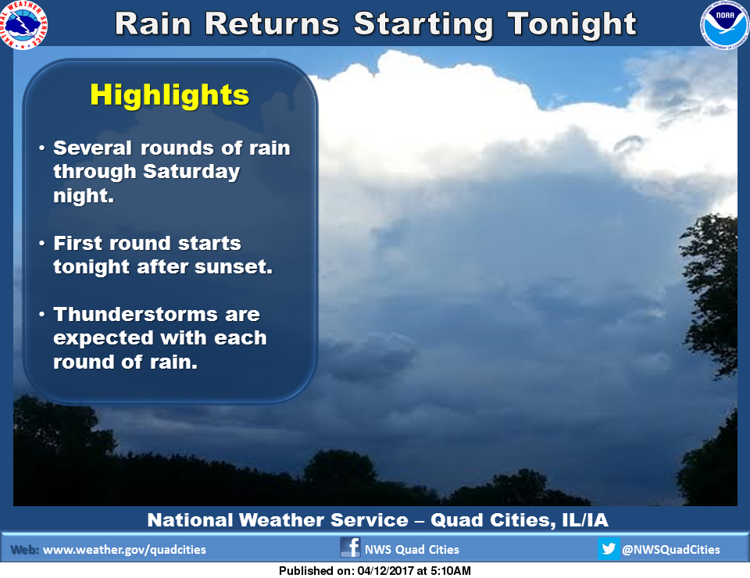 A good Wednesday to all. Here's what is ahead for the Quad-Cities in this wacky world of weather.
Today will be mostly sunny with a high near 68 degrees.
Tonight showers and thunderstorms are likely. The chance of precipitation is 80 percent with new rainfall amounts between a tenth and quarter of an inch possible. The overnight low will be around 51 degrees.
Thursday scattered showers and thunderstorms are possible in the early morning hours. Skies will be mostly cloudy with a high near 67 degrees. The chance of precipitation is 30 percent.
Thursday night there's a 30 percent chance of showers and thunderstorms  after 1 a.m. Skies will be mostly cloudy with a low around 52 degrees.
2. Nestle Purina parking lot agreement in works for years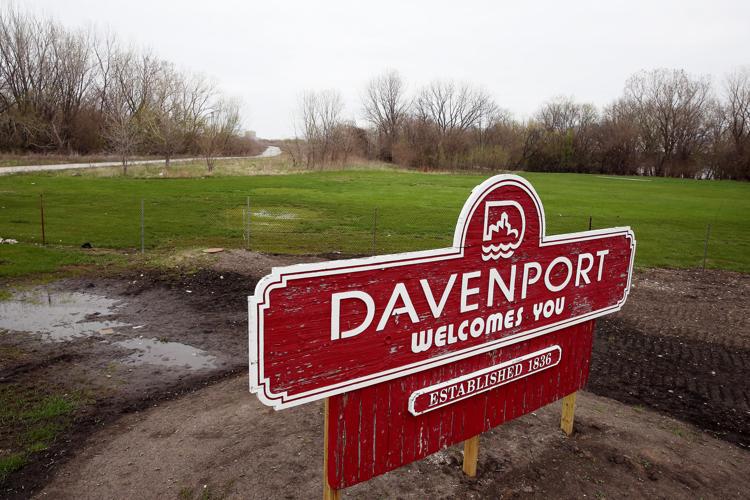 Dead silence accompanied quizzical looks two months ago as some of Davenport's aldermen questioned the origin of a proposed licensing agreement with Nestle Purina to build a parking lot for 360 trucks on 19-plus acres of riverfront.
The 50-year licensing agreement was shot down by the Levee Improvement Commission in January because of a perception that the terms were one-sided. They called for Nestle Purina to pay $1 per year for the first five years and at most $24,000 annually by its expiration.
City Administrator Corri Spiegel and City Attorney Tom Warner attributed the proposal to former Public Works Director Mike Clarke, who announced his retirement in October 2015. But documents obtained through a Freedom of Information Act request revealed city staff continued to push the project after his departure. Read more.
3. VR showcased as next big thing for business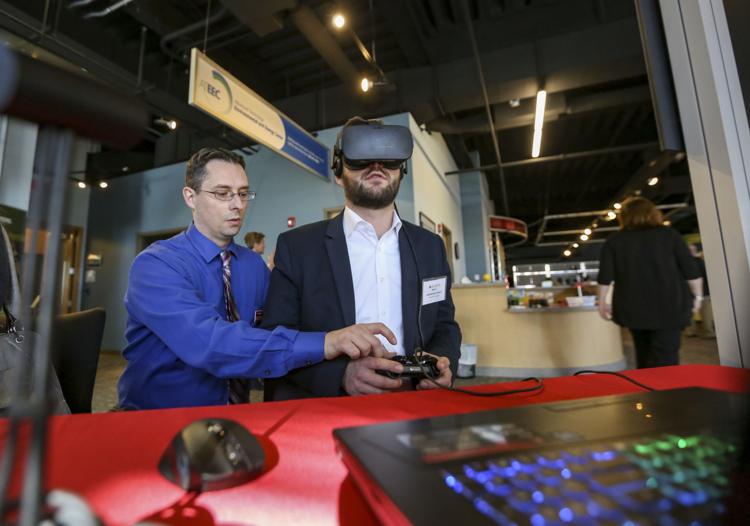 Dozens of Quad-City employers got a look Tuesday at how their workers, including tomorrow's employees, could get their education and training in a virtual world and in the not-so-distant future.
Eastern Iowa Community Colleges' new Virtual Reality Interactive Digital Center in downtown Davenport — part of a partnership between the district and EON Reality — opened its doors to begin conversations with area employers. Read more.
4. Old Buchanan school to become senior apartments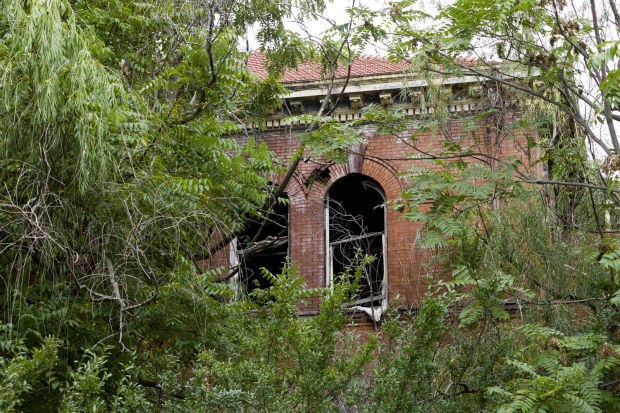 The Iowa Economic Development Authority has given preliminary approval to the final piece of financing needed to turn Davenport's old Buchanan school into 18 senior apartments, developer Chris Ales said Tuesday. Work on the $5.4 million project is expected to begin in 60 to 90 days, with occupancy in 2018, Ales said.
Buchanan is located at 2104 W. 6th St., off Telegraph Road, southwest of the Putnam Museum and Fejervary Park. The property is listed on the National Register of Historic Places and is architecturally and historically significant, designed by the noted architectural firm of Clausen Burrows, whose work helped shape Davenport. Read more.
5. Pee Wee's Restaurant aims to fill void in Rock Island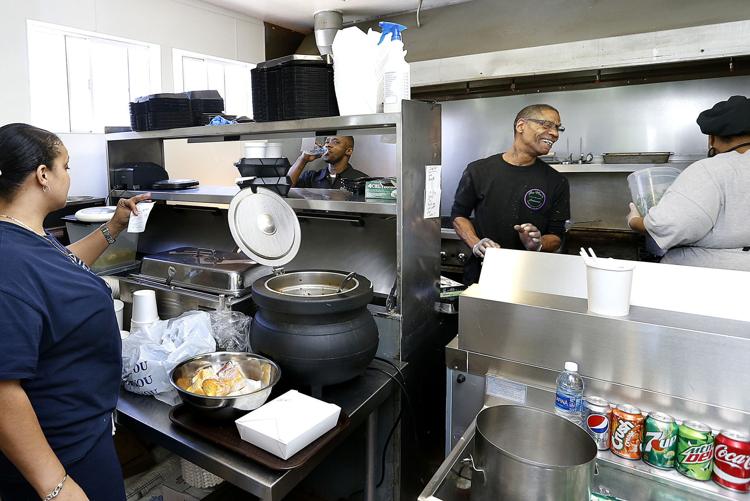 About 10 days in to his new venture, the owner of Pee Wee's Restaurant in west Rock Island totally lost his cool when a familiar face walked through the door for the first time.
Will Clay said he "was blown away" when Rock Island native Booker Edgerson, a starting cornerback for the Buffalo Bills in the 1960s, unexpectedly showed up at his eatery.
"I gave him a hug like I would hug my dad," said Clay, whose late father, Wayland "Pee Wee" Clay Sr., and Edgerson were "great friends" back in the day. 
Pee Wee's, located at the corner of 9th Street and 21st Avenue at 2035 Martin Luther King Drive, offers a variety of soul food and Cajun-Creole fare.  Read more.
6. Arconic Davenport Works installs new stretcher
Arconic has installed the world's largest aluminum plate stretcher at its Davenport Works plant, expanding its capabilities for the aerospace and industrial markets, the company announced Tuesday.
Dubbed the Very Thick Plate Stretcher project, Arconic said the equipment, now online, will allow it to produce highly differentiated plate — improving the performance of thick aluminum and aluminum-lithium plate. The stretching process reduces stress introduced into the plate as part of the manufacturing process, resulting in a part that is more easily machined and processed by customers, the company said. Read more.
Bonus 6. Another National "fill-in-the-blank" Day
It seems like every thing has its day and every day is "National fill-in-the-blank Day" Well, folks, today it is National Big Wind Day.
The day commemorates the recording of the highest natural wind gust measured on the Earth's surface. Back on April 12, 1934, the Mount Washington Observatory in New Hampshire recorded winds of 231 miles per hour. For the geographically challenged,  Mount Washington is the highest peak in the Northeastern United States at 6,288 ft, and it is the most prominent mountain east of the Mississippi River.

If you're not impressed with it being National Big Wind Day, never fear, there's National Grilled Chess Sandwich Day. Also celebrated today, it's something you can really sink your teeth into ...