1. Chance of rain returns to forecast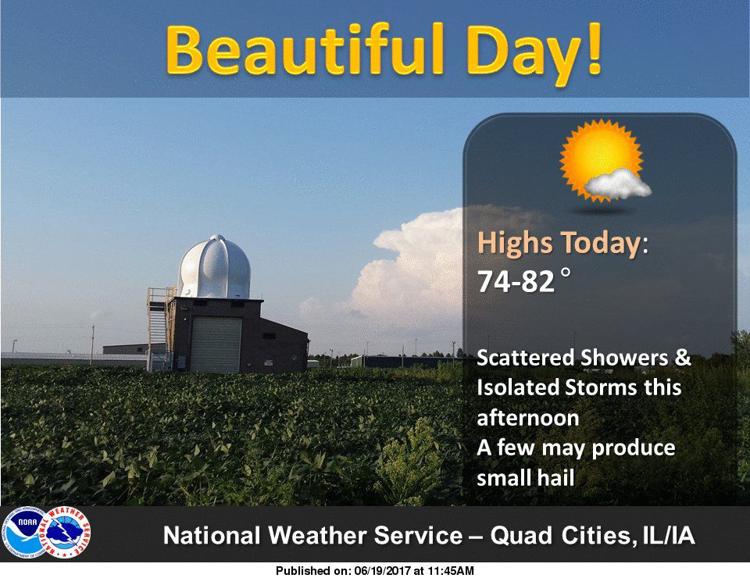 A good Monday to all. Temps will be mild today with more rain possible this afternoon.
Here's the forecast from the National Weather Service.
Scattered showers and thunderstorms are possible after 3 p.m. In fact, according to a "hazardous weather outlook" from the weather service, "a strong upper level disturbance will trigger scattered thunderstorms across the outlook area this afternoon. The stronger storms may produce wind gusts up to 50 mph, hail up to nickel size and frequent lightning."
Otherwise the rest of the day will be partly sunny, with a high near 79 degrees. West winds between 5 to 15 mph will gusts as high as 20 mph. The chance of precipitation is 30 percent.
Tonight scattered showers and thunderstorms are possible before 7 p.m. The chance of precipitation is 30 percent. The overnight with low will be around 58 degrees. 
Tuesday will be mostly sunny with a high near 82 degrees and a low around 57 degrees.
2. Davenport road work update
Brady Street
• Sewer and resurfacing work in the two right/east lanes of Brady Street continues into July.
• A water main break has resulted in lane reductions on Brady between 28th and 29th streets. Traffic is down to two right/east lanes through Thursday.
• One left/west lane of Brady between 8th and 12th Streets remains closed through July 7 for construction activities at Palmer College of Chiropractic.
• Periodic lane reductions in the right/east lane of Brady between 7th and 17th streets will continue through Wednesday for sidewalk and side street improvements.
Kimberly and Division
Head-to-head travel in the northbound lanes of Division Street between 38th and 40th streets, and the eastbound lane reduction on Kimberly Road between Wilkes Avenue and Division Street will remain in place through July 28. Once complete, Stage 3 of the project will begin. During Stage 3, work will flip to the east side, and head-to-head travel will move to the southbound lanes.
I-80 Ramp/overpass work
• 110th Avenue from 210th to 200th streets should be completed by June 26.
• Jersey Ridge Road between 210th Street to East 67th Street should be completed by July 6.
• Wisconsin Avenue from 210th to 200th streets should be completed by July 14.
Other significant closures/lane reductions
• A water main break has resulted in lane reductions on Locust Street at Duggleby Street. Traffic will be head-to-head due to eastbound lane closures. Work should through Wednesday.
The eastbound lane of Kirkwood Boulevard is closed from Spring Street to Eastern Avenue for sewer/water repairs. Work should be completed today.
3. 6 sent to hospitals after semi-tractor, passenger vehicle crash
Six people were transported to Davenport hospitals after a semi-tractor and a passenger vehicle collided Sunday, according to Davenport police.
The crash occurred shortly before 5 p.m. Sunday, at Interstate 80/Brady Street exit. Read more.
4. A Father's Day tradition continues with riding the river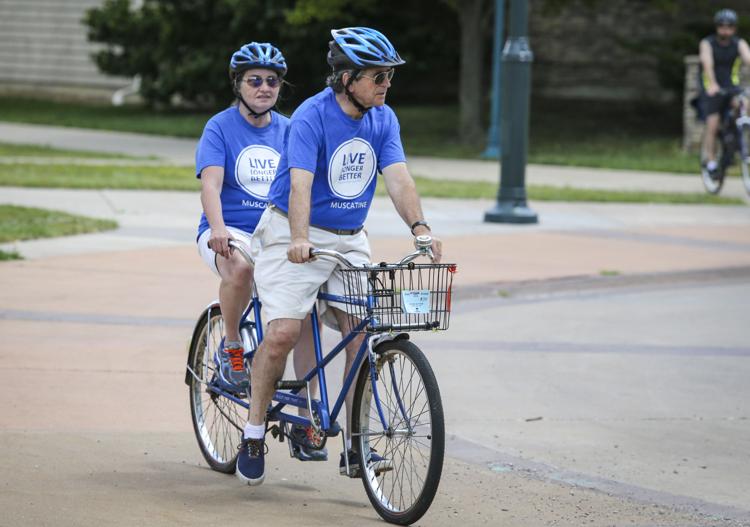 Riders enjoyed a bi-state tour of the Quad-Cities along riverfront bike trails in the 33rd annual Ride the River. View photos.
5. U.S. 6 lane closure in Geneseo begins today

The Illinois Department of Transportation reports a lane closure in the eastbound lane of U.S. 6 between Stewart Street and Hanford Street in Geneseo from 6 a.m. to 5:30 p.m. beginning today and continuing through Thursday.
IDOT workers will be performing pavement repairs.
6. Moline resurfaces recreation trail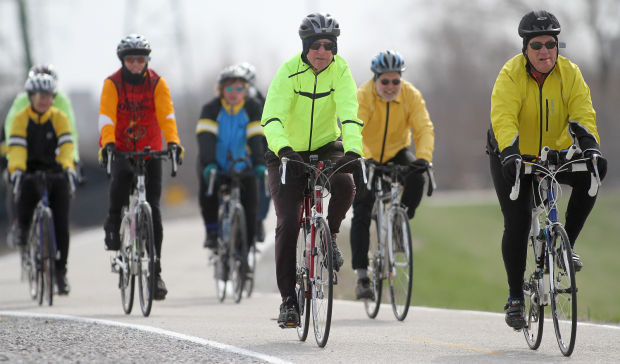 The City of Moline Parks and Recreation Department has announced the Ben Butterworth Parkway bicycle and pedestrian trail, starting at the east end of the Celebration Belle parking lot to 55th Street, will be closed for resurfacing beginning today and continuing through June 28.
There will be no detour route. Pavilions and the playground will be accessible via the east parking lot closest to East Moline. For more information, visit www.molineparks.com.