1. You won't believe this weather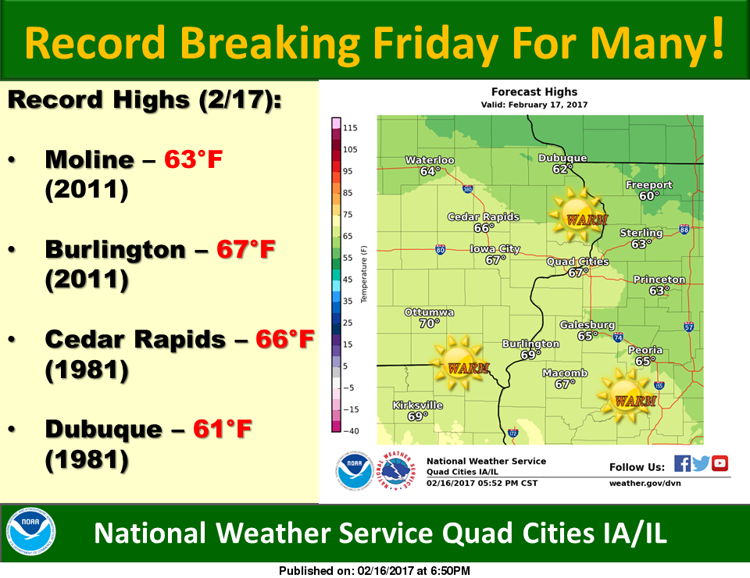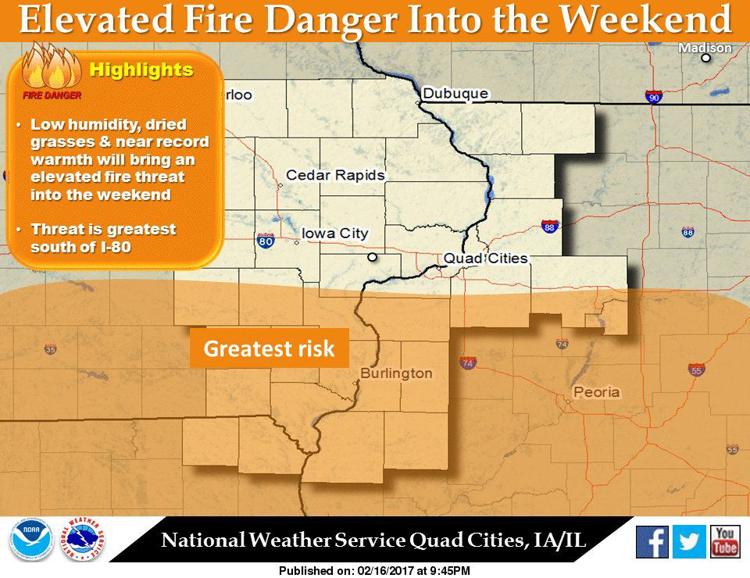 A good Friday to all. It hard to believe that a forecasted high in the upper 60s February day in the Quad-Cities would bring with it a hazardous weather outlook.
But it has because of mild temps, low humidity and plenty of dried vegetation. When combined they create a very high risk of grass fires this afternoon. So the only burning today should be on the grill.
Here's today's forecast from the National Weather Service.
It will be sunny with a high near 68 degrees. Yes, that's right, 68 degrees. Southwest winds between 5 to 15 mph will gust as high as 20 mph.
Tonight will be mostly clear with a low around 38 degrees.
Saturday will be sunny with a high near 61 degrees and a low around 36 degrees.
Sunday will be sunny with a high near 65 degrees and a low around 48 degrees.
2. Republicans send collective bargaining rewrite to Branstad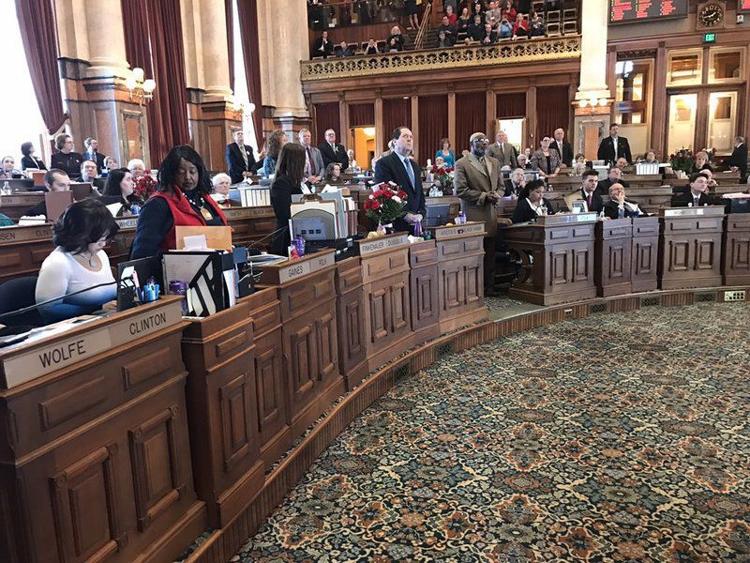 Majority Republicans used a "time certain" procedural move Thursday to expedite legislative passage over minority-party objections of a controversial rewrite the state's 1974 collective bargaining law with Gov. Terry Branstad waiting to approve the measure. Read more.
3. 'Mac' honored for saving neighbor in Bettendorf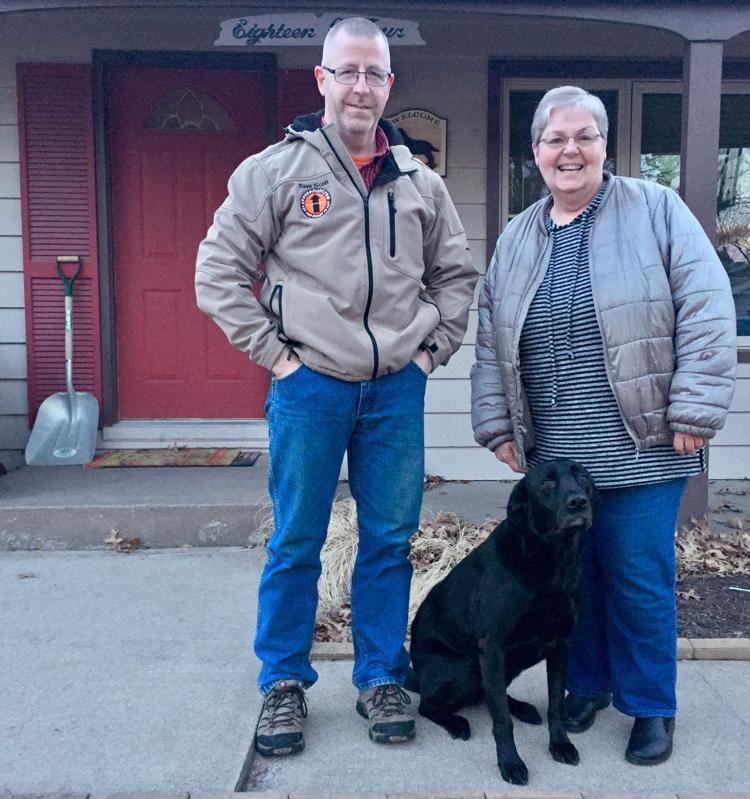 Awake but unable to convert thoughts into actions, Bettendorf resident Marcia Allen knew something unusual happened last month when she found herself on the ground in her backyard, caked in mud. But Allen, who had suffered a stroke and lost control of the left side of her body, was not alone.
"All of a sudden, I could hear the dog next door," she said, referring to Mac, her neighbors' 7-year-old black Labrador retriever. "He never barks, but he was barking frantically. He knew something was wrong."
The noise at 7 a.m. alerted Dave Scott, Mac's owner and an ambulance was called.
First responders transported Allen to Genesis Medical Center-West Central Park, Davenport, before transferring her to University of Iowa Hospitals and Clinics in Iowa City, where she spent two nights.
When representatives of People for the Ethical Treatment of Animals, or PETA, recently learned of the story, they sent Mac a Heroic Dog Award. Read more.
4. J.B. Young parking lot to have more green space, fewer spots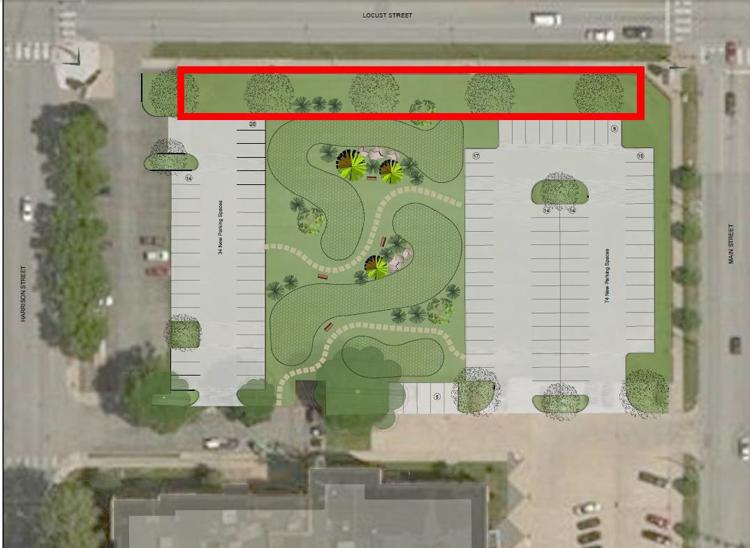 A landscaped parking lot with green space along Locust Street is among the details approved this week for the former J.B. Young K-8 School, Davenport.
The future parking lot is now a large, grassy field north of the building, located at the corner of Main and Locust streets. The site is part of what is evolving to be the J.B. Young Opportunity Center, which will include the Davenport Community School District's administrative offices on the second floor. Read more.
5. Lancers send 8 into Class 3A quarters; Bulldogs advance 4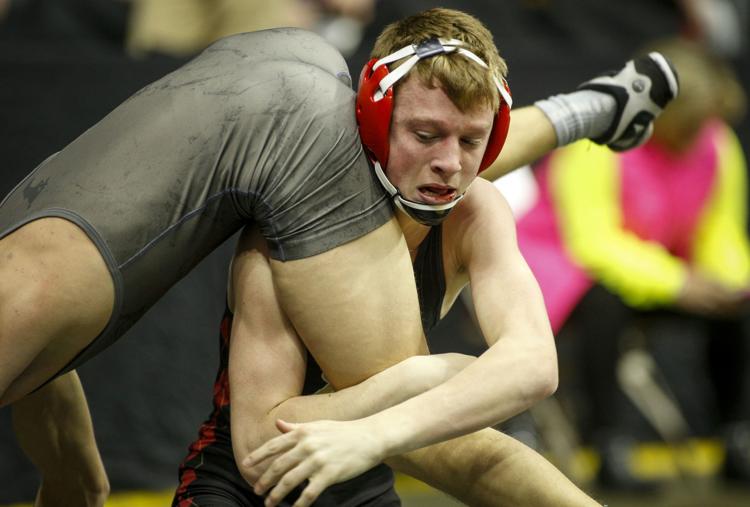 It was a banner day Thursday for North Scott at the state high school wrestling tournament in Des Moines. The Lancers advanced eight into the quarterfinals and are in third place after the opening session with 22.5 points.
Bettendorf had four advance in the winner's bracket while Clinton advanced two. Read more.
6. Ernst: Trump needs to step up against Russia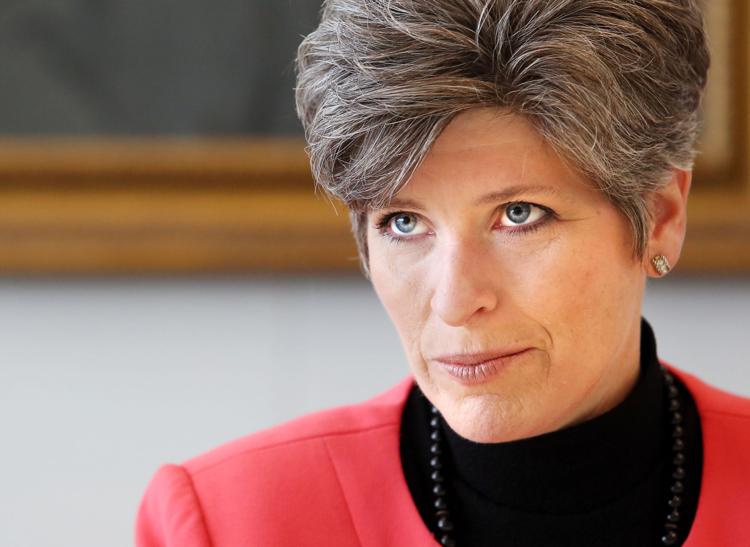 U.S. Sen. Joni Ernst, R-Iowa, said Thursday she isn't sure what the White House's posture is toward Russia, and she called on President Donald Trump to take a tougher stand against it and its president, Vladimir Putin.
On a conference call with Iowa reporters, Ernst expressed alarm at what she called the aggressiveness of Putin and the Russians, including new reports that a Russian spy ship was sitting 30 miles off the coast of Connecticut.
Several media outlets reported the development on Thursday. Ernst said Russia is not a friend of the U.S., and this and other instances are worrying to her. Read more.
6 plus 1. Pet squirrel takes bite out of crime, thwarts burglary
ICYMI: There are some things you can't make up. Case in point ...
Police in southwest Idaho say an indoor pet, a squirrel named Joey, has thwarted a burglary attempt.
The Meridian Police Department says a juvenile entered a home last week and told police after later being arrested that a squirrel attacked him when he tried to break into a gun safe.
Meridian Police Officer Ashley Turner says the juvenile received scratch marks on his arm but no bites. The teen is believed to have entered three or four unlocked homes in the area. The juvenile's name hasn't been released.
Joey's owner, Adam Pearl, says no one can believe he has a squirrel that guards his house. Joey has a nest in a kitchen cabinet.
For his vigilance, Pearl gave his pet a reward: Whoppers, Joey's favorite candy.