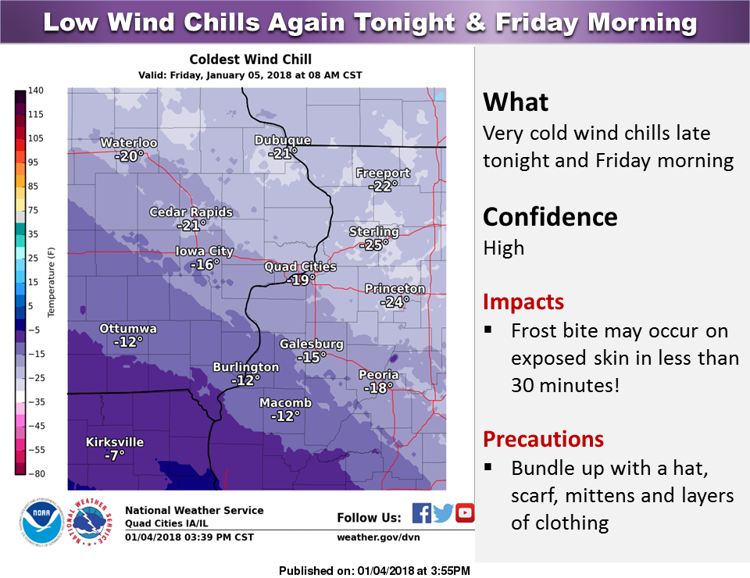 A good Friday to all. Another cold morning in the Q-C of A. The good news is that Mother Nature will lighten up this weekend. Come Sunday, temperatures will be above zero and hovering around the freezing mark. But with the warm-up comes the threat of snow and/or freezing rain.
Here's the forecast from the National Weather Service.
1. Another cold start to your day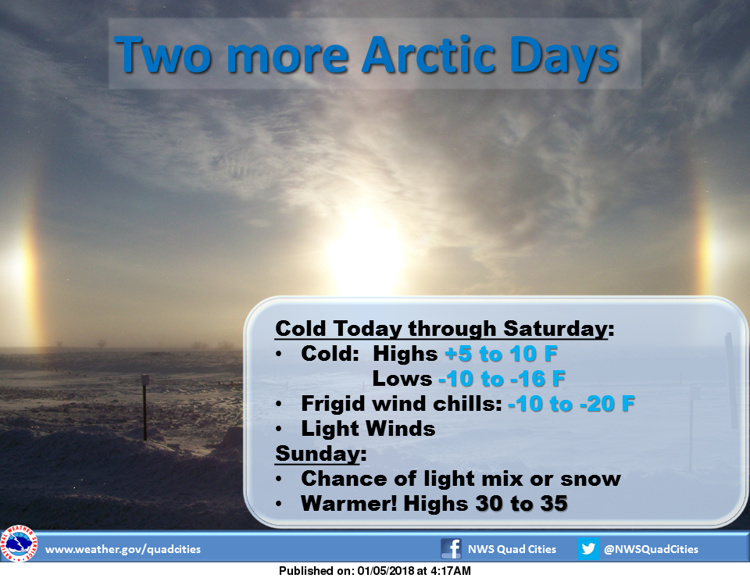 The Quad-City region remains under a wind-chill advisory until 10 a.m. as wind-chill values will push into the -10 to -25 below zero range. Cloudy skies will gradually clear toward sunrise today with the coldest temperatures are likely in all areas around 8 a.m.
A reminder frostbite can occur to exposed skin in as little as 30 minutes so bundle up before heading outdoors this morning.
It will be sunny and cold today with a high near 7 degrees and a low around -14 degrees with wind-chill values as low as -20 degrees. 
Saturday will be sunny and cold with a high near 9 degrees and a low around 7 degrees. Wind-chill values will be as low as -15 degrees. There's a 20 percent chance of snow after midnight.
On Sunday a storm system could potentially bring a wintry mix of precipitation to the area. There will be a slight chance of snow before 8 a.m., then a chance of snow and freezing rain. Skies will be cloudy with a high near 32 degrees and a 40 percent chance of precipitation.
Sunday night brings a chance of snow and freezing rain before midnight. Skies will be mostly cloudy with a low around 23 degrees.
2. Cold causing late starts at some area schools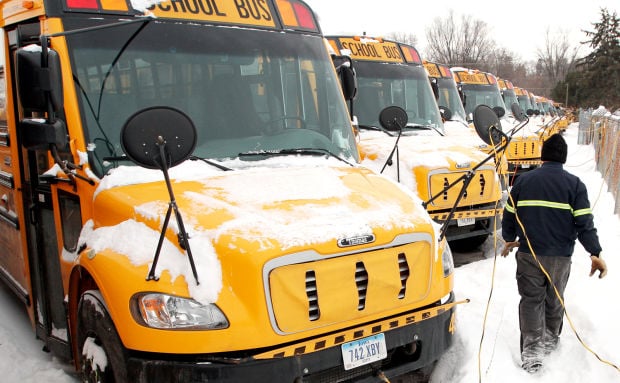 Cold temperatures combined with low wind-chill values have created dangerous conditions outdoors. Some area schools are delaying the start of classes this morning or are cancelling classes altogether. Check out the the list of closings/delays.
3. Welcome to Elmore Corners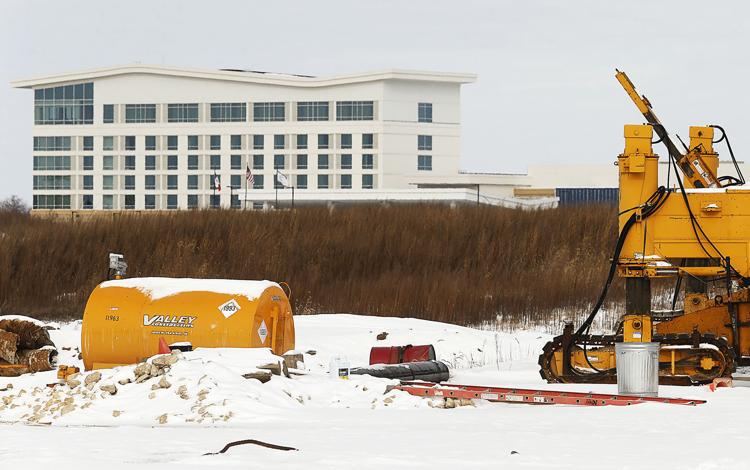 The Rhythm City Casino Resort stands a bit isolated near the intersection of Interstates 74 and 80, but the city of Davenport has some ideas for how it can bring more life to the region. Some initial ideas were pitched this week. Read more.
4. Elaborate dollhouse sports Bavarian flair
A 15-room dollhouse brimming with Bavarian-themed details is capturing the attention of visitors stepping into Davenport's German American Heritage Center.
Displayed on a table in the lobby, it is the details of the three-story house that amaze — tiny beer steins with hinged lids that actually lift up, minuscule forks on a table, small straight pins, and delicate needlepoint squares that serve as area rugs in the tiny rooms.
What makes the house that is 55-inches wide, 38-inches tall and 19-inches deep  is its Bavarian flair. It's a kind of a "where's Waldo" of Deutschland themes. Read more.
5. Our Big Story: Crime stole the show in 2017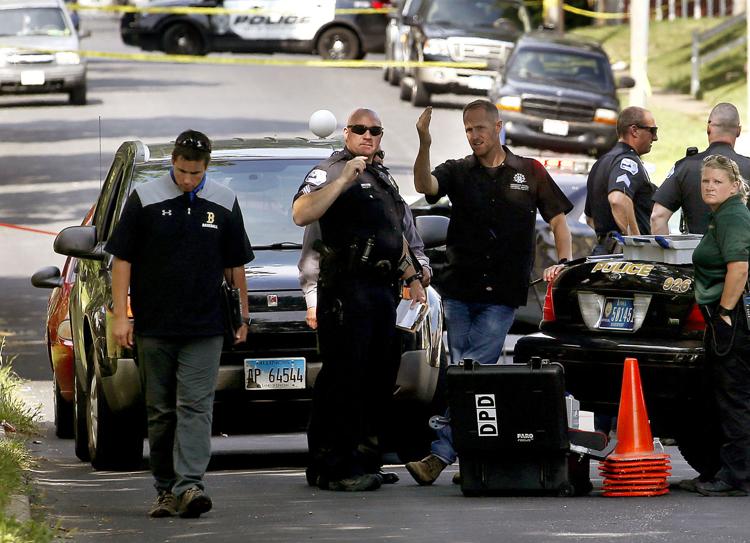 Shootings, homicides, car thefts and juvenile crime kept law enforcement throughout the Quad-Cities on the run in 2017 and routinely grabbed headlines.
"This was a very challenging year," Davenport Police Major Jeff Bladel told the Quad-City Times on Dec. 20.
To face the challenges, local law enforcement, the justice system and other community groups are collaborating to find new ways to fight crime while bolstering efforts that already are proven to work.
The Times recently sat down with police and prosecutors to talk about the biggest trends they saw in 2017. Read more.
6. Bald Eagle Days traces history 31 years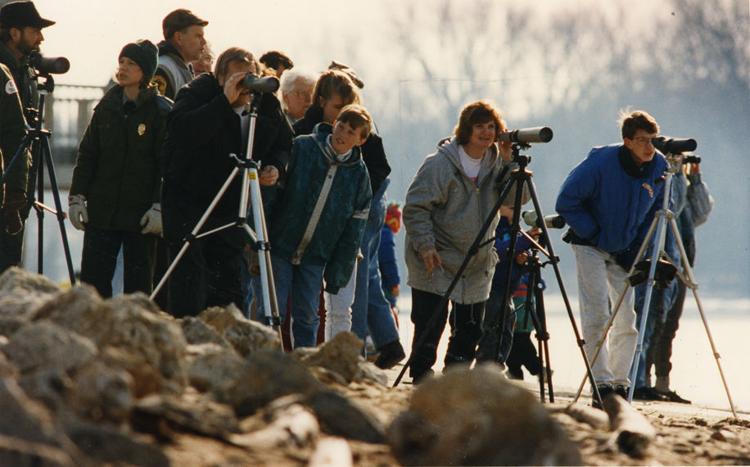 Joe Taylor remembers that back in 1967, bald eagles were a rare sight in the Quad-Cities.
"They were not nearly as common as they are today," said Taylor, who is president and CEO of the Quad-Cities Convention & Visitors Bureau. "I saw my first eagle in the wild in 1976, and I remember you had to spend some time to see them."
But that did not stop the region's bird lovers from trying to see the national symbol nesting or in flight.  Read more.