1. Severe thunderstorms possible today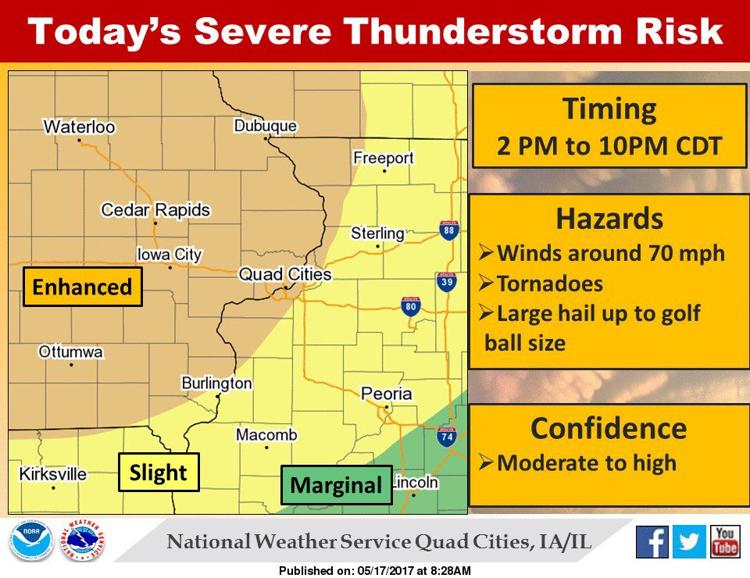 A good Wednesday to all. Brace your, we could be in for some severe weather today. According to the National Weather Service the Q-C region is under an "enhanced" risk of severe thunderstorms from 2 p.m. to 10 p.m.
Here is the National Weather Service forecast.
Showers and thunderstorms are likely after 3 p.m. The chance of precipitation is 60 percent with new rainfall amounts between a tenth and quarter of an inch possible with higher amounts during thunderstorms. Skies will be mostly cloudy and breezy with a high near 81 degrees. South winds between 15 to 20 mph will gust as high as 35 mph.
Tonight showers and thunderstorms are likely before midnight. Skies will be mostly cloudy and breezy with a low around 62 degrees. South winds between 15 to 20 mph will gust as high as 30 mph. The chance of precipitation is 60 percent with new rainfall amounts between a tenth and quarter of an inch possible with higher amounts in thunderstorms.
These fast-moving storms could produce damaging winds around 70 mph and tornadoes. A secondary threat is large hail.
Thursday will be partly sunny with a high near 74 degrees and a low around 49 degrees. West winds will gust as high as 25 mph.
2. Washington Street cameras miss reported shooting last week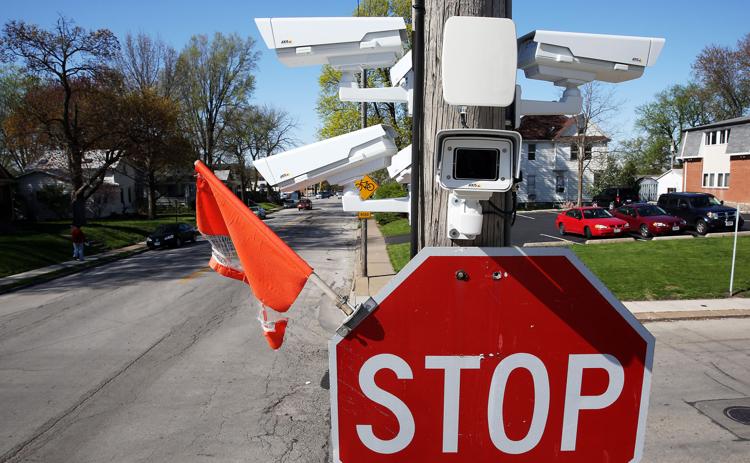 A month after putting up cameras on Davenport's Washington Street, technical issues prevented them from capturing footage of a reported shooting near the 1400 block of Washington Street last Wednesday. Read more.
3. Corporate headquarters proposed for Moline riverfront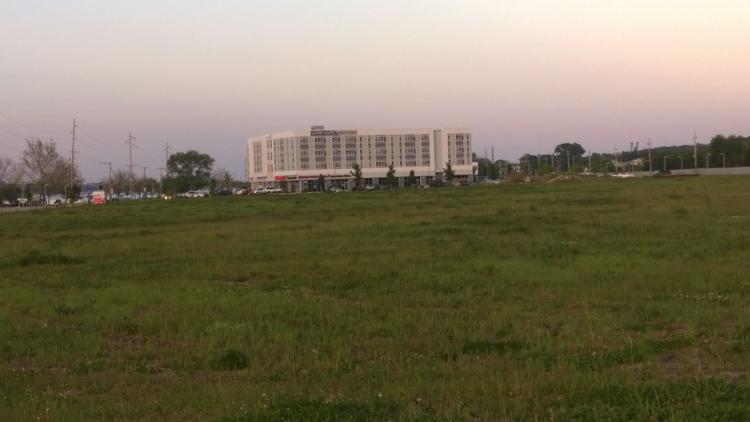 Russell Construction is proposing plans to build a new corporate headquarters for another Quad-City company on the vacant site adjacent to Western Illinois University's campus on the Moline riverfront.
The proposed plan by the Davenport-based construction firm calls for a modern headquarters on the 8-acre, undeveloped parcel owned by the city of Moline. It was unveiled Tuesday to Renew Moline's Project Management Team, or PMT, by Caitlin Russell, the company's project developer.
"The tenant wants to keep quiet for now," she said, declining to identify the client except to say it is an existing Quad-City company with 300 employees. Read more.
4. Iowa listed as haven for problem dog breeders by Humane Society
For five years running, Iowa has held an outsized place on the national Humane Society's annual publication of problematic commercial dog breeders.
Advocates for humane treatment of animals say Iowa's role as an apparent safe haven for habitually offending dog breeders — often called puppy mills — has been created by lax animal cruelty laws, weak enforcement of those laws and powerful farming groups that resist stricter regulations they fear could encroach into agricultural territory. Read more. 
5. Davenport's jump-start effort pays off for old neighborhood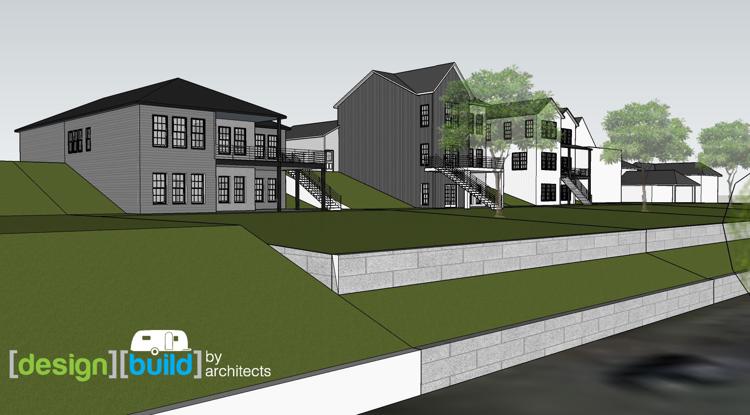 The city of Davenport's effort to jump-start redevelopment of a residential area on East 6th Street long plagued by abandoned houses, empty lots and crime appears to be paying off.
Last week the City Council agreed to convey a 1.6-acre vacant parcel on the north side of 6th Street between Grand and Sylvan avenues to architect Andrew Dasso for the building of six new single-family homes, beginning this summer. Read more.  
6. Temporary water treatment change, water main flushing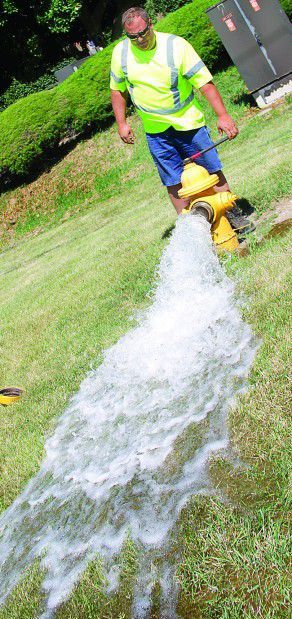 Iowa American Water Company will temporarily adjust its treatment process in the Iowa Quad-Cities beginning today as part of its regular, ongoing water main flushing program.
Continuing through June 16, the company plans to switch its disinfection method to a form of chlorine known as "free chlorine" which does not contain ammonia.
Chlorine is commonly used in public water systems as a disinfectant and is monitored closely by water quality experts to ensure optimum levels are present.
Because of the change in the type of chlorine, customers who are sensitive to chlorine may experience a more noticeable chlorine taste or odor in their tap water. There is no reason for concern as the water will continue to meet all state and federal water quality regulations. These aesthetic differences are due only to the switch in type of chlorine in the water.
Customers with fish aquariums should take note of this temporary treatment change and determine whether it will affect their aquarium water, so they are able to take any necessary precautions.
The treatment change is being done in conjunction with our routine water main flushing program, which will be ongoing this spring. Crews will flush the distribution system from 8 a.m. until 6 p.m. during the workweek.
"The temporary switch in treatment is designed to make the routine flushing of water mains more effective and ensure we maintain our high quality water standards," said Mary Jane Midgett, director of operations for Iowa American Water.
While no interruptions in water service will occur as a result of the work, Iowa American Water advises that when crews are flushing nearby, customers may experience a drop in water pressure or some discoloration of their water.
Iowa American Water recommends that any customers experiencing discolored water let their cold water run to clear before using it.