A good Monday to all. Some sprinkles are possible today but look for another breezy day. Here are the weather details from the National Weather Service.
1. Breezy today with sprinkles possible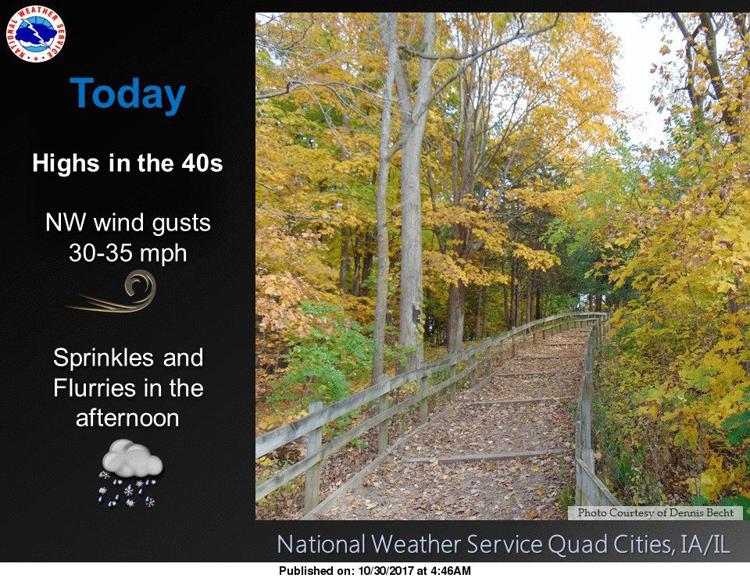 There's a chance of sprinkles after 4 p.m. Otherwise, we'll see increasing clouds with a high near 45 degrees. It will be breezy with a west wind of 10 to 15 mph increasing to 15 to 20 mph in the afternoon. Winds could gust as high as 30 mph.
Tonight there's a chance of sprinkles before 7 p.m. Skies will be mostly cloudy with a low around 28 degrees. West winds between 10 to 15 mph will gust as high as 30 mph.
Halloween Tuesday will be mostly sunny with a high near 42 degrees and a low around 29 degrees.
2. Kimberly/Division widening project update

The city of Davenport reports that the contractor for the Kimberly Road and Division Street widening project is expected to complete all roadway related work by Friday.
Once completed, all lanes of travel will be re-opened to traffic.
However site restoration work, such as traffic signal replacement, sidewalks, grading and sod, will require intermittent daytime lane reductions during the month of November.
Drivers are advised to pay attention to signs and changing traffic control while site restoration activities are completed.
3. New Crundwell movie hits home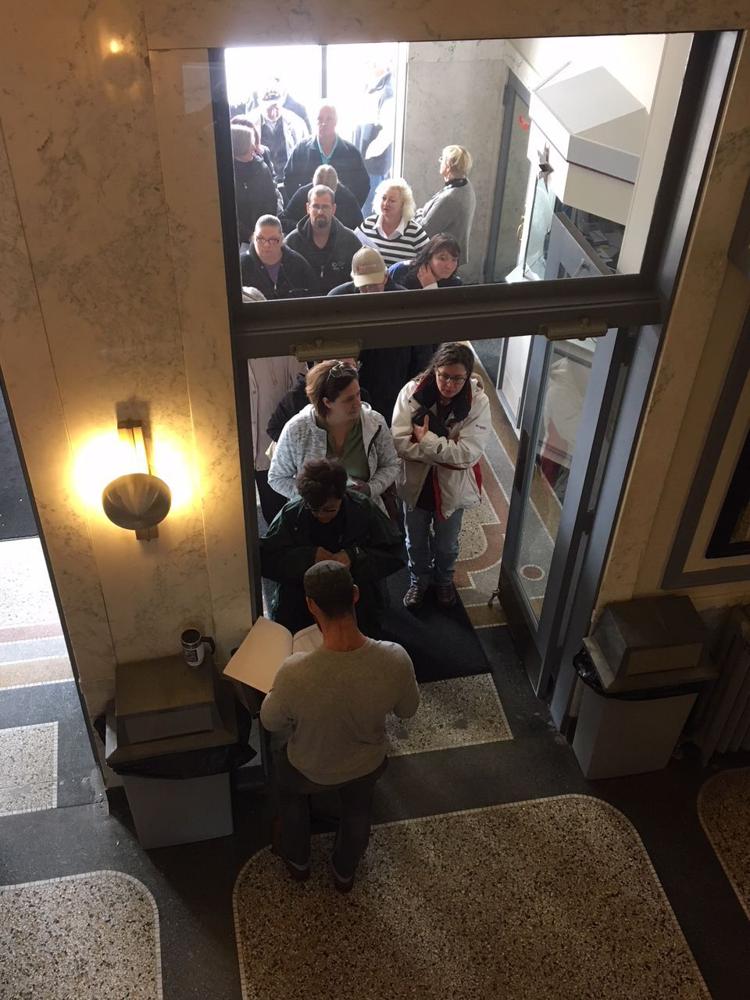 On Sunday, hundreds of Dixon-area viewers applauded a documentary about a fraud committed by a former Dixon city employee who is serving time in prison for the crime.
Rita A. Crundwell was the comptroller for two decades in the town of 15,000 people about 70 miles northeast of the Quad-Cities. During that time, she stole nearly $54 million from taxpayers to build her quarter-horse empire and support her lavish lifestyle.
Under the title of the film, "All the Queen's Horses," was this question: "How could one woman steal $53 million without anyone noticing?"  Read more.
4. Convictions for passing stopped school buses in Iowa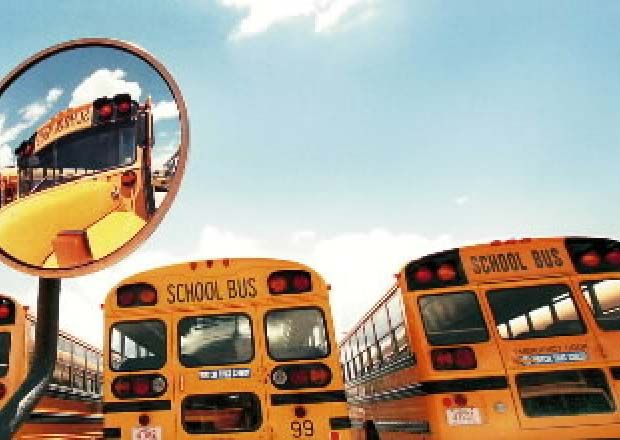 The 8-second video shows the red lights of a stopped school bus flashing through an early morning haze. Three seconds in, the headlights of a moving vehicle appear. It does not stop.
One second later, the outline of a child streaks across the road in front of the vehicle, which does not stop, swerves onto the shoulder and misses striking the child by mere feet.
Chris Darling, executive director of the Iowa Pupil Transportation Association, said the incident, which recently was captured on a camera mounted on the side of the school bus, happened in Iowa. Darling said the driver was cited for illegally passing a stopped school bus and has a trial date in November.
Five years ago Iowa strengthened the penalties for violating the state's law against passing a stopped school bus, increasing the first-offense penalty from $200 to anywhere from $250 to $675.
Since the penalties were increased, the number of charges and convictions for passing a stopped school bus have declined, as has the rate of convictions, according to data compiled by the state's nonpartisan legal agency.
And yet drivers continue to pass stopped school buses at an alarming rate. Read more.
5.  5 teens arrested in stolen vehicles after high speed chase
Five teens were arrested and three stolen vehicles recovered late Friday in Davenport after a pursuit that began in Durant, Iowa, Davenport police said.
Of the five teens arrested, a 15-year-old girl is charged with three counts of first-degree theft and one count of interference with official acts, as are a 15-year-old boy and a 14-year-old boy.
A 15-year-old boy was charged with three counts of first-degree theft and interference with official acts causing injury, while another 15-year-old boy was charged with three counts of first-degree theft, interference with official acts and carrying weapons, a Taser.
Police recovered a Jeep Grand Cherokee reported stolen at 4 p.m. Friday from the 2600 block of West 43rd Street, a Toyota Camry reported stolen at 8:28 a.m. Wednesday from the 1200 block of West 61st Street, and a Hyundai Sonata reported stolen out of Wilton, Iowa.
Two of the teens were placed in the Scott County Juvenile Detention Center while the other three were released to guardians. Read more.
6. Top dogs show off their Halloween costumes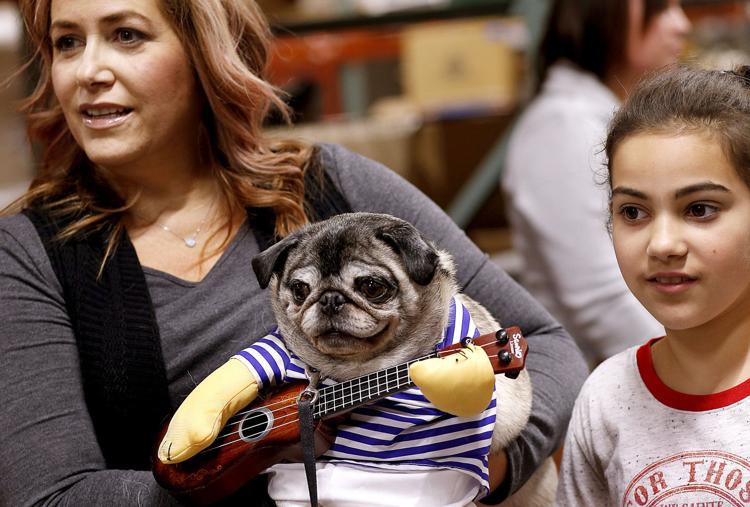 Dogs and their owners had a chance to win prizes during Theisen's "Dog-O-Ween" Canine Costume Contest at the Brady Street store in Davenport on Sunday.  Dogs donated $10 to the Scott County Humane Society. See more images.