1. Sunny skies will give way to rain
A good Tuesday to all. Showers and thunderstorms are on tap for the Quad-Cities with area streams and rivers near or slightly above flood stage.
Here are the weather details from the National Weather Service.
Today will be mostly sunny with a high near 75 degrees. South winds could gust as high as 25 mph.
Tonight brings a 40 percent chance of showers and thunderstorms after 10 p.m. Skies will be mostly cloudy with a low around 56 degrees.
Wednesday will be cloudy with a 40 percent chance of showers and thunderstorms.  The high will be near 74 degrees.
Showers and thunderstorms are likely overnight Wednesday. The chance of precipitation is 60 percent with new rainfall amounts between a half and three quarters of an inch possible.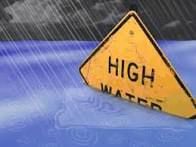 Flood watches are in effect for the Rock River in Moline and the Iowa River near Wapello while the Wapsipinicon and Cedar rivers are under flood warnings. 
2. Maquoketa's great reawakening celebration begins today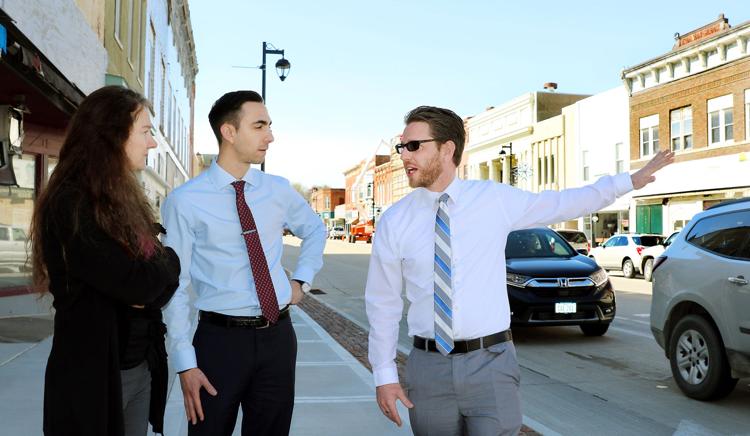 As Rose Frantzen sees it, this week marks Maquoketa's "reawakening." Frantzen has lived in Chicago and New York and travels around the world at least four months out of the year, but the painter known for creating "Portraits of Maquoketa" always finds herself back in her hometown.
"There's so many wonderful things about Maquoketa that I wonder if people who never leave really know how good they have it," she said. "We've been through a lot of versions of ourselves, and like a lot of small towns, we've sort of lost our way."
To help find their way, area organizations teamed up to host a community festival, called Layers of Maquoketa, that kicks off Tuesday and runs through Saturday. Read more.
3. Agreement in place for Bettendorf sports complex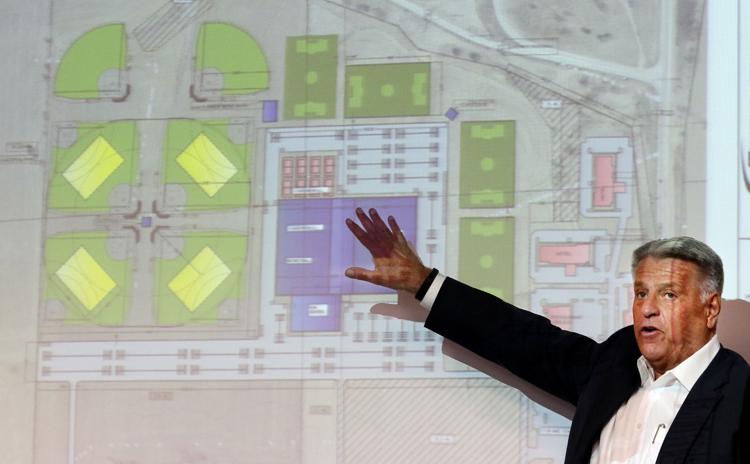 Bettendorf officials likened Doug Kratz's proposal to build a regional sports complex and family entertainment center to that of hitting a home run.
Now, a development agreement is in place to establish a 20-year tax increment financing district and make that place to play a reality.
The BettPlex project, located at the Interstate 80 and Middle Road corridor, will be split into two phases: the sports complex/family entertainment center and commercial site development. 
The first phase, estimated at a cost of $45 million, includes both indoor and outdoor amenities over 79 acres that will be completed by August of next year.
A six-acre indoor facility will consist of a full-size synthetic turf soccer field, hardwood basketball and volleyball courts, sand volleyball courts, batting cages, a family entertainment center, personal training, physical therapy, food, beverage and retail space.
The outdoor complex will include synthetic turf soccer and baseball and softballs fields with lighting for nighttime activities, walking paths and parking. Read more.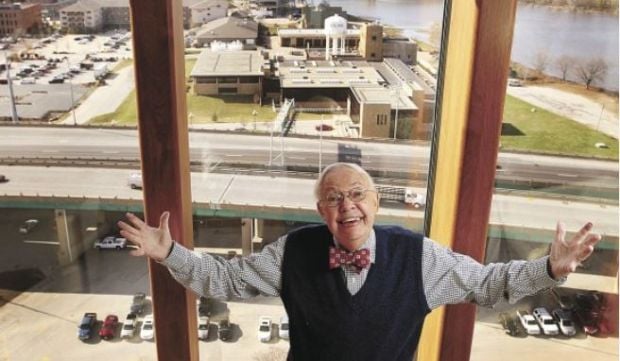 Like a red-breasted robin, Times columnist Bill Wundram returns to the Quad-Cities after a lengthy winter stay in Florida.  With him, Bill brings a circus tale. Read more.
5. Deadline today for filing taxes
Today is "Tax Day" in the United States — that dreaded day when millions of procrastinators rush to fulfill their civic duty by filing state and federal tax returns.  It usually falls on April 15,  but that was Saturday. And April 16 is usually Emancipation Day in the District of Columbia. But since it fell on a Sunday, the holiday was pushed backed to Monday, which in turn pushed Tax Day to today. Got it? Hope so.
Here's 5 things to know about Tax Day:
MOST GET REFUNDS: The IRS so far has processed 101 million tax returns from individuals and about 80 percent have qualified for refunds. The average refund is $2,851, an increase of $53 over last year. By the end of filing season, the IRS expects to process 150 million returns. That's after millions file for automatic six-month extensions.
CHANCES OF GETTING AUDITED ARE SLIM: The number of people audited by the IRS in 2016 dropped for the sixth straight year, to just over 1 million. That's less than 1 percent of filers. The last time so few people were audited was 2004. Since then, the U.S. has added about 30 million people. The IRS blames budget cuts as money for the agency shrank from $12.2 billion in 2010 to $11.2 billion last year.
But rich people beware. The higher your income, the more likely you are to be audited. Agents audited 5.8 percent of returns that reported more than $1 million in income.
RETURNS DOWN, REFUNDS DELAYED: Tax season got off to a slow start because the IRS delayed refunds for more than 40 million low-income families as part of the agency's efforts to fight identity theft.
The delays affected families claiming the earned income tax credit and the additional child tax credit. The tax breaks are geared to benefit the working poor, and many families claim both.
The tax filing season started Jan. 23. But a new law required the IRS to delay tax refunds for people claiming these credits until Feb. 15. The delay was designed to give the agency more time to screen the returns for fraud. Throughout the tax filing season, the number of tax returns processed by the IRS has been lower than last year.
As of April 7, the IRS had received 104 million tax returns and processed 101 million. Both numbers are down about 3.5 percent from last year.
PEOPLE ILLEGALLY IN U.S. PAY TAXES: There is a common myth that people in the U.S. illegally don't pay taxes. But data from both the IRS and the Social Security Administration says otherwise.
Yes, some work in the underground economy. But in 2015, the Social Security Administration estimated that immigrants who are in the U.S. illegally paid $100 billion in Social Security payroll taxes over the previous decade. They paid the taxes even though few will ever be able to collect benefits.
How does Social Security know when it receives taxes from immigrants who are in the U.S. illegally? One way is by tracking reported wages in which the Social Security number does not match the name the agency has on file.
Some of these are clerical errors or unreported name changes. But the agency estimates that a majority of the wages come from immigrants who have made-up Social Security numbers or used someone else's.
Also, the IRS has issued more than 20 million Individual Taxpayer Identification Numbers (ITINs) to foreigners.
The ITINs are supposed to be used by foreigners who have some form of U.S. income, and therefore owe U.S. taxes. However, the tax agency believes that many of them are used by people who are working in the U.S. illegally.
TAX DAY ISN'T MUCH OF A DEADLINE IF YOU'RE DUE A REFUND: The IRS doesn't like to talk about it, but penalties for filing late federal tax returns apply only to people who owe money. The penalty is a percentage of what you owe. If you owe nothing, there is no penalty. But it doesn't make much sense to file late if you are owed a refund. And beware — if you have unpaid taxes, the late fees add up quickly.
The failure-to-file penalty is generally 5 percent of your unpaid tax bill for every month, or part of a month, you are late. It kicks in on April 19. In general, the maximum penalty is 25 percent of your original tax bill.
There also is a penalty for failing to pay your tax bill, separate from the penalty for failing to file at all, but it's much smaller. That's because the IRS wants you to file a return even if you don't have enough money to pay your bill.
The failure-to-pay penalty is 0.5 percent of your unpaid taxes for every month, or part of a month, you don't pay.
6. Work begins on Green River Road and in Scott County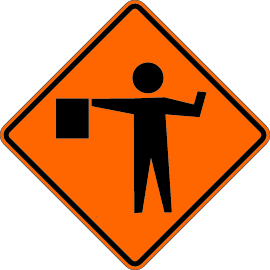 The Illinois Department of Transportation reports that weather permitting, construction work will begin today on Green River Road and Poppy Garden Road east of Colona.
Crews will be working to improve 1.5 miles of Green River Road from U.S. 6 to Green River and the 2 miles of Poppy Garden Road from Illinois 84 to Green River Road.
The contractor will be milling off the existing roadway surface, making pavement repairs, and resurfacing the two highways. Drivers should be alert for the flaggers who will be directing traffic past the work operations. The improvement is scheduled to be completed by mid-June.
Also, Scott County road officials report that 52nd Avenue closed Monday between 310th Street and 50th Avenue as work is slated to begin on a culvert replacement over a tributary to the Wapsipinicon River. The road will be closed for 10 working days.