A good Tuesday to all. Hang on to your hats as quite a mish-mash of weather is on tap for the Quad-Cities this week. Rain, fog, snow and freezing rain are all possible in the next few days along with cooler temperatures. Here are the weather details from the National Weather Service.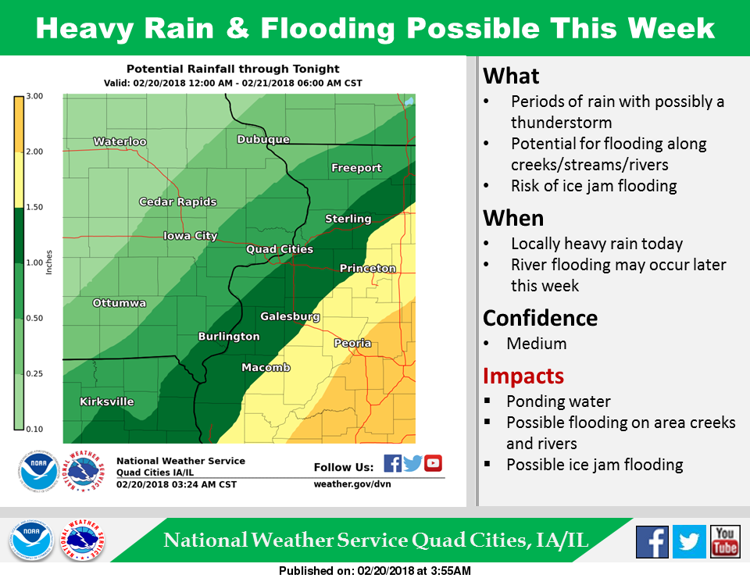 1. After the rain comes cooler temperatures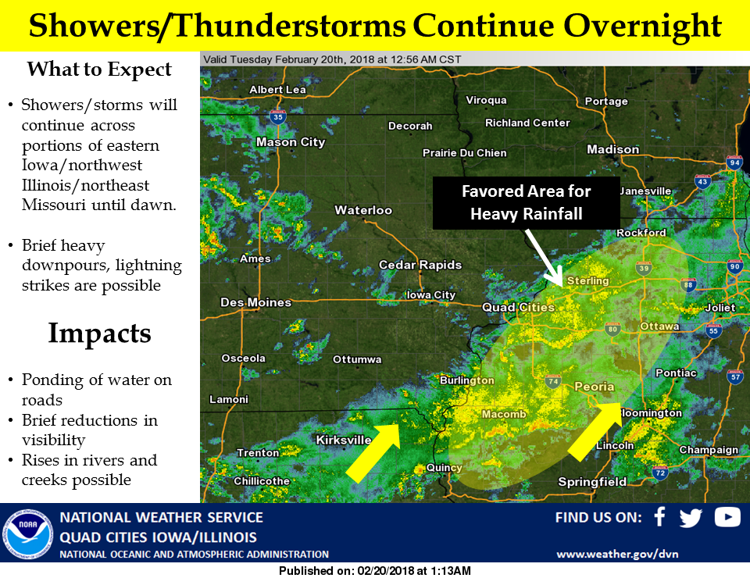 Showers and isolated thunderstorms will continue into this afternoon before ending. Be alert for ponding water, and flooding along small streams is also possible due to the frozen ground. The chance of precipitation is 90 percent with new precipitation amounts between a quarter and half of an inch possible. Also look for areas of fog before 10 a.m. Temperatures will fall to around 38 degrees by 5 p.m. with winds out of the northwest at 5 to 15 mph.
Tonight there's a chance of rain and sleet before 10 p.m., then a chance of snow between 10 p.m. and midnight. The chance of precipitation is 30 percent. Skies will be mostly cloudy with a low around 19 degrees. Northwest winds will gust as high as 25 mph.
Wednesday will be mostly sunny with a high near 31 degrees and a low around 24 degrees with a 20 percent chance of snow after midnight.
According to a National Weather Service hazardous weather outlook two separate storm systems will move through the area Wednesday night through Friday morning.
There is some uncertainty regarding the track of each storm which will determine precipitation type. The first storm may produce light snow Wednesday night that changes to rain on Thursday.
Thursday night into Friday morning the second storm system has the potential to produce snow, sleet, and freezing rain.
Friday night through Saturday night two more storm systems will move through the area. The tracks of both storms are uncertain but the potential is there for rain changing to snow at night, according to the weather service.
2. Rock River continues its rise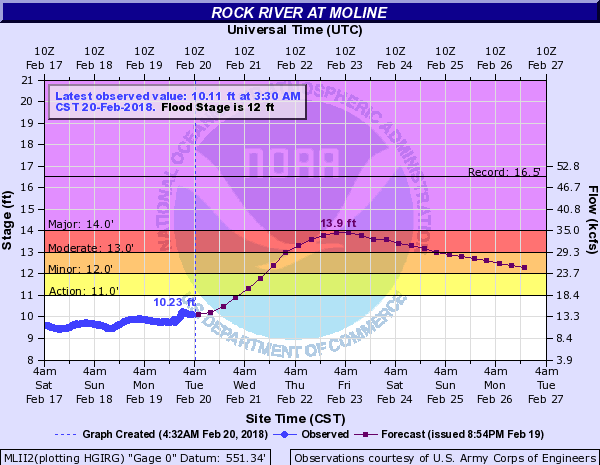 The National Weather Flood Watch continues up and down the Rock River including, Como in Whiteside County, Joslin and Moline.
The Flood Watch is based on observed and predicted rainfall over the next 48 hours. At this time there is limited confidence associated with the location of predicted rainfall.
If rainfall in the basin is less than predicted, the forecast river stage may not be reached. Conversely, if rainfall is more than predicted the river may crest higher.
As the forecast becomes more certain, this watch will either be upgraded to a warning or cancelled.
Early this morning in Moline, the Rock was at 10.11 feet. Flood stage is at 12 feet. The Rock is forecasted to rise above flood stage Wednesday and continue risingto 13.9 feet Friday morning.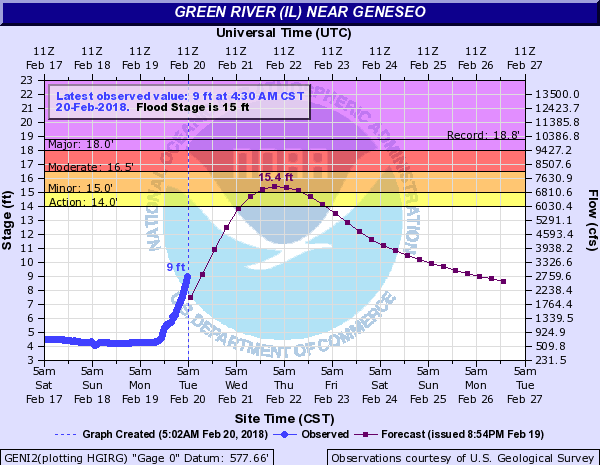 The Green River near Geneseo, Ill., in Henry County also is expected to rise above flood stage this week.
3. Driving conditions over may be tricky the next few days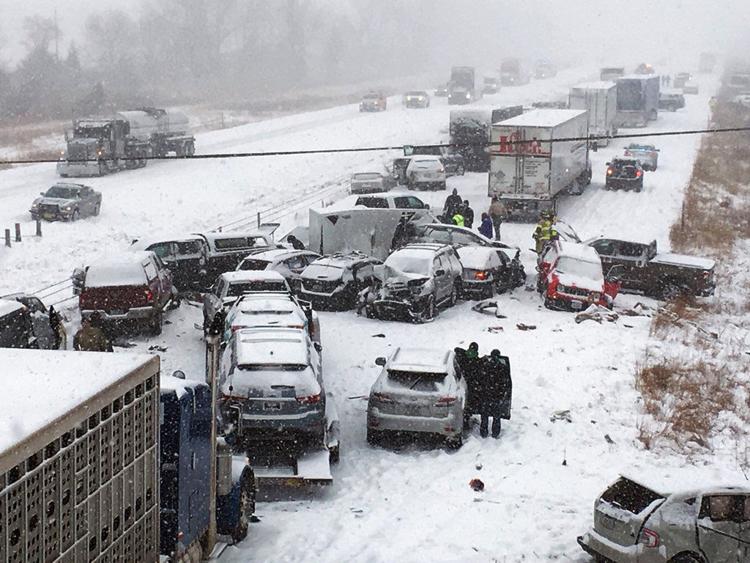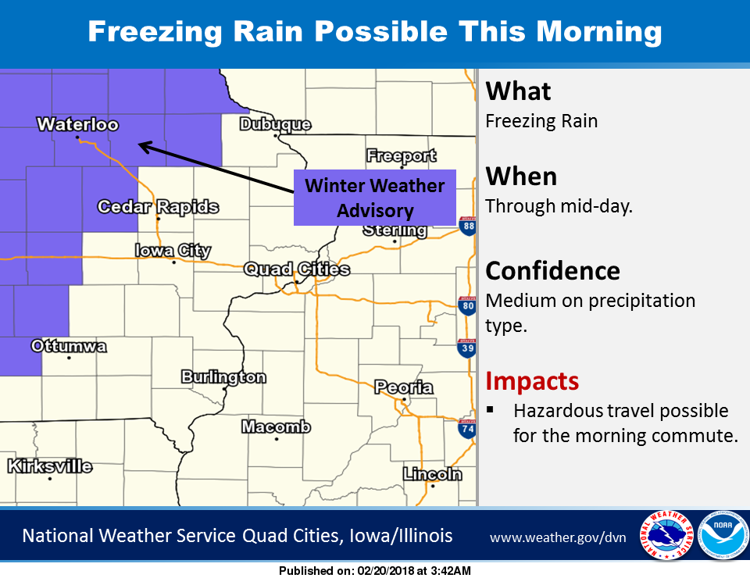 Hitting the road and heading west this morning? Freezing rain is expected northwest of a line from Manchester to Belle Plaine, Iowa, with ice accumulations up to one tenth of an inch possible. A winter weather advisory is in effect for that region.
Iowa Department of Transportation officials are urging drivers to evaluate the necessity of each trip during these poor winter driving conditions, and monitor weather forecasts and road condition reports before heading out on the roads.
Log on to http://511ia.org/ for the latest road conditions, towing restrictions, and snowplow locations and photos.
If you must travel over the next couple of days, please consider the following recommendations.
Driving tips for safer winter travel
• Focus all of your attention on the driving task. Put your phone away.
• Slow down and allow extra travel time.
• Keep a safe distance between your vehicle and others on the road.
• Buckle up everyone in the vehicle — back seat passengers, too.
• Do not use cruise control.
• Take extra care if driving a high-profile vehicle such as a truck, van or sports utility vehicle, or when towing a trailer, as these vehicles are more prone to be pushed or even flipped by wind gusts.
• Turn on your headlights to see and be seen.
• Keep your windshield clear of ice.
• If conditions are severe enough to prevent safe driving, postpone your trip. If you're already on the road, pull over to a safe place until road conditions improve.
• If your vehicle begins to slide, take your foot off the gas pedal and shift into neutral, or if you have a manual transmission, depress the clutch. While it may be a natural instinct to slam on your brakes, this may cause your vehicle to slide further and result in loss of vehicle control.
• If your vehicle does begin to skid on the ice, turn the wheel in the direction of the skid. This should help to steer your vehicle back on the right track.
• Stay well behind the vehicle in front of you – this is definitely not the time to tailgate. Even if you feel confident that you know how to drive safely on ice, that does not mean the driver in front of you does. Be prepared in case other vehicles start to slide.
Remember, four-wheel drive vehicles have no advantage over other vehicles when it comes to driving on ice.
• Make sure you and your passengers are wearing their seat belts or other safety restraints.
• If you are in a crash, it might seem natural to get out of your vehicle to assess the damage. But in the majority of crashes, safety experts recommend remaining inside your vehicle with your seat belt fastened until help arrives, especially if you're on a busy roadway.
Winter driving is always unpredictable, so be prepared for the unexpected.
4. LeClaire Kwik Star project moves forward despite residents' objections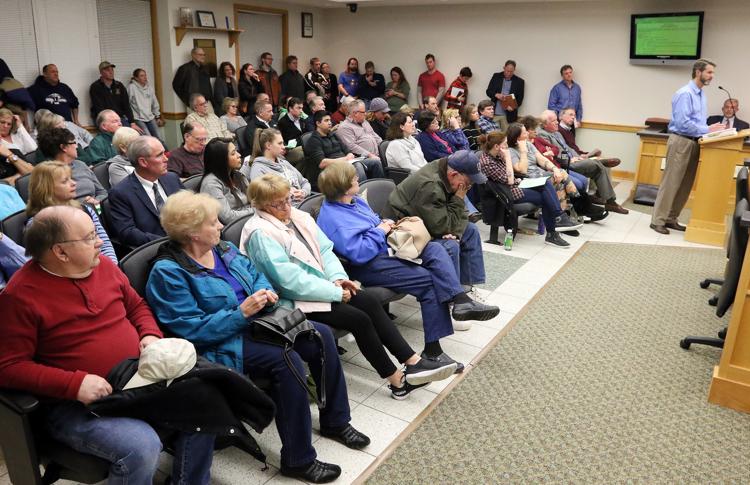 The agony was apparent once the LeClaire City Council voted Monday night. For months, residents near the intersection of Cody and Eagle Ridge roads feared that the city would green-light a change to the comprehensive plan and rezone a prospective site for a new Kwik Star convenience store and gas station.
Despite more than 75 residents turning out Monday night to protest the proposed development, the LeClaire City Council unanimously approved a resolution to amend the comprehensive plan and the first reading of an ordinance to rezone the property.
"We went through hours of knocking on doors, asking questions, doing research, seeing all of what this company proposed doing," resident David Griffith said. "It became apparent they did not care what they did to our neighborhood, what they did to our citizens." Read more.
5. Land purchase paves way for Costco Wholesale development
Costco Wholesale has officially purchased the land of its new store in Davenport.
Chris Wilkins, vice president and Director of NAI Ruhl Commercial Company, confirmed the sale closed Friday, allowing Costco to move forward with constructing a 156,170-square-foot building and fuel station near Fairhaven Road and East 53rd Street. Read more.
6. Wakefield helps Bettendorf rout Davenport Central
With a coach from the University of Dubuque in the stands to recruit him, Bettendorf's Devynn Wakefield put on a show in the first half of Monday's postseason opener against Davenport Central.
Wakefield scored 12 points — and threw down a pair of impressive dunks — as the Bulldogs built a 22-point halftime lead. From there, Bettendorf rolled to a 69-44 win in the Class 4A Substate 3 quarterfinal. Read more.