A good Thursday to all. Another winter storm has its sights set on the Quad-City region. It should be arriving later today and continue into Friday.
Here are the weather details from the National Weather Service.
1. Winter storm warning in effect beginning at 6 p.m.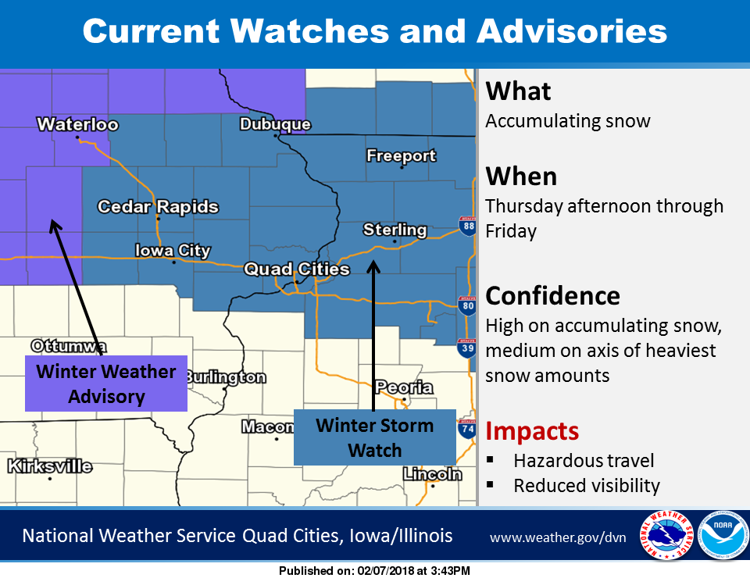 The NWS has issued a winter storm warning which goes into effect 6 p.m. tonight and continues 6 p.m. Friday.
Here's the warning: "A band of snow is expected to develop and spread into parts of eastern Iowa and far northwestern Illinois by late this afternoon. The snow will become heavy at times tonight, with periods of snow then continuing through the day on Friday.
"Currently the axis of heaviest snow is expected to occur generally along and north of an Iowa City to Davenport, and to a Princeton, Illinois line where a Winter Storm Warning has been issued. Advisory amount snow accumulations are expected south of this axis from Sigourney, Iowa, to Aledo, Illinois. Expect a difficult Friday morning commute, especially in the warning areas.
"The snow is expected to taper off from west to east by late Friday afternoon."
• What: Heavy snow expected. Total snow accumulations of 4 to 8 inches are expected.
• Where: Portions of east central and northeast Iowa and northwest Illinois.
• When: From 6 p.m. tonight to 6 p.m., Friday.
•  Plan on difficult travel conditions, including during the morning commute on Friday. Be prepared for significant reductions in visibility at times.
A Winter Storm Warning for snow means severe winter weather conditions will make travel very hazardous or impossible. If you must travel, keep an extra flashlight, food and water in your vehicle in case of an emergency.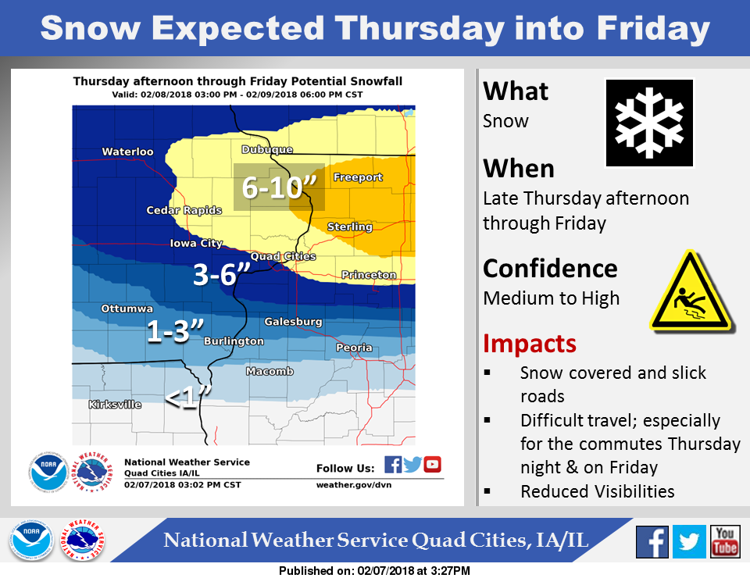 Today there is a slight chance of snow before 8 a.m. then a chance of snow after 1 p.m. Skies will be cloudy with a high near 24 degrees. The chance of precipitation is 50 percent with new snow accumulation of less than a half inch possible.
Tonight snow is likely. The chance of precipitation is 90 percent with new snow accumulation of around 2 inches.  The low will be around 18 degrees.
Friday more snow is on tap. The chance of precipitation is 80 percent with new snow accumulation of around 4 inches. The high for the day will be 23 degrees.
Friday night brings a 40 percent chance of snow and an overnight low of 7 degrees.
Saturday: There's a 30 percent chance of snow before noon. Otherwise it will be mostly cloudy with a high near 18 degrees and a low around 5 degrees.
Sunday: It will be mostly sunny with a high near 18 degrees and a low around 2 degrees.
3. French colonies in Illinois? It's true, it's true!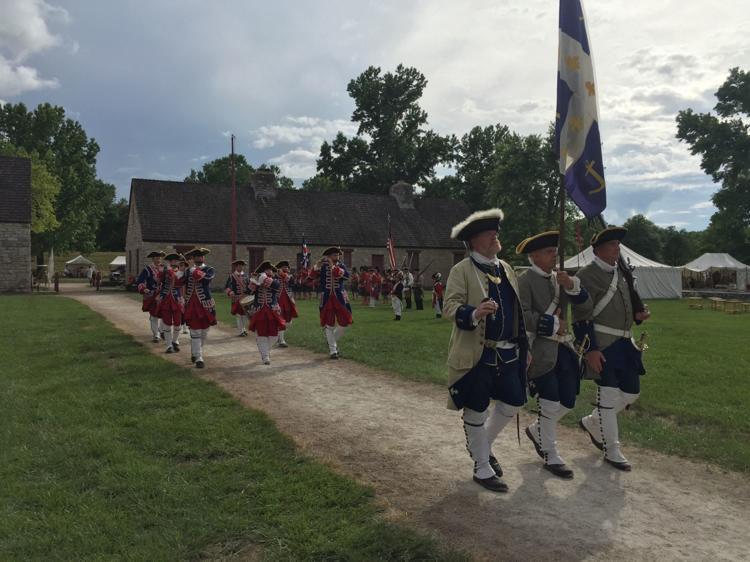 Asked to describe French involvement in early settlement of the United States, one might think of explorers Marquette and Joliet, the city of New Orleans and the Louisiana Purchase. After that, not much.
This lack of knowledge makes the topic of this year's Quad-Cities Henry Farnam Dinner on Friday, March 9, all the more surprising, because it's likely few attendees know that the French were the first European settlers in Illinois and that they established colonies.
It's likely fewer still have ever heard of Kaskaskia, a town located along the Mississippi River in extreme southern Illinois that was home to 7,000 people — French, Indians and French/Indian mix — in the late 1700s. That made it the largest and most important town not only in what now is Illinois, but in the entire Midwest. Read more.
4. Union: Kraft Heinz needs 200 workers

Top officials for the union representing workers at Kraft Heinz say the plant's Davenport operation is having difficulty finding enough workers, and they blame the initial announcement in 2015 that the company would only guarantee retaining 475 employees as part of the deal for state and local incentives.
Jerry Messer, president of the United Food and Commercial Workers, Local 431, said the company needs to hire about 200 people by April.
Kraft announced late last year that it would retain 700 full-time hourly workers and 45 salaried employees, significantly more than the 475 it initially guaranteed.
Messer, though, says too many people are worried any new hiring would only be for temporary positions. And he says he believes that worry stems from the initial jobs figures, which came out in late 2015, when Kraft Heinz announced it was replacing its Davenport plant with a new facility at the Eastern Iowa Industrial Center. Read more.
5. North Scott wrestlers heading back to state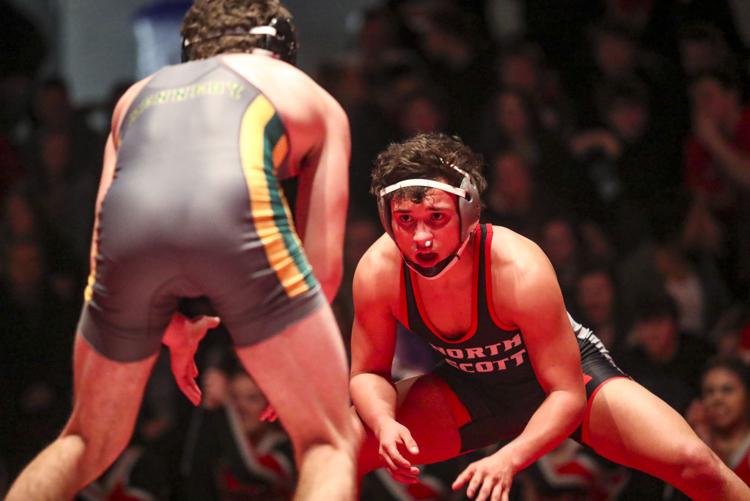 Collin Lewis has two broken bones in his right hand. Sidelined for the past couple weeks of competition, including the Mississippi Athletic Conference tournament, the North Scott junior was determined to be in the lineup Wednesday night for a Class 3A regional wrestling dual final.
Even with a heavily bandaged right hand, the 145-pounder recorded a 12-4 major decision, one of nine wins for North Scott in its 45-24 victory over Cedar Rapids Kennedy at The Pit.
North Scott (23-3) will wrestle second-ranked West Des Moines Valley in a Class 3A state quarterfinal at 9 a.m. next Wednesday at Wells Fargo Arena in Des Moines. Read more
6. I-74 bridge virtual reality experience
Explore the new I-74 Mississippi River Bridge in a unique way. Inspired by cutting-edge virtual reality technology, the Iowa Department of Transportation partnered with Iowa State University's Institute for Transportation and the university's Virtual Reality Applications Center to develop a fully immersive experience of the new bridge.
The I-74 Mississippi River Bridge Virtual Reality Experience will be traveling around the Quad Cities for public viewing.  Check out this video is a sample of what you'll see when you put on the provided virtual reality headset.