A good Thursday to all. Changing weather is on the way. And it's not looking good. Here are the weather details from the National Weather Service.
1. Winter weather advisory from noon to midnight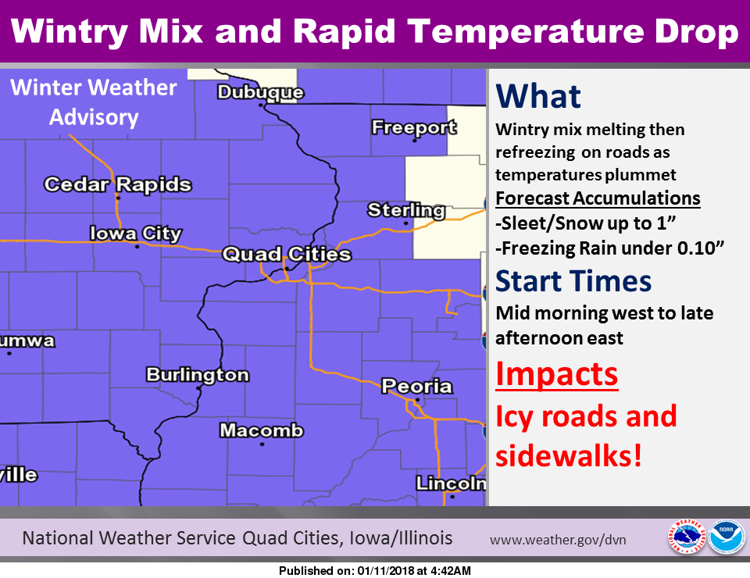 A winter weather advisory will be in effect from noon to midnight for the Quad-City region.
A wintry mix and rapid temperature drop will create slippery travel conditions as a powerful cold front sweeps through the area. Rains showers this morning will continue with temperatures above freezing initially, but the powerful cold front will drop temperatures below freezing from west to east.
Below freezing temperatures are expected in eastern Iowa by mid morning, and in Illinois and northeast Missouri by early afternoon. A wintry mix of light freezing rain, sleet, and snow will be expected this afternoon behind the cold front. Initially, this will melt on the warm pavement, but as temperatures plunge into the teens and 20s, any wet pavement that is not treated, will freeze into ice, creating hazardous travel.
The freezing rain, sleet, and snow is expected to melt initially on pavement then potentially freeze creating icy roads during the evening commute. Total sleet and snow accumulations up to 1 inch and ice accumulations under a tenth of an inch are expected.
2. A wintry mix will cause hazardous driving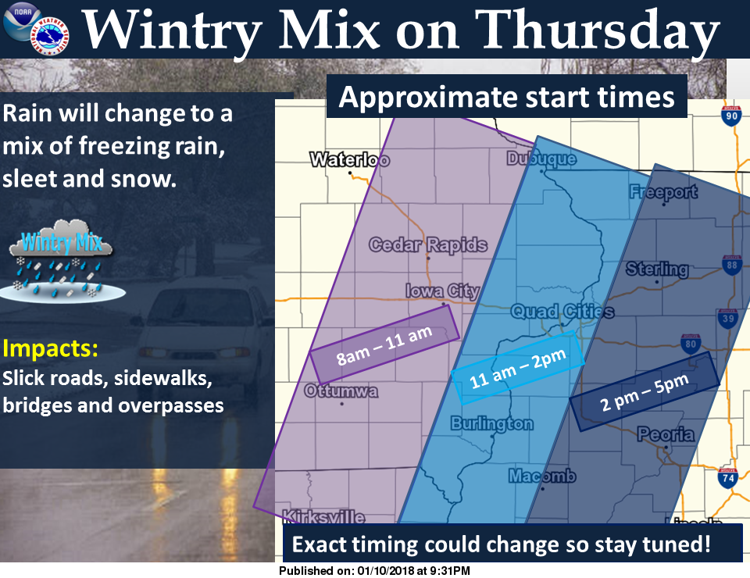 Rain, freezing rain, and sleet are likely before 4 p.m., then a chance of snow and freezing rain between 4 p.m. and 5 p.m. with a chance of snow after 5 p.m. There's a chance of patchy fog before noon.
Temperature will fall to around 22 degrees by 5 p.m. It will be breezy with a south wind between 10 to 15 mph becoming northwest at 15 to 20 mph in the afternoon. Winds could gust as high as 30 mph. The chance of precipitation is 80 percent with new ice accumulation of less than a 0.1 of an inch possible. New snow and sleet accumulation of less than a half inch possible.
Tonight there's a 20 percent chance of snow before 7 p.m. The overnight low will be around 9 degrees with wind-chill values as low as -9 degrees.
loudy, then gradually becoming partly cloudy, with a low around 9. Wind chill values as low as -5. Blustery, with a northwest wind 15 to 20 mph, with gusts as high as 30 mph.
3. My Place Hotel under construction in Davenport

A new My Place Hotel, now under construction in north Davenport, is the third of 40 My Place hotels to be built and owned by an Ames, Iowa-based developer.
Construction has begun on the three-story, 64-room hotel at 4653 Progress Drive. The site is directly north of UnityPoint Health Trinity Hospital in Bettendorf. Read more.
4. Widespread flu, flu-like illnesses reported across Quad-Cities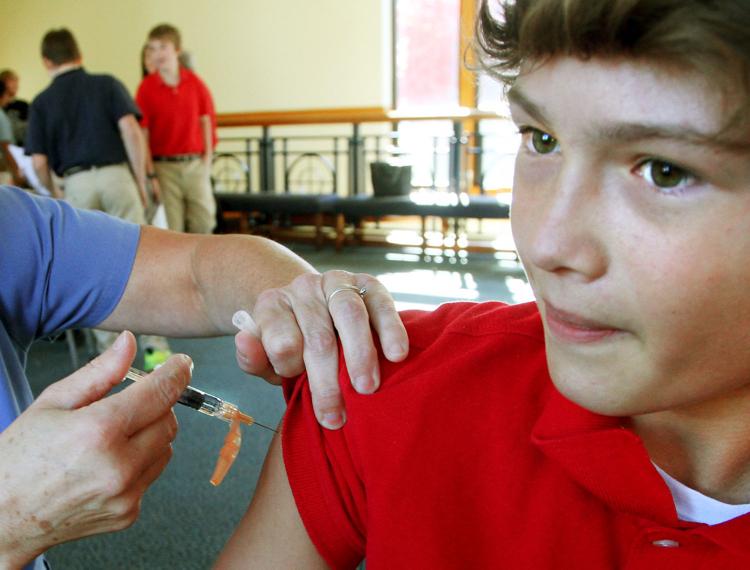 Empty desks and hospitals chock full of patients are indicators that many people are sick in the Quad-Cities. Influenza and influenza-like illnesses are now widespread in both Iowa and Illinois.
According to state health department officials, this is the heart of the flu season, which could be expected to continue another six to seven weeks, or longer.
Flu shots are not meant to stop every sniffle, the vaccine is meant to reduce the number of hospitalizations and deaths in the United States. It does that, and is public health's strongest tool against influenza, which is still a Top-10 killer of people in America.
This year, the most flu cases so far are of the influenza A, called the "H3" variety. Flu vaccines have what is termed less "efficacy" against the H3 strain, Garvey said, and are better at combating other strains, like influenza B. Read more.
5. Lawmakers see red light ahead for traffic cameras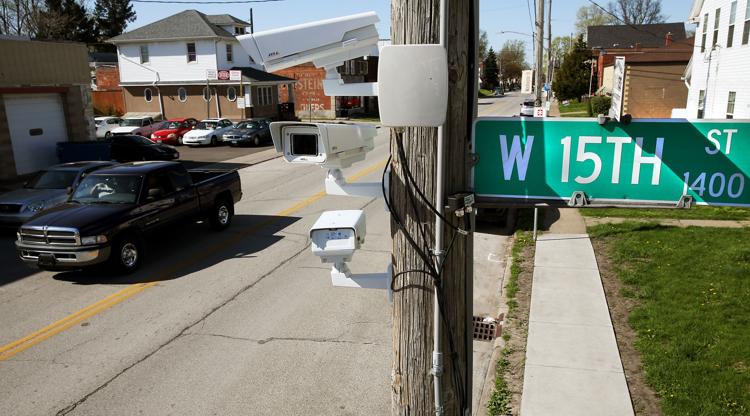 The issue of banning automated traffic enforcement cameras is back in the legislative fast lane at the Iowa Statehouse.
Rep. Jack Highfill, R-Johnston, chairman of the House Local Government Committee, and Sen. Brad Zaun, R-Urbandale, chairman of the Senate Judiciary Committee, said they plan to run bills calling for camera bans and believe they have their best shot of passage after years of legislative frustration. Read more.
6. Multi-purpose event center to open in downtown Davenport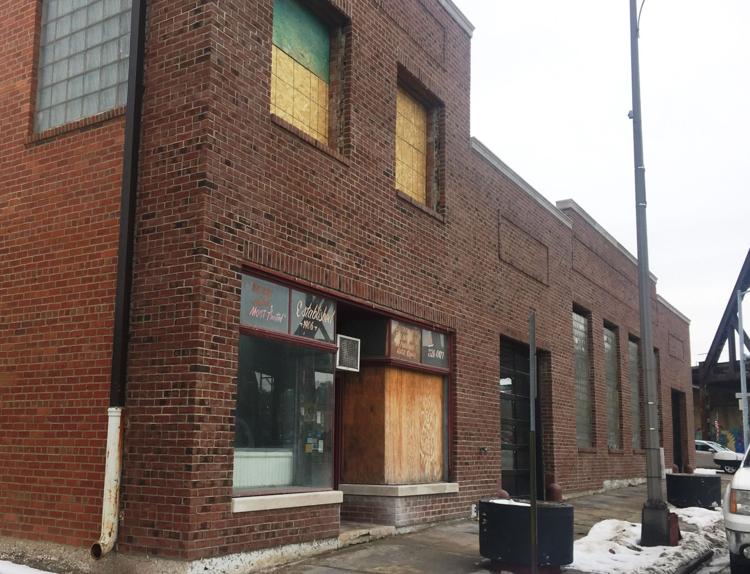 Over the past few months, a "buzz" of curiosity has surrounded the historic building Sean Terrell is rehabbing in downtown Davenport.
Since the Davenport fire captain bought the property in October 2016 "to give back to his community" and spent over a year renovating it from the ground up, he hoped the 8,000-square foot space would bring more energy and life to the corridor inhabited by establishments such as Great River Brewery and recent additions like the Triple Crown Whiskey Bar and Raccoon Motel and Armored Gardens.
But the specifics were under wraps. Until now.
No, Terrell says, the property which formerly housed Emeis Automotive Services at 218 Iowa Street will not be a bar or restaurant.
The structure built by the Emeis family in 1924 will soon open its doors as a multi-purpose event center called The Stardust, borrowing the iconic name of the former Stardust Motel that opened in 1962 in Moline. Read more.